Knowledge Base Management Is A Synonym For Worthy Investment
Have you ever read a really insightful blog online and later ran into difficulty locating it in your web history or your inbox? Or maybe you had streamed a show on Netflix, then found it difficult to remember the plot and characters, and even worse, that show was removed from the platform?
It has happened to you, me, and most of us.
Like I indicated in the examples, it is not only poor memory that leads us to forget what we thought we knew; it is also the methods that we use to classify and recoup information, along with the profuse amount of details we must deal with from sources like mobile phones, social networks, and other online websites.
Similarly, it is very easy for your employees to run into problems when they do not have a knowledge base management tool within reach to solve queries.
So, what is knowledge base management anyway?
A knowledge base management, a.k.a. A user documentation tool facilitates the process of internal learning, knowledge production, curation, sharing, and retention within your organisation. It is a centralised platform meant to contain your organization's data so that your employees can readily access it to answer their questions and concerns.
A Knowledge Base is your business's personal Google.
Whether or not you have a designated place for storing the knowledge, your company already has some kind of an internal knowledge base. As a matter of fact, your knowledge is one of the most crucial assets similar to human capital. Knowledge base management is a deciding factor responsible for the organization's performance and growth.
Nevertheless, storing some random knowledge is not sufficient. To drive continual business growth and gain from the insights, you must be able to efficiently make use of its associated assets. And this is the main reason why knowledge base management is gaining its popularity.
And Business Wire has predicted that the knowledge base management market is expected to grow at a CAGR of more than 22% between 2017 and 2025.
When Should You Consider Investing In A Knowledge Base?
Knowledge is power only when you know how to access it.
Did you know that an employee spends 20% of his time looking for information, according to research by McKinsey & Company?
By and large, you must consider investing in an internal knowledge base when you see that your employees are clueless about where to find the product's information or who to approach; knowledge is interspersed across the organization in different places like Powerpoint, Google drives, Outlook, SharePoint, files, etc.; knowledge is scattered with numerous individuals, and this would mean when your employee quits the company, the knowledge will go with them; customer experience ratio is going down; staff is taking a long time to train his colleagues; etc.
Why Knowledge Base Management Is A Worthy Investment?
If HP knew what HP knows, we would be three times more productive. Lewis E. Platt, former CEO at Hewlett-Packard
The reasons cited above means that important information is available somewhere in silos within the company. And that only adds to the loss and chaos of useful information.
When employees leave the company, they take their knowledge along with them which was accumulated over their tenure. Despite training their replacement before leaving, there is no assurance about transferring complete knowledge.
Hard drives do fail, and gadgets get stolen or lost sometimes, removing all the data reserved locally. Email threads and local hard drives pose an obvious risk for loss and not to forget that locally stored knowledge is not accessible by everyone in the team.
And most of the employees are poor at knowledge transfer. Either the message gets diluted, or the information gets completely lost during the transfer. And this leads to employees spending more time unnecessarily, making the same mistakes as their colleagues, recreating the information over and over again, not getting accurate information, becoming less efficient, etc.
These evident things substantiate as to why having an internal knowledge base is beneficial. The other benefits that ensue are, you can
1. House documents in a single place.
You can centralize your documents in a single place thereby giving access to relevant staff from all the departments. An online documentation tool helps you streamline the information and avoid the need to search inboxes, cluttered repositories, ask colleagues, etc.
Besides, it will be up-to-date when primary information is circulated throughout the organization.
2. No need to recreate existing knowledge.
When information is handy, there will be no need to get in touch with your coworkers for resolution. Especially the support centres can spend relatively less time to answer their customer's queries and free themselves up sooner. An internal online documentation tool helps your team to grow more efficiently by centralizing knowledge so new staff do not have to run around for answers.
3. Improve productivity at your workplace
With a centralized knowledge base, your employees can access the information easily without having to perturb anyone. It will positively impact on the overall productivity of your staff by giving your customers quicker responses to their query. And you can use your employees time to work on complex or unprecedented issues. Besides, a quicker turnover will always do good for your customers.
An intuitive knowledge base software to easily add your content and integrate it with any application. Give Document360 a try!
Get Started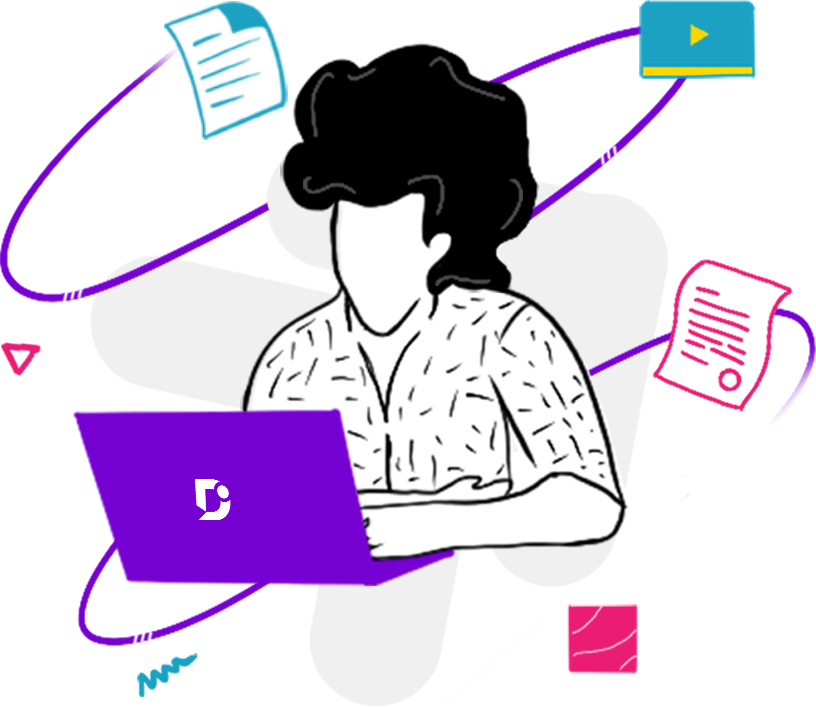 4. Spend less time and cost on training
When you onboard new employees, you need to help them learn your processes by providing a classroom or one-on-one training. However, with an online documentation tool, you can already imagine how easy you can go with training your new team. To make that possible, investing in an intuitive knowledge base management is the key, just like Document360. You can record the video for once and walk your agents in a step-by-step manner, thus avoiding any gaps in knowledge transfer.
5. Fewer or zero mistakes
The recurrence of the same mistakes impacts the overall profit and productivity of your company and staff. With an internal knowledge base, you can organize the company's data, make it available for your employees all the time, and drastically lessen the repeat and costly mistakes by updating the right information in the tool decisively. It will contribute to a huge number to your ROI eventually.
6. Make informed decisions
An internal knowledge base management makes way for employees to share their outlook and contribute additional information if necessary, to the existing information. It will lead to making better decisions considering 'valid' multiple viewpoints and can lead to improving the overall process.
7. Generate more sales and revenue
An intuitive knowledge base is more than just an information repository. It can create upselling opportunities for your business. While providing solutions to the customers, your support agents can be notified about the upsell information. It can lead them to take proactive steps to introduce to your customer about the new product or service thus helping to generate more sales and revenue.
8. Create your business style
It is so common for your customers to hear multiple answers for the same question. It is clearly due to the lack of understanding about the product and existing confusion in the process. With an internal knowledge base management in place, you can create your answering style and standardized process amongst your staff, thus giving your customer common brand experience. In turn, it will enable the customer to trust you more.
9. Gain and maintain clients
Exceptional customer experience will directly contribute to acquiring new clients and retaining existing clients. As a business, you are required to assist your customers on multiple channels. With a knowledge base, you can equip your customers with loaded information about your business and give them an overall fulfilling experience.
10. Create a happy workplace
A growing company does not necessarily mean that you need to increase your human resources. It can also mean that you need to scale your process and its resources. It goes true with knowledge base management. Instead of having to hire more agents, you can invest in the existing employees by giving them relevant assistance, so they do not feel overwhelmed and approach others for answers. A worthy investment on an employee makes them feel more responsible to complete their work. After all, a happy employee contributes to great business.
The Bottom Line
Amidst all the benefits that you have just acquainted yourselves with, knowledge base management is one of the areas where companies are resisting to invest as it is expensive and does not have a definite way to calculate the ROI.
But what is unknown is that 74 per cent of organizations consider that an effective online documentation tool regulates and improves the company's productivity by 10-40 per cent.
It all comes down to your strategy and planning – strategy to decide which knowledge base management you will adopt and planning to how you will coax your employees to embrace it.
You do not need to reinvent the wheel. There is Document360.
Document360 is an intuitive knowledge base software that scales with your product. You can curate the existing knowledge in a centralized place using this knowledge base management for your company's future and to receive dividends down the line.
This online documentation tool will suit your employees' and business' needs without having to change the routine. You can drastically mitigate inefficiencies by making your company knowledge readily available within reach and accurate. Besides, if you are a remote team, it will be a perfect worthy investment for distributing knowledge to increase exponentially.
The knowledge base software five distinct categories viz. Documentation, Category Manager, Editor, Branding, and Security.
Some of the notable features of Document360 are each section enables the user to group the content, distribute it under relevant categories, make it visually appealing to the end-users, keep the document SEO-friendly, encourage real-time discussion on the articles, provide different access levels, allow file attachments, enable preview, customize landing pages, header, footer, themes, integration, allow religious backup and restore, grants user-level privacy, helps in custom domain mapping, import and export documentation and lots more.
Also Read: The Knowledge Sharing Methods You Need to Know
On the whole, Document360 is very easy to set up so you can focus on your writing. After all, it is the only knowledge management tool that scales with your product without creating any difficulties.
An intuitive knowledge base software to easily add your content and integrate it with any application. Give Document360 a try!
Get Started