You already know that it's crucial to create help documentation for your business – it offers a better customer experience and speeds up the support process. Your help documentation is available 24/7, unlike your support team, and it can provide instant answers for your customers' most pressing questions. You save money on customer support costs and can scale your business more effectively.
Unfortunately, many customers find that company's help centers are not easy to use and this leads to either a churned customer or reaching out to support. Some customers might find the jargon confusing while your more experienced users resent having to wade through lots of documentation that doesn't get to the point.
Crafting user documentation that hits the mark isn't easy, but it's within reach for most companies. In order to host the best documentation possible, you need to choose the right Help Authoring Tool.
What is a Help Authoring Tool?
A Help Authoring Tool is a content management system that enables you to create, manage, and distribute help documentation. The end user output of a Help Authoring Tool is usually the Help section on a company's website, or an internal company knowledge base.
Help Authoring Tools can range from basic systems that have simple features to more complex Component Content Management Systems (CCMS). Usually, the features available include:
WYSIWYG editor for editing text, code, images and video
Multi-author functionality that enables collaborative content production
Importing and exporting your documentation
Customizable end-user interface to fit your brand
Now, let's move on to looking at the top 12 Help Authoring Tools.
1. Document360
Document360 is more than a help authoring tool that allows you to quickly and easily create help documentation, product documentation, instruction manuals, user manuals, and FAQs. As soon as you sign up for an account the user-friendly interface lets you get started straight away.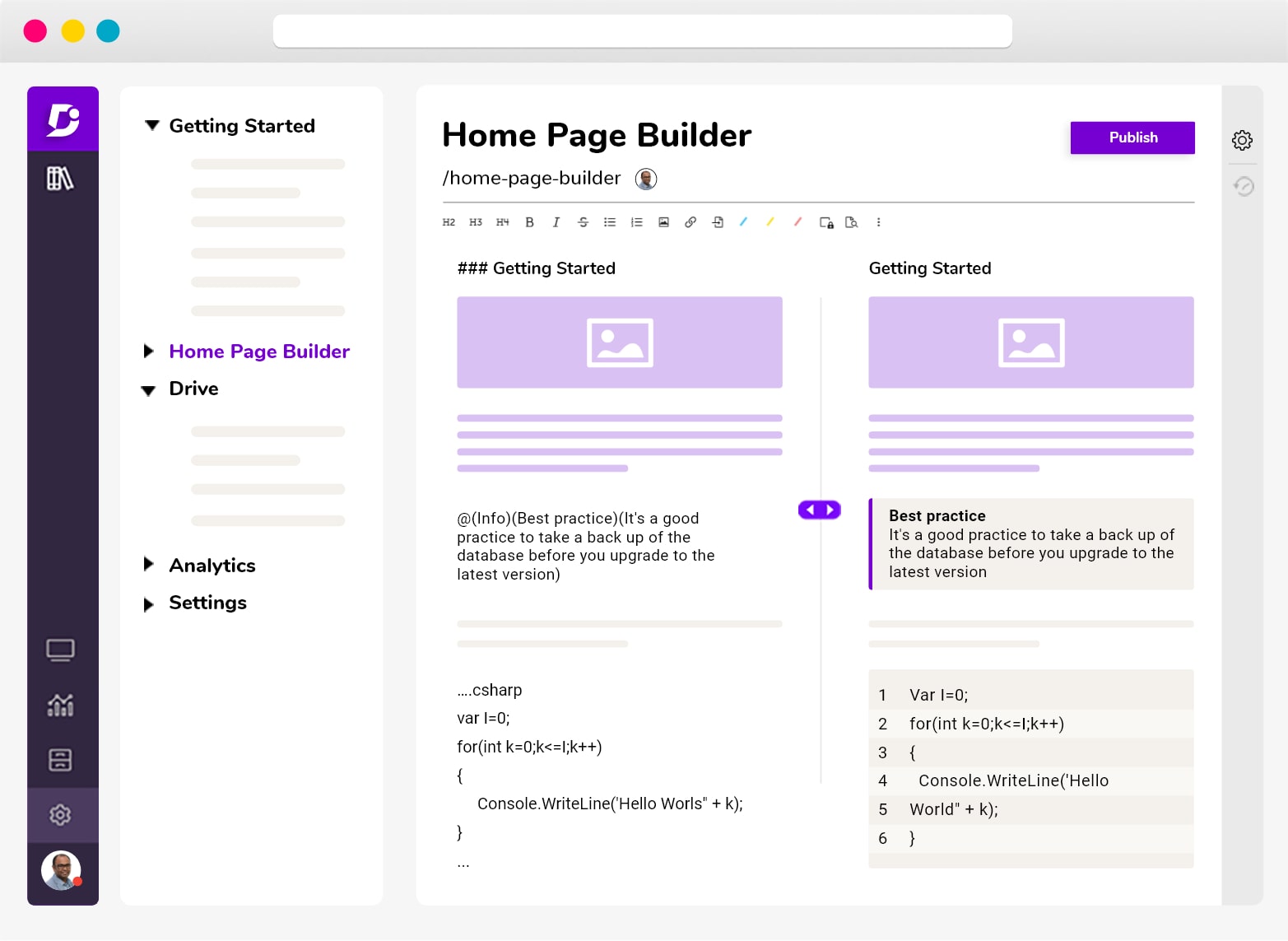 What really sets Document360 apart are its multilingual opportunities for you to create a knowledge base content to support your customers with AI machine translation. Offer your help documentation in multiple languages for your global customer base.
Document360 is more than just a knowledge base tool. It integrates seamlessly with your other favourite apps, including help desks like Zendesk, Freshdesk, and chatbots like Intercom, LiveChat, and more.
Document360 features:
Markdown text editor – style your content using typical formatting techniques such as headers, lists, and italics
Category manager – organize your content into a hierarchy up to six levels deep
Landing page customization – customize your knowledge base with your brand colors, logo, links and custom CSS
Versioning – rollback and versioning allows you to see the history of changes for each knowledge base article and revert back if necessary
Analytics – understand the performance of your knowledge base with advanced analytics
Import and Export to Microsoft word document
Output to multiple formats like Word, Markdown, HTML, PDF
Price:
Starts at $149 per project per month and 14 days free trial with full access to the platform. You can check them out here.
Documenting, storing, and sharing technical manuals made easy.
Book a Demo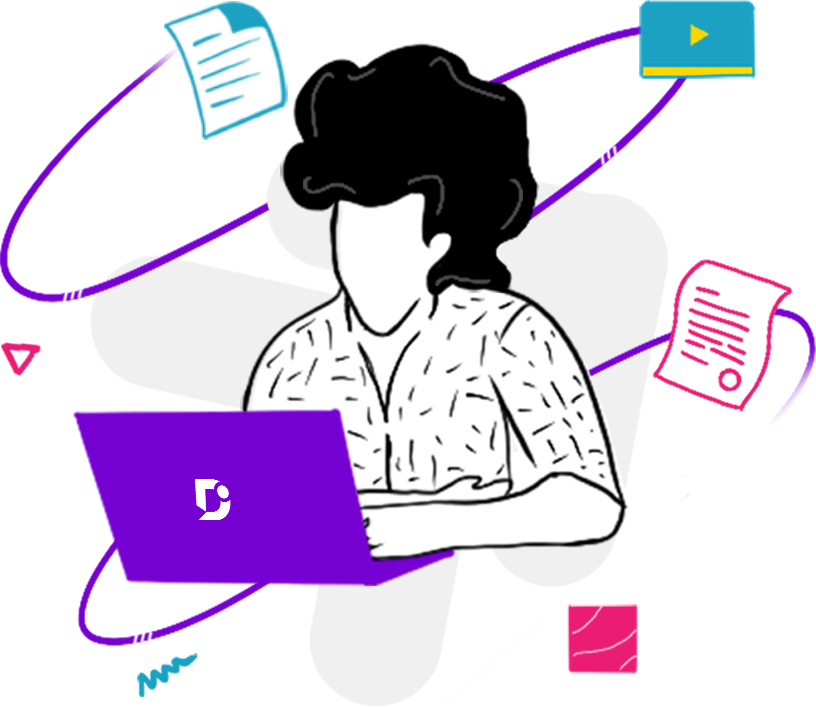 2. ClickHelp
ClickHelp is a fully functioning Help Authoring Tool that runs in the browser with no installation required. You can author help content from a single portal and collaborate easily with teammates.
This software is a central place to manage all your technical content and create internal and external guides, multi-version software user manuals, FAQs, Knowledge Bases, Tutorials, API Docs, and more.
ClickHelp offers dynamic content support for single-sourcing – snippets, variables, and conditional blocks allow you to reuse your content across the documentation, saving untold amounts of time and effort.
ClickHelp features:
Translation module – create a multilingual help site with ease
Easy importing and exporting – import from Microsoft Word, HTML, RTF, CHM,
ODT and export to CHM, HTML5 Web Help, PDF, DOCX
Powerful full-text search – users can find content easily and support wildcard search
Reporting – lets you analyze user behavior and measure team performance
Context help – add context-sensitive help to your applications
Price:
Starts at $55 per author per month.
Also Read: ClickHelp Vs Document360: What Shoud You Choose?
3. MadCap Flare
MadCap Flare is a very popular Help Authoring Tool that provides topic-based XML authoring and publishing for technical communicators. Flare is aimed at content reuse and multi-channel publishing to make sure you get the most out of your documentation.
The power of MadCap Flare lies in its ability to publish content to a range of mediums including web, print, desktop and mobile. One of the disadvantages of Flare is that it's a complex tool with a steep learning curve. It's not a software that someone can just pick up overnight.
What sets MadCap Flare apart is how easy it is to import content from a range of inputs with an easy drag-and-drop workflow, including from Microsoft Word and Excel, Atlassian's Confluence, Adobe RoboHelp and more.
MadCap Flare features:
Advanced content authoring – a configurable interface to create technical documentation, eLearning courses and learning and development programs
Topic-based authoring – organizes your content in reusable chunks that can be reused across different mediums such as Getting Started guides, advanced user manuals, and more
Micro content – short, concise content that stands alone which can be used to feed machine learning and AI applications
Pre-built project templates – dozens of pre-installed templates that allow you to create web and print-based outputs in minutes
Collaboration capabilities – workflows designed to make collaborative authoring streamlined, providing contributions and reviews in the cloud
Price:
$149 per month per user.
Also, check out our article on the best Madcap-flare alternatives
4. Adobe RoboHelp
Adobe RoboHelp is powerful Help Authoring Software that enables you to create a range of documentation for HTML5 output, EPUB 3, KF8, and MOBI formats. What marks RoboHelp out as a serious HAT is the ability to export documentation easily and have different versions of your user manuals.
Again, RoboHelp is not an easy tool to learn. Its wide variety of features mean RoboHelp requires a good deal of time getting familiar with the software before you can produce your documentation.
RoboHelp offers intelligent content reuse so you can use global snippets to make changes once and have them reused in multiple places. Blend content from different sources and create snippets within existing snippets for even more versatility.
RoboHelp features:
Conditional content usage – create and apply rules to particular content such as a topic, paragraph or word
Single-sourcing – make changes once to a snippet and reuse across multiple outputs
Micro-content authoring – micro-content snippets that can be used by search engines, social platforms, in-context help, featured snippets, FAQs, chatbots and more
Importing files – smoothly import from Microsoft Word, HTML and Markdown
Price:
$29.99 per month.
5. Paligo
Paligo is a Component Content Management System (CCMS) that enables you to author technical documentation, policies and procedure manual, knowledge management, and more. What sets Paligo apart is having every tool you might need for the authoring process all in one tool.
This Help Authoring Tool uses an XML source format to ensure proper structure, consistency and flexibility when authoring your content. Structured authoring makes it easy to reuse your content and guarantees your content's value in the long-term.
Paligo is another topic-based authoring tool with smart content reuse that allows you to release your documentation in a fraction of the usual time. It supports team collaboration with a cloud-based CCMS.
Paligo features:
Single-sourcing – smart content reuse that allows you to reuse content at scale with component reuse, block content reuse, text fragment reuse and dynamic variables
Structured authoring – user-friendly XML editor that enables you to quickly author structured content with Paligo
Multi-channel publishing – publish your content to a variety of outputs including HTML5, SCORM, PDF, Zendesk and Salesforce
Versioning – version history and rollback makes it easy to keep track of changes made to your content and gives you the ability to compare versions
Import existing documentation – Paligo offers a simple migration process from Microsoft Word, MadCap Flare, DITA, DocBook, HTML, Zendesk, Atlassian Confluence and many more.
Price:
Starts at $179 per month per author.
6. HelpNDoc
HelpNDoc is an intuitive and user-friendly Help Authoring Tool with a focus on producing documentation for multiple outputs from a single source. HelpNDoc supports HTML and CHM help files, PDF and Word, ePub and Kindle eBooks, Markdown documents and much more.
HelpNDoc is incredibly easy to use – if you know how to use a web browser and a word processor then you should be able to easily get up to speed with this software. You'll be amazed at how quickly you can start generating a wide variety of documentations that are responsive across platforms.
Lacking the power of some of the other solutions in this list, HelpNDoc makes up for it with its ease of use.
HelpNDoc features:
User-friendly user interface – the functions of HelpNDoc are clearly displayed in a ribbon format with some elements only appearing when needed
Tools are integrated – all the necessary tools for creating documentation are integrated, including the table of contents editor, WYSIWYG topic editor, keywords editor and library
Modern word processor – the functionality you've come to expect from tools like Microsoft Word is available in HelpNDoc's word processor
Media library system – all media elements such as videos, images, documents, HTML code snippets and variables are managed by the library
Price:
Starts at free with ads and limited features.
7. ProProfs
ProProfs knowledge base is part of the ProProfs suite of software and allows users to create user-friendly help documentation. You can publish private or public knowledge base sites for your target audience and author documentation from ProProf's attractive built-in templates.
ProProfs supports multiple authors working collaboratively and has an internal review process for content. You can set up roles and permissions for your authors ranging from administrator, viewer, editor and contributor.
ProProfs is more than just knowledge base software. It offers integrations with the ProProfs Help Desk, ProProfs Live Chat, Salesforce, Zendesk and Freshdesk, so you can take advantage of more streamlined workflows with your favorite software.
ProProfs features:
Single-sourcing – write a piece of content once and reuse in multiple parts of the documentation
Context-sensitive help – use tooltips, lightboxes and pop-ups to present your documentation contextually in your app
Multi-branding – create multiple help sites with ProProfs and brand them individually
Article workflows – set a workflow status for articles depending on what stage they are at in the review process
Advanced reporting – provides actionable insights for your documentation's performance
Price:
Starts at $30 per author per month.
Also Read: Top 7 ProProfs Knowledge Base Alternatives in 2022
8. Confluence
Confluence is popular wiki software designed as a shared workspace for teams to work more collaboratively. The advantage of Confluence is its integration with Atlassian's suite of software including Jira and Trello.
With Confluence, the software is organized into spaces which are areas that contain pages for individuals, teams and strategic projects. Pages are documents where people create, edit and discuss their work. Confluence comes in-built with an extensive library of templates for you to create your documentation.
You can make documents and share them with your team – these documents can be set as "read only", "edit only", or "read and edit", so you have full control over access.
Confluence features:
Real-time editing – co-author documents in real time and publish updates that track version history and highlight changes
Advanced search and page tree – you can organize and find your pages easily with advanced search, labels, and an intuitive page hierarchy
Jira integration – Connect your plans to development work with issue-tracking and dynamically updating roadmaps
Commenting – collaborate better with in-line and page comments, GIFs, emojis and images
Permissions – control what information employees can access and protect sensitive content
Pricing:
Starts at free for up to ten users.
Read more: Document360 Vs Confluence: Which is a better Knowledge Base?
9. Helpinator
Helpinator is an easy-to-use Help Authoring Tool that is designed with the convenience of technical writers in mind. You should be able to use this software to create technical content even without prior experience in technical writing.
Helpinator calls itself an Integrated Documentation and Development Environment, and aims at developers writing documentation for software products. Helpinator stands out for its built-in phrase expander and spell checker that helps you write faster.
Helpinator is not cloud-based so you will have to run it on Windows 7 or 10.
Helpinator features:
WYSIWYG editor and templates – no requirement to know HTML or any other markup language
20+ output formats – Helpinator offers single sourcing for publication across formats such as WordPress, CHM, and PDF
Support for multilingual projects – every project can store any number of languages in the same file
Built-in tools – includes image annotation editor, screenshot capture and GIF recorder
Price:
$99 per year.
10. Dr. Explain
Dr. Explain is a Help Authoring Tool aimed at companies who sell software products. It allows you to create a user guide for your software application and republish it across multiple formats, supporting CHM, PDF, DOC & HTML formats.
The unique selling point of Dr. Explain is that it allows you to save time by automating routine processes, such as creating and annotating screenshots, importing old documentation, indexing content and customizing visual styles.
This solution is not cloud-based and you have to download the software on Windows in order to use it.
Dr. Explain features:
Screenshot capture – allows you to capture and annotate screenshots in order to quickly create technical illustrations
Specialized text editor – designed for creating help files and documentation for software
Preview content – instant preview for online and print formats
Context-sensitive help – install your help content in app on desktop and web-based products
Single-source publishing – create documentation once and then publish across context sensitive help files in CHM format, web guides in HTML, DOC, and PDF with table of contents and links
Price:
Starts at $190 per user per year.
11. Author-it
Author-it is a help authoring tool that is specifically aimed at the eLearning market. In addition, Author-it is a scalable CCMS solution with enterprise-grade security for technical writers, content developers, and non-technical contributors. It's aimed at helping teams to single source their documentation and work more collaboratively with other team members.
Author-it supports multi-channel publishing so you can create content once and serve it wherever you like in a range of document types and web formats, with no need to manually adjust or format content for different outputs. Author-it takes your source content and streamlines the publishing process for you with the click of a button, saving you time and effort.
From product manuals to medical device documentation, knowledge bases, and web help sites, you can publish top-quality content in easily digestible formats to reach your customers where is most convenient for them,
Author-it features:
Localize content and manage translations – makes it easy to translate documents cost-effectively
Review and approval workflows – interact with the rest of your team and make comments, reviewing changes when they happen
Variant management – customize documentation by creating variants for different teams, roles, and locations to reduce duplication of effort
Single-sourcing – author once and republish across multiple platforms
Price:
Contact the Author-it team for details on pricing.
12. WebWorks
WebWorks is a help authoring tool that helps businesses create beautiful documentation for their customers using Reverb 2.0. It offers One-Click Publishing that helps you develop a content publishing workflow with speed and accuracy.
You can take documents from your favorite authoring tools such as Microsoft Word or Markdown and instantly transform them into a responsive HTML5 site. WebWorks uses a tool called a Stationery which is essentially a customizable template that stores a set of instructions that define the publishing process.
WebWorks comes with advanced search features that enable you to take charge of the customer's documentation experience. You can define synonyms for keyword searches and adjust relevance rankings to surface the most important or relevant results.
WebWorks features:
Point-and-click user interface – an intuitive authoring experience that hides the complexities of a powerful system
Compatibility with other authoring tools – author documentation on your favorite platform and publish with WebWorks
Customizable design – create a help site that exactly suits your brand
Custom analytics – understand how customers are interacting with your documentation
Price:
Pricing starts at $27.08 a month.
Final remarks
As you have now learned, a wide variety of Help Authoring Tools are available on the market, and each one is slightly different. If you're looking to invest in a HAT, it's worth trying a few different solutions on for size to see which one suits your company best. For more information check out the "What is Help Authoring Tool" guide. 
Remember, you may not need all the functionality of a tool such as MadCap Flare or Adobe RoboHelp. If you're looking for a simple knowledge base solution, consider Document360 for your documentation needs. You'll have all the control over your content and none of the headache of learning a complex tool.
An intuitive knowledge base software to easily add your content and integrate it with any application. Give Document360 a try!
Get Started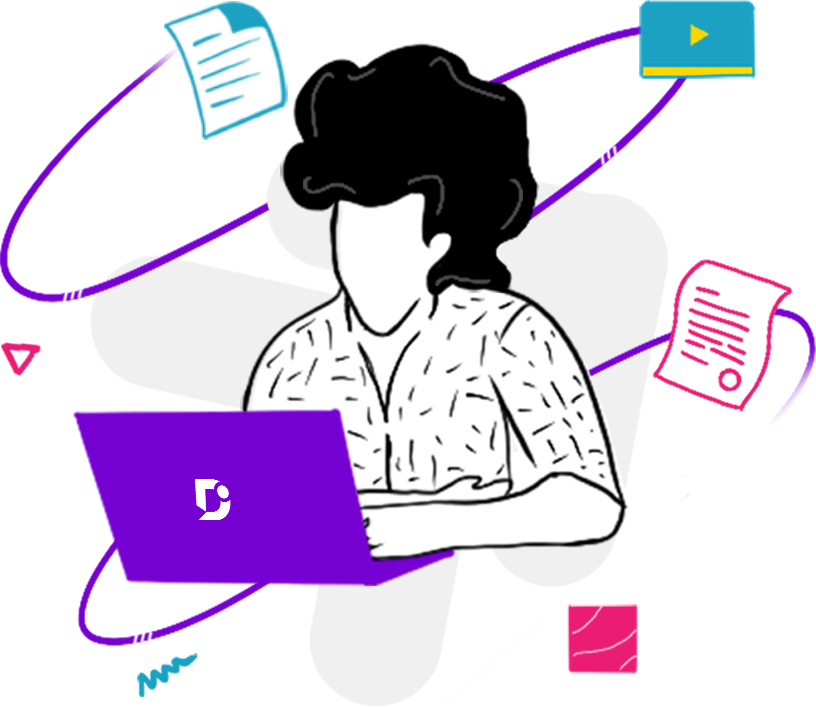 Frequently Asked Questions