One fundamental aspect of modern workplace culture is—the employee intranet. With the world steadily moving digital, a growing number of workspaces moving remote and offices expanding globally, the requirement of an internal online platform that fosters communication, collaboration, and engagement among their workforce is significant. A good employee intranet can transform how your employees work and increase their sense of belonging. 
What is an employee intranet?
An employee intranet is a private, secure digital network accessible only to a company's employees. It is a centralized space where employees can access company information, share documents, collaborate on projects, communicate with colleagues, and stay informed on internal news and updates. Having an employee intranet helps improve communication, streamline procedures, and create a sense of community within an organization. Employee intranets can be customized to suit a company's specific requirements.
Benefits of Employee Intranet 
The employee intranet provides employees with a secure platform to communicate with each other, collaborate, share sensitive documents, access important announcements, and, most importantly, make them feel engaged. All the above directly improves productivity. 
Improved communication and collaboration 
An employee intranet allows employees to share information through chat windows, make announcements through certain channels or features, share files or articles and provide feedback. All this helps streamline communication and helps them work together on projects. Most intranets have features like project workspaces and internal groups. For example, four to five people can form a separate channel and work simultaneously on a particular document, presentation, or project.  This allows remote teams to stay in touch 24/7 and work together.  
Centralized Information Hub 
Once employees start using the intranet for communication, team collaboration, and knowledge-sharing purposes, the network becomes a central location for all the company's critical information instead of using multiple channels like email or other chat windows. Once people upload all their internal documentation, employees will never have to look or search anywhere else for information. This can include employee handbooks, crucial customer management policies, code of ethics, software information, etc. This prevents duplication of effort and simplifies the management of corporate knowledge. 
Personalized for Enhanced User Experience 
Employee intranets can be personalized largely by enabling user profiles, using AI to provide tailored content recommendations, introducing or integrating social features for interaction, creating role-based access, increasing privacy layers for certain channels, making it accessible on multiple devices, including mobile phones, etc. It can also be integrated with other platforms like your internal documentation, knowledge base, etc. All this enhances an employee's user experience and adds to their convenience, making it more attractive for them to use regularly.  
Facilitating Knowledge Sharing 
Almost all employee intranet portals have a capacity where many files can be stored on the cloud, and this can be accessed from anywhere 24×7. With an efficient search function and integrations with some important apps, this can ensure every employee has access to the information they require. They can quickly search for files, brochures, conversations, tasks, and compliance checklists from within the internet. This makes it extremely easy for any manager, member of the management, or human resources to share any information with the entire company.  
Strengthened security and employee trust 
With emails and online systems continually being open to cyber-attacks. Employee intranets which are equipped with the latest security measures, is an ideal platform to share and store commercially sensitive or confidential information. Movement and downloads of files from the network can also be quickly traced.  
This helps build employee's trust in sharing confidential knowledge. 
Showcasing Organizational Culture  
The employee intranet is a great place to show off or introduce your organization's culture to new employees during employee onboarding. It can start off by introducing a new joiner to the entire company, giving an opportunity for all existing staff to welcome him or her through messages. This creates a warm and welcoming corporate culture. It also has opportunities to form channels with people who share an interest or hobby, like Girl Power groups, Book clubs, History lovers, ChatGPT explorers etc along with official channels like marketing, sales, lead generation, etc.
Analytics for Informed Decision-Making 
When all your employees use the employee intranet for access to any official transaction like raising tickets to various helpdesks, leave applications, working hours availing an employee benefit like transport, advance on salaries, or wallets, you have a wealth of data. When it comes to increasing or decreasing a benefit to use resources better, introducing a new policy, evaluate usage, intranets are a great tool for you to access and analyse data before you decide, ensuring it is an informed one. Intranets also allow you to create and circulate surveys, an effective data generation source. 
Streamlining HR Processes  
Employee intranets are extremely feature-rich, allowing you to ensure every human resource procedure is conducted through it. This includes sharing crucial policy documents like training manuals, employee handbooks, etc. They also have portals for putting up salary slips, processing leave applications, loan applications, and employee benefits. When everything is done on one platform, it helps streamline all HR processes, brings transparency, and is easier to track employee engagement. 
An intuitive knowledge base software to easily add your content and integrate it with any application. Give Document360 a try!
GET STARTED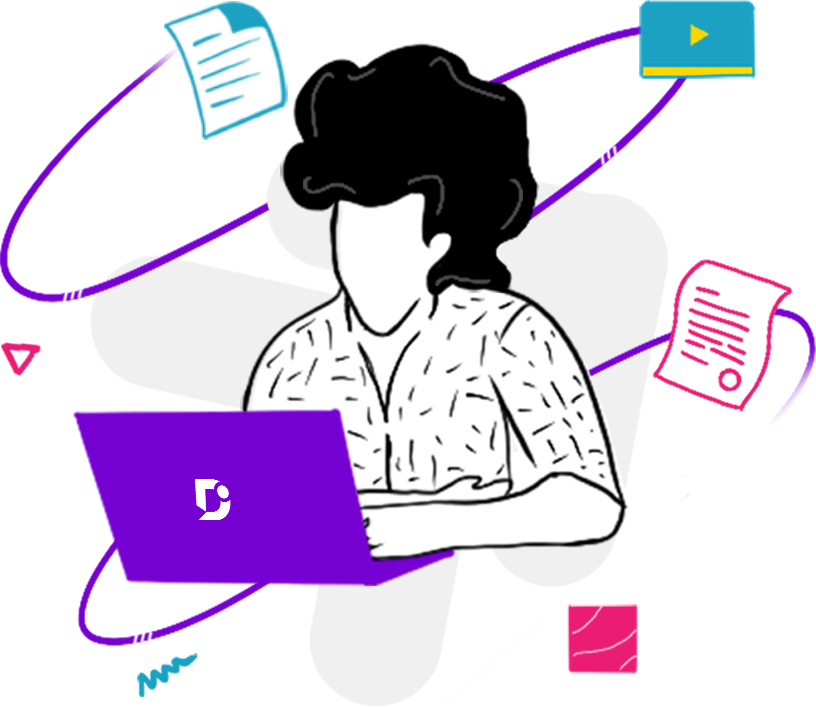 Methods to create an employee Intranet 
While many intranet platforms have different combinations of features, many of them similar, it is critical to choose one with a simple user interface and good functionality so even employees getting onboarded and working remotely can navigate their way through it. It is advisable to take a few free trials and start with the most crucial features relating to HR processes, cyber security, and knowledge management.  
Assessing Organizational Needs 
The process begins with comprehensively examining an organization's unique requirements, objectives, and challenges. This helps identify specific functionalities and features the chosen employee intranet should offer, ensuring it will help achieve the company's goals.  
The assessment involves consulting with key stakeholders, including employees, managers, and the IT department to understand their pain points and expectations.  
Building a Cross-Functional Team  
Create a team with members from different departments, including HR, Marketing, IT, management, Design, and customer support. Announce that you plan to create an employee intranet for them and ask them to make a list of "must have" and "nice to have" features. This can include critical HR features, integrations with tools like Slack or Teams, different media features like video calls, podcasts, playing videos, recording and transcription of calls, etc.  
Setting Clear Objectives and Scope 
The next step would be to list the problems the intranet needs to solve. One common objective is usually creating a functional workspace for employees who rarely meet in person. Another aim was to create a company culture where employees feel engaged and motivated and can communicate freely.
Choosing the Right Technology 
Once you have fully assessed all your requirements, you can start looking at the software solutions. It's ideal to put together a team, ideally with members of your IT and HR department, to do some market research and identify a few probable solutions. Most companies would choose a social intranet packed with features. Also, assess cyber security measures and the network's agility to scale with your company. 
Designing User-Centric Interfaces 
Remember that if you want your employees to use the intranet frequently, regularly, and for all transactions, they need to enjoy using it. And for someone to enjoy using a platform, it needs to be simple, intuitive, and feature-rich but manageable. Ideally, it should invite people to browse through to explore features, try some of them when free, and get used to logging into it daily.  
Content Strategy and Information Architecture 
Ask yourself three questions—what type of content do you require it to have? Where do you need the content to live? And who the content is for? Most companies choose content like employee handbooks, security policies, privacy policies, HR policies and benefits, employee onboarding tools, company culture and events, etc. 
It is crucial to organize the content coherently and logically. The structure and design should be attractive and make users want to interact. Place the search bar on top of the homepage and frequently used content in prominent places.  
Implementation and Rollout 
It is critical to discuss with your top-level managers and ensure they are on board with the timing of the intranet rollout. In fact, even better, get them to try out the platform before its rollout and iron out all their pain points and doubts. The faster the top-level executives accept and adopt it, the quicker the overall adoption. 
You can consider training sessions after the rollout, to improve implementation. Ensure all the frontline managers can answer employee questions on usage.  
Security and Compliance Considerations 
During the implementation process, an important step is to establish access controls. Sit with your IT department and identify which areas or content must be placed under restricted access to or kept confidential. You may need to establish controls where sensitive information is only searchable by authorized personnel. 
You may also inform your employees if links to certain websites or certain files can be posted only after it is checked for trojans. This can keep your company secure from any attacks.  
User Adoption and Engagement Strategies 
Employees should know everything the intranet can do and how to use it. Some fun ways can be devised to highlight all the pain points the intranet will solve through graphics and emails. The intranet can behave like a social media platform, provides a better employee directory or make applying for salary slips easier. Most importantly, get the management to use the platform to communicate important announcements to employees in the initial days, so employees start using it. 
Maintenance and Continuous Improvement 
Maintenance and regular updates are crucial to sustaining an effective employee intranet because they prevent user disruption and trust in the system. This includes bug fixes, incorporating user feedback, and incorporating feature requests to adapt to changing business needs and technology trends.  
Top Intranet Solutions 
There are several intranet solution providers in the market. It is critical to choose a solution with a simple user interface, rich in features, and solves as many pain points as possible. It's an advantage when employees can resort to one platform for any information, transaction, or communication. Below are three top intranet solutions in the market. 
Happeo
Happeo is a social intranet platform that aims to encourage interaction. Similar to a social media platform, users can like, comment, or react to posts, add emojis, schedule quick video meetings, and share images. It integrates with popular tools like Microsoft Office 365 and GoogleWorkspace. It has a mobile app, which can push notifications about important company news.  
It is also simple to use so most users start using the full software in a few weeks. 
Sharepoint 
Sharepoint, being a Microsoft product, is usually the preferred choice for documentation because it integrates with all other Microsoft products like Word, PowerPoint, Excel, One Note, etc. However, it does not integrate with Google workspaces. While it allows customization, centralized access to resources, collaboration on projects, and making announcements, it doesn't provide much in terms of enhancing communication and social interactions among employees.  
Future Trends in Employee Intranet 
With a growing number of companies going global and employees moving to hybrid or remote working, intranets have become more crucial. Intranets must scale and adapt to different industries' changing requirements. Some future trends we could be seeing in Employee Intranets are listed below.  
Knowledge base Solutions
A knowledge-base solution can serve as an alternative to traditional intranets for sharing and managing information within an organization. While intranets typically offer a broader range of features, knowledge base solutions are focused on knowledge management and can often provide a more specialized and user-friendly approach.
Document360
Document360 is a knowledge base software that offers features for creating, organizing, and sharing internal documentation and knowledge. It's user-friendly and designed for knowledge management.
Integration with Collaboration Tools 
Most intranets will collaborate with as many tools as possible in the future to offer seamless and unified communication and productivity experiences. Most solutions will offer integrations with collaboration platforms such as Microsoft Teams, Slack, and project management tools like Trello and Asana, to streamline work processes and centralize information sharing.  
Personalization and User Experience 
Personalization is all set to be another big communication trend in the intranet space. Most solution providers are noticing that personalized employee feeds are becoming more popular. Personalized intranet experiences will motivate employees to return to the platform and use it actively. This can be done by showing organization news or content based on an employee's interests and skills.  
Mobile Accessibility  
With many employees moving to hybrid and flexible working, most social intranets have begun functioning efficiently on mobile apps. They will ensure that users can reply to messages, fix meetings, login, log out, and even attend meetings while on the move. They will also ensure they do not miss important announcements that should appear as notifications. 
Artificial Intelligence and Chatbots 
With generative AI becoming vastly popular for conversational purposes, generating human-like responses to user prompts, most intranets will aim to improve their AI capabilities. It could be in terms of AI powering their search engines, and introducing chatbots that could welcome employees once they log in and produce any information they are looking for. It could also offer reminders and suggestions on important tasks to be prioritized.
Gamification for Employee Engagement
Intranet gamification takes elements from gameplay and applies them to business practices to increase engagement and participation. Some incentive like a coupon or bonus introduces playful competition into work and motivates employees to go the extra mile. It can be used for employee onboarding, icebreakers, and participating in surveys.
Video Content and Live Streaming
With the goal of the intranet being the one platform employees should log onto for almost every official transaction, video streaming of official events and announcements by the management will be a feature most intranets will offer. Recording events, converting them into video content, and sharing the same will also be a feature that would be present.
Cybersecurity and Data Protection
With data becoming a precious and expensive resource for strategizing, providing the highest levels of cyber security and international privacy compliance will be a top priority for intranet solution providers. Intranets should have multiple backups and firewalls, protecting them against data breaches and hacker attacks.
Integration with HR Systems
Intranets will also aim to integrate with HR systems so employees can perform all their functions on a single platform—applying for leaves, encashing leaves, Resignation, applying for savings schemes, encashing savings, finding their salary slips, etc, so users don't have to leave the platform for any functions.
Conclusion
An employee intranet directly impacts the knowledge-sharing and engagement of employees. It empowers employees by giving them a voice and a place to share their ideas and concerns. Ultimately, an effective employee intranet enhances productivity by making the workforce more motivated and happy.
Schedule a demo with one of our experts to take a deeper dive into Document360
Book A Demo