Best Onboarding Practices For New Employee
Employees are an invaluable asset to your organization. A good onboarding will deepen the relationship with the company and improve employee morale.
According to a survey by Jobvite, 28% of the employees quit within 90 days of starting a new job because of poor onboarding experience
Hiring is expensive. After months of effort by the Talent Acquisition team in finding the right talent and if he quits due to poor onboarding, it is a very expensive mistake.
To avoid this unfortunate situation and help you with better onboarding, in this article we will focus on the checklists to be done during the employee onboarding process.
Importance of effective onboarding process
An effective onboarding process will help your new hires feel more valued, better understand their role, and increase their productivity and performance, resulting in increased engagement.
It is crucial to develop a strategic plan to map critical touchpoints to improve employee onboarding with an effective learning journey.
New hires connect with existing knowledge
When people understand their job, they'd be more productive. According to a survey by the Society for Human Resource Management, companies with a powerful onboarding program are 50% more likely to produce productive employees. Through knowledge management software, your new employees can easily access the information they need to complete a task—no need to call the help desk or delay a problem until it can be tackled with a teammate.
Employee self-service
Do you find your new hires constantly revisiting their jotted notes from training even after months of employment? Then, you need knowledge management software. This will provide them easy access to any information they need for their projects—from creation to strategizing and knowing who to approach for a specific concern. Make sure to put all relevant data in your knowledge management tool because it would be useless if your employees have nothing to view when they use your software. You may also integrate with LMS software for learning and training resources.
Also Read: Things You Should Be Aware While Creating Onboarding Documentation
Better employee retention level
Employee retention is one of the most important goals of any company. As shown in O.C. Tanner's statistics, a good onboarding program will make 69% of employees stay for at least 3 years in a company. If you want to retain your workforce for a longer period, you should invest in knowledge management and create an effective onboarding program for your employees.
Your onboarding program should make your new hires feel that they belong to your company. Feelings of discomfort and being out of place can cause them to feel unproductive, dissatisfied, and eventually leave your organization in a short time. Make sure your onboarding program provides a healthy atmosphere, warm welcome, and necessary guidance to your new employees.
Social collaboration for the team
When you have ready information in place, your employees can better communicate and collaborate on specific tasks and projects. Instead of spreading the information manually, your team members can access everything in one place. This also provides a seamless workflow and makes your overall operations simple.
Mentoring can be an added task to your old employees' daily hustle. Hence, effective internal communication and engagement should be implemented in your organization. To efficiently implement these factors, you need good knowledge management software.
Read more: What Do I need a Team Collaboration Tool 
Best Practices to Improve employee onboarding
Make information readily available
Employees should have access to all of the information that they require to know like company announcements, metrics, health and safety, regulations, and compliances. Having access to this information helps them make better, faster, and more accurate decisions. Teams are able to work together cohesively and this helps the organization to stay ahead of competitors.
Having a structured onboarding program provides a welcoming atmosphere for your new hires right from day one. That also means you can rule out massive paperwork and have new employees at a loss. It's crucial for organizations with functional onboarding systems to retain 81% of their new employees. The quality of your onboarding could determine if new hires stay with you or walk away after the initial months.
Capture FAQs, provide answers and make them searchable so new hires don't have to always rely on their tenured employees. If a question has never been asked before, capture that into your knowledge management platform and crowdsource from the rest of your organization. This way, your KMS will always be growing with valuable and updated information.
Utilize analytics
New hires require an internal knowledge base to help in self-learning and refining products and even train remote employees. It is important to monitor and understand the learning curve of the new hire. Advanced knowledge management platform with AI support accelerated the learning journey in a new hire. They capture analytics on employee performance and help you to improve the learning materials.
A KMS with engagement analytics will show you which content is getting the most engagement, such as views or likes. This lets you know which information is valuable to your new hires and determine if there are any knowledge gaps.
Read more: Why is Analytics required in a Knowledge Base?
Empower self-serve and self-pace
Your talent team might have recruited the best hire but it is your organization's responsibility to empower the resource. How to empower new hires? To acclimatize with a new position, role, and responsibilities the employee should have direct access to documents and articles that will help him learn, understand and clarify his questions. So invest your time in creating articles that you find useful for your employees. Document360 helps you set up an internal knowledge base to self-serve employees.
#1 Knowledge Management solution for growing teams.
Book a Demo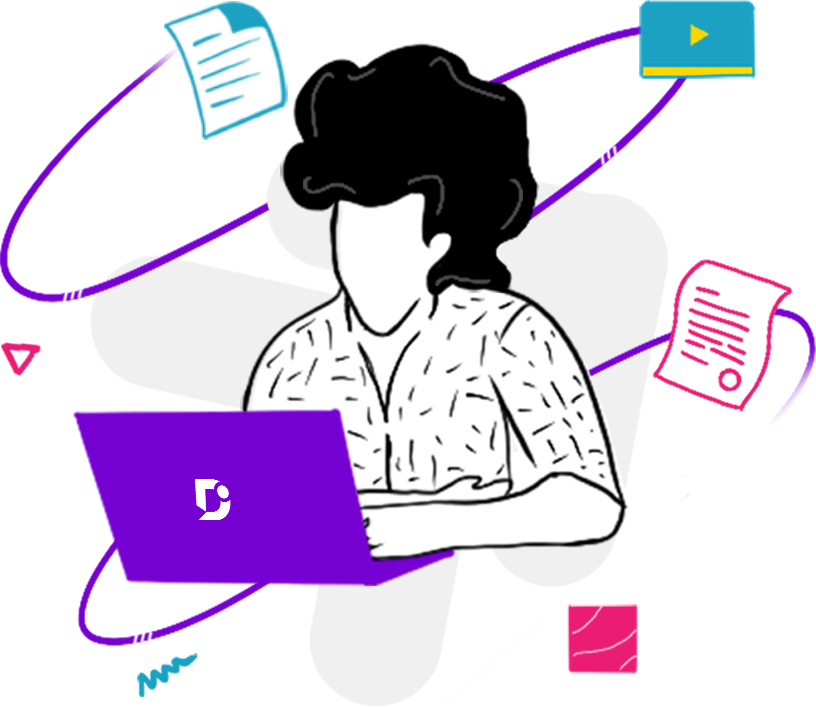 KMS empowers employees to take an active role right from Day One. For instance, they can be in control of personal development and supercharge their expertise in their domain. Also, they should have a sense of independence by having access to implicit, explicit, and tacit knowledge.
It's also essential to have a search engine on your KMS so employees can search for any training material they're looking for right in a central repository. Use filters and categories for a structured system. A mobile-friendly KMS is also helpful for the new hire to access it using any device, 24/7 and on the go.
Ensure employee alignment
Employees should have a good understanding of the Company's vision, strategic goals, and organizational culture. Lack of alignment between your organization and your employees leaves them misunderstanding goals, duplicating work, lower performance, and barriers to employee empowerment.
New employees have access to this documentation for alignment:
Company mission and vision statements
Core values
Organization chart
Employee directory
Learning and training resources
Policy agreements (e.g. internet use policy, company equipment)
Plus, onboarding can start even before their first day. This way, the employee won't be overwhelmed in their first week and they get to read and study these policies at their leisure. In the first week, your priority would be training. Here, you can assign a buddy or mentor to help the new hire to show them the ropes. You'll have to integrate the employee into your organization – introducing them to colleagues and go-to executives, engaging with company processes and technology, inviting them to network events, and more.
The onboarding timeline varies for different organizations, but it shouldn't be less than a month. This would be too short and quick for the new hire to grasp everything and feel comfortable with the pace. Usually, organizations take three months to complete the necessary forms, adapt to the company culture, and get adequate on-the-job training.
Read more: Remote Onboarding Best Practices for New Hires
Foster team communication
Creating synergy across your organization is crucial and your internal communications have a great impact on team collaboration and productivity. Both new hires and existing employees need to access information and effective communication to review, collect feedback and clarify their doubts. By clarifying that their feedback is welcome, you make your employees understand that their feelings are valued and empowered. Additionally, employees have insight into protocols, processes, change management making a better workplace.
New hires can reach out to colleagues for structured initiatives and on-the-fly engagements. For example, they can use KMS for mentorships.
KMS can also help enhance productivity. Imagine if a new hire goes into work and is clueless about your roles, policies, goals, projects, and so on. Getting acquainted with important company information takes a lot of time and effort if it's not readily available. However, structured onboarding equips new hires to have all information they need right at their fingertips so they can jump on their job and responsibilities immediately.
Over to you
If you feel your team is tired of spending more time onboarding new employees, then it's high time for you to think about investing in some employee onboarding knowledge management tool that will retain the interest of new hires and help them get empowered.
If you're still thinking twice about whether to invest in knowledge management software for your onboarding processes and overall business operations, let the information above convince you. You can't have the right people without providing the right knowledge. As the cliché goes, "knowledge is power." And it's even more powerful when utilized appropriately.
Also Read: How to Create an Effective Product Onboarding Process