Top 15 Knowledge Management Software 2021
Last updated on Apr 28, 2021
Introduction
Could you explain your job to someone else inside of twenty seconds?
How long do you think it would take to train them to the level you were when you'd been working for a month?

How about when you'd been there for a year?

That time discrepancy between "describing the job" and "getting someone to be able to do the job" is the reason why knowledge management is such an important concept. Having a central place for your company knowledge to be organized, revised, and expanded is extremely valuable in this new world of fast-growing companies competing for the best rising talent.
That's why, in this article, we've put together a solid ranking of the best cloud platforms that let you build just that.

The Things You Need in a Knowledge Base

Nine times out of ten, a dedicated knowledge base is going to be your best bet for knowledge management.

You may have heard before about company wikis running on open-source platforms, which can often be set up for just the cost of the server time and the labor of the person who gets it running.

The main advantage of knowledge bases is their streamlined ease-of-use and their powerful search features.

When you're adding new articles or expanding old ones, you don't want to have to worry about whether you're doing it right.

And even if you personally are familiar with the process, that doesn't mean all your employees are going to have the same level of comfort. For a good knowledge base you want input from people at all levels of the organization – because all of them have knowledge valuable to their own positions.
It should be a total piece of cake to add articles, move them around to different sections of the knowledge base, tag them, and otherwise manipulate them after writing. Make sure of that when you sign up for any free trials.

Your second big criterion should be the search feature.
When someone searches for a particular concept, the search bar should turn up with all the articles about that concept, but arranged predictively for maximum search efficiency.

It should also have autocomplete. Most people are used to autocomplete in every search box they type into these days, and if your help desk doesn't have it, it'll be an odd standout.
Document360 specializes in knowledge bases. The software package offers a powerful yet intuitive Markdown editor, designed for people with no experience using customer support systems to master the design language of user documentation.
As your company grows and expands, you'll definitely end up making regular additions and edits to your knowledge base articles. With Document360, it's easy to compare the changes side-by-side and see exactly what edits were made and by whom.

The analytics offered by Document360 are also top-notch.
It's simple to find out what articles are being seen and interacted with the most. This information is perfect for you to figure out which articles need regular updates, and which are becoming SEO-optimized mainstays of your website.

For example, you can quickly pull up a list of the most common search terms, and then compare it against the search terms which returned zero results. Those two lists should be able to guide a major part of your customer service actions, because they give you insights into what customers want to know about and what they aren't getting answered.

As you update your articles, you may want to roll back changes or compare different versions of each article. The Document360 editor lets you keep unlimited drafts of each article stored and accessible at the click of a button, then compare between any two. If you have multiple people on the team, you can see who edited which version most recently.

There's a 14-day free trial to get started on Document360, and the lowest price tier is $49 per project per month, going up to $499 per project per month for the enterprise scale.
HelpCrunch offers a clean interface designed to scale from the needs of small businesses to large enterprises.

It's an ideal platform for newcomers to customer service management, since it also includes a user chat function.

For each article, HelpCrunch offers a useful SEO optimization panel where you can add tags and other metadata to each article for better ranking in the search results for each term.

This dovetails nicely with the ability to see useful metrics from each search performed, such as how many searches produced no results. That list is very valuable as it shows you exactly what users are likely to be unsatisfied with in your customer service self-help platform.
Flowlu is a CRM, project management, and collaboration program in addition to a knowledge management solution.

The interface is based around cards, kind of like a Kanban board in contrast to the encyclopedic design of most knowledge bases.

Another useful feature that they've had the foresight to develop is the concept of knowledge transfer. When an employee leaves the company, all the little tips and tricks they've learned over time are usually lost forever and the new hire has to spend a lot of time getting up to speed.

Flowlu has developed a protocol to quickly capture that kind of knowledge from employees who are about to leave the company.

Pricing for Flowlu starts at $0 for a free tier with just two employees. The internal knowledge base is available at that tier, but moving up to the Business tier grants access to 16 users for $59 per month, and adds an external knowledge base functionality.
Tettra is another standalone internal knowledge base not marketed as part of a larger CRM. From their website, they were clearly created by people with real-life knowledge management needs.

Therefore, it comes automatically set up to import information from Google Docs, GitHub, and Dropbox, including direct file transfer.
There are also a number of templates, for example for employee profiles or for typical processes that your team has to go through.

It offers a fuzzy search able to handle the occasional typo, and includes a way for employees to easily make suggestions inside the knowledge base instead of having to go through another channel to suggest a new article. Finally, it integrates with Slack, so that you can answer employee questions with an automatic link to the knowledge base instead of typing out the same answers over and over.

It's free for five users, but from five to ten users the pricing jumps up to a total of $99 per month. Beyond ten users, you'll have to contact them directly for a quote.
Bitrix24 is chiefly a collaboration system with knowledge management features.

Its most attractive feature is its price point – for up to 12 users, the service is completely free. In 2020, Bitrix24 actually removed the user limit for free plans because of the pandemic. This free tier includes one knowledge base.
Of course, all the features don't start getting unlocked until the $55 per month plan.

However, those features include a fully-functional CRM with task management, voice and video chat, online storage, and unlimited knowledge bases (at the highest tier).
Intercom is another customer support and CRM solution with a bit of knowledge management built in.
For example, you can integrate automated customer chat with the knowledge base. Let's say your support team is away or a query comes in when everyone's asleep. The automated message service can pick up the gist of the user's query and serve them back a series of suggestions for matching knowledge base entries.
Intercom also prides themselves on multilingualism, so they include a built-in platform for localizing your content into various languages. Their own documentation is available in five languages as well!
Pricing starts at $39 per month, but to unlock the knowledge base among other features you have to move up to the $99 per month plan. There's also a free trial.
Zoho is a full CRM designed for customer-focused businesses that find themselves having to answer a high volume of customer queries.
Their Desk platform, known as Zoho Desk, is a combination of a ticket management system and a knowledge base, able to provide instant answers to customers and keep everyone happy – as automatically as possible.

Zoho supports domain mapping, where you're able to use your own domain but seamlessly transition users to Zoho's platform – which itself is fully customizable with HTML and CSS functionality.

The free tier allows you to set up an internal knowledge base for your own team's use and give access to three agents. For $12 per user per month, you gain access to the public knowledge base.
Helprace is a knowledge base solution designed around ease of use for your team and the users themselves.
It offers a couple of unique features – take article suggestions, for instance. On the side of the article, instead of a table of contents, users will see a list of articles with similar content. This list is automatically updated, so if you add a new article similar to an old one, the "related" section for each will automatically update.

This auto-suggest can also pop up in the "contact us" field. As a user starts writing a query to send to your team, you can display some relevant knowledge base articles right there on the same page.

There are also comments open underneath each article. This is a good addition to article ratings, because if someone is motivated to rate your articles as "helpful" or "not helpful," they'll probably also be willing to write a comment explaining why.

Pricing starts at $18 per agent per month for a plan with the knowledge base unlocked.
Zendesk as a company is probably one of the best known names in the customer service management space. It's not that well-known for its knowledge base, though that's hardly a marker of what features are available.
The knowledge management system at Zendesk is called Zendesk Guide, and as you'd expect it integrates with other customer service tools like the pipeline manager or the chat function.

Everything you create with Zendesk Guide is auto-saved and archived, so it's easy to restore back to an earlier point of your database. The layout also supports Javascript, HTML, and CSS for maximum tweaking from an expert designer.

Finally, you can easily import documents as help desk articles. Still working with Google Docs as a knowledge management system? It's a snap to import your articles into Zendesk instead.

The Lite version of Zendesk Guide is included with Zendesk Support, starting at $5 per agent per month. The standalone package is called Professional, and that itself is $15 per agent per month. You only get multiple help centers or theme templates by upgrading to a $29 per agent per month plan, though there is a 30-day free trial for the Professional plan.

10. Freshdesk
Freshdesk is a popular tool designed for many industries such as e-commerce, education, and more. The knowledge management platform included with Freshdesk is a powerful tool in its own right.

It allows you to manage multiple products at the same time in the same knowledge base, perfect for companies with lots of diversified product lines.

And speaking of diversity, it as well offers a robust multilingual localization tool.

Since it's aimed at larger companies, it's imperative to speed up the updating process of multiple articles at once. Therefore, Freshdesk also has ways to bulk move or bulk tag several articles at the same time.

Although there is a free plan with a knowledge base available, it doesn't unlock localization until the $35 per user per month tier, which is actually $45 per month when billed annually.



HubSpot is very highly regarded in the CRM and knowledge management space.

Their CRM automatically tracks which knowledge base articles have been visited by which customers, so you can avoid giving people links to the same articles twice. Isn't it annoying when a customer service agent tells you to do something you've already tried?

HubSpot's knowledge base offers robust analytics to go along with this tracking, showing your team which articles are the most helpful and which articles ought to be rewritten pronto.

HubSpot itself starts at $40 per month for two users, but the knowledge base isn't unlocked until the Professional tier. That'll set you back $320 per month for up to 5 users.

Helpjuice is a dedicated knowledge base software that puts emphasis on the customizability of its user interface.

The editor boasts drag-and-drop file import as well as copy and paste functionality for images and text from other apps.

It also has something of a "decision tree" feature, where you can make your knowledge base a bit more interactive. For example, you can set up a short quiz with a series of buttons saying "Select your product version: 2010, 2013, 2018, 2020." When you click on a particular year, the relevant article for that software version will appear, avoiding clutter.

There is a 14-day free trial for all plans, but adding more users will cost you. It's $120 per month for up to four users, scaling to $499 per month for unlimited users. The features stay the same for every tier.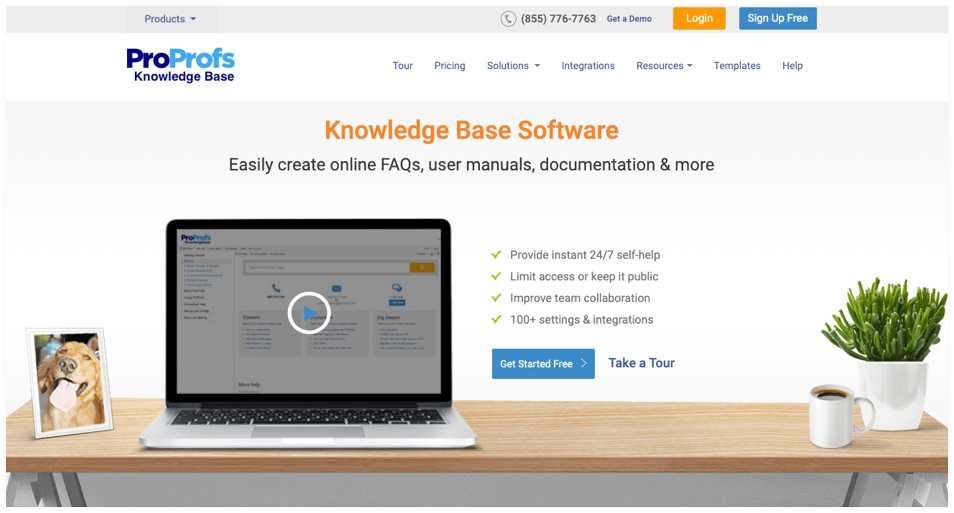 ProProfs is an all-in-one solution for building a help center, a documentation platform, and both internal and external knowledge bases.
With ProProfs, there's a big emphasis on collaboration and integration.
They connect well with Zendesk, Freshdesk, and other customer service platforms, as well as their own chat and helpdesk software offerings.

A team starting from scratch with ProProfs can access a library of pre-written and pre-designed templates when getting started. Afterwards, it's easy to edit the font, colors, and other graphical elements to match the rest of your software content.

There's also a strong emphasis on localization, with 90 languages supported.

Pricing starts with a free tier. Unlike other solutions which charge per user working on the documentation, ProProfs charges based on the pages you write. It's $0.30 per page per month, moving up to $0.50 per page per month with the ability to remove ProProfs branding from your knowledge base.

Bloomfire is widely used by some of the top global brands out there like Southwest Airlines, CapitalOne and VRBO.

It's easy to share knowledge in an internal and external knowledge base in the form of images, text, files, and videos integrated into your knowledge base.

And since Bloomfire is an entire customer service suite in one package, it's simple to connect data from your customer service calls with articles in your knowledge base.

Finally, Bloomfire has an AI-powered search engine, bringing out the right articles relevant to your search terms every time.

Pricing for Bloomfire is $25 per user per month, up to 50 users (which would be $15,000 per year in total). Beyond that, you should contact their sales team for a quote.

KnowledgeOwl is a well-known name in knowledge bases, since they've been around for a little while.

They distinguish themselves by specifically offering a FAQ editor and documentation editor as well as the internal and external knowledge bases.
That's a useful strategy because sometimes customers really want a quickly-browsable FAQ instead of a more detailed knowledge base with a search and everything else.

KnowledgeOwl also offers robust hierarchies and levels of access, allowing you to grant or restrict access to different groups of users as you like, as well as allowing you to grant edit access to different people on your own team.

Pricing for a knowledge base solution at KnowledgeOwl starts at $79 per month for just one user and one knowledge base. There's also a 14-day free trial for all tiers.
Conclusion
Still haven't found the right knowledge management solution for you? Try breaking down exactly what it is you're looking for in a knowledge base software. This article has only given a general overview of several different platforms, so try picking one and testing out the free trial to see if it works for you. Our money's on Document360 as the best bet for your knowledge management needs.