Knowledge management systems play a huge role in the FMCG industry by allowing industry leaders to stay up to date with market trends and buyer journeys and allow them to make good decisions. These systems also prevent business risks and allow for other business goals, such as innovation, optimization of the supply chain, and quality compliance, which would benefit both customers and the business.
Are you curious about how knowledge management systems can help your FMCG business? Read on to explore how bigger and better your business can get with knowledge management.
Overview of the FMCG Industry
The Fast-Moving Consumer Goods (FMCG) industry is a commercial sector encompassing a wide category of consumer goods – essential goods used in everyday life by every average consumer and has an extremely large market.
Sellers in this industry are numerous due to the high sales volume, and the consumers match the sellers because the goods are affordable and effective at satisfying their needs. It is necessary to implement a knowledge management system to ensure that there is a process of communicating first-hand with customers to tackle issues and meet their needs, all while achieving the goals of profit maximization.
Components of the FMCG Industry
Here are the different categories of products in the FMCG industry:
Food and Beverages Products: Food and beverages are one of the most popular and sought-after FMCG categories. They consist of subcategories, including Ready-made foods, snacks, meat, dairy, and packaged beverages.
Personal Care and Hygiene Products: The personal care and hygiene product line is also a very much sought-after category. According to Statistica, revenue in the beauty & personal Care market amounts to US$625.70bn in 2023. The market is expected to grow annually by 3.32%.
Household and Cleaning Products: This category is also popular and in high demand because consumers are particular about keeping their homes and surroundings clean. Products in this line include cleaning agents like bleach, detergents, and sponges, as well as home care items like paper towels, wipes, and sanitizers.
Health and Wellness Products: The Health and Wellness category includes products that are recommended for good health and overall wellness of the mind and body. They are drugs that can be gotten over the counter, supplements, and relaxation aids.
Tobacco and Tobacco-Related Products: This category is another popular, in-demand category. Products in this category include Vape pens, tobacco pipes, pouches, and cigarettes.
Top Brands within the Industry
There are numerous brands in the industry due to its competitive nature. A lot of these brands stand out as market leaders, but a few will be highlighted below:
Procter & Gamble: P&G is a huge player in the FMCG industry. Its products are categorized under personal care and hygiene. They are known for the establishment of smaller brands like Gillette and Pampers.
Unilever: Unilever is a multi-multinational company, a parent to numerous subsidiaries around the world. The company is recognized as a giant in the FMCG industry and a few of its products include Dove, Lipton, Ben & Jerry's, and Axe.
Nestlé: Nestlé's products are under the food and beverage category. They are the producers of Cerelac, Nescafé, and KitKat, among others.
The Coca-Cola Company: Based on Consumer Reach Points, Coca-Cola was ranked as the leading fast-moving consumer goods (FMCG) brand worldwide in 2022 with around 7.16 billion. Coca-Cola is a manufacturer of several products in the food and beverage category – alcohol, dairy & juices, coffee & tea, soda, etc.
PepsiCo: In the beverage category of FMCG, PepsiCo is a close competitor to Coca-Cola. The brand has a wide diversification of products. It is notable for its Quaker Oats, Pepsi, and Lays snacks.
Johnson & Johnson: This brand specializes in skincare, health, and hygiene items. This brand is a parent to other brands like Johnson's Baby, Neutrogena, and Band-Aid.
Kraft Heinz: Another tough player in the industry, Kraft Heinz specializes in food products. It is notable for its mini brands like Heinz, Kraft, and Oscar Mayer.
Colgate-Palmolive: Colgate-Palmolive is a brand in the personal care and hygiene products category. Their notable products are Palmolive soap, Diet pet food, Colgate toothpaste, and oral care products.
Kellogg's: Many cereal lovers are consumers of Kellogg's products. Kellogg is a major producer of edible consumables and has been successful in the market. Its products center around breakfast edibles and are of a wide variety.
Reckitt Benckiser: This famous hygiene and household cleaning brand is an FMCG leader. Its products are approved and are in high demand. Reckitt Benckiser is recognized for products like Lysol, Dettol, and Air Wick. It is also a producer of other antiseptics and air fresheners.
Benefits of Knowledge Management in the FMCG industry
The benefits knowledge management offers to the FMCG industry cannot be overemphasized. Researchers have studied trends and have pointed out positive results that come with knowledge management implementation.
They are discussed as follows:
Helps the Consumer Insights Team: The knowledge management software is designed to enable tracking of customers' data, feedback retrieval and prediction based on analysis of the findings revealed from the data. This makes it easy for the customer insights team to analyze information and make informed decisions.
Promotes Process Innovation: Knowledge management makes it possible to share best practices in the industry. This information is used to make necessary improvements and enhance important aspects like supply chain management and product modification. It also enables the management of companies to identify weak areas and bottlenecks in business processes, paving the way for positive adjustments to be made.
Leads to the Customer-Centric Approach: Knowledge management enables managers to understand the needs of customers and map their products and services to these said needs. However, The needs and wants of customers are always changing, just like the market, and the businesses that thrive are those that can adjust to these changes. Knowledge management makes it possible for companies to go toe to toe with customers and match their ever-changing steps.
Ensures Adherence to Regulatory Measures: Knowledge management can be configured to distribute information and regulatory guidelines, making it easily accessible to employees. This promotes compliance and the legal morals of the company. It also stores records, acting like a database the company can use to prove its adherence in cases where it is doubted.
Contributes to Faster Decision Cycles: The information processed from data obtained from knowledge management is a rich bank managers use to make decisions. These data are available in real-time, preventing time wastage in data collection and allowing for swift conclusions on deliberations.
An intuitive knowledge base software to easily add your content and integrate it with any application. Give Document360 a try!
GET STARTED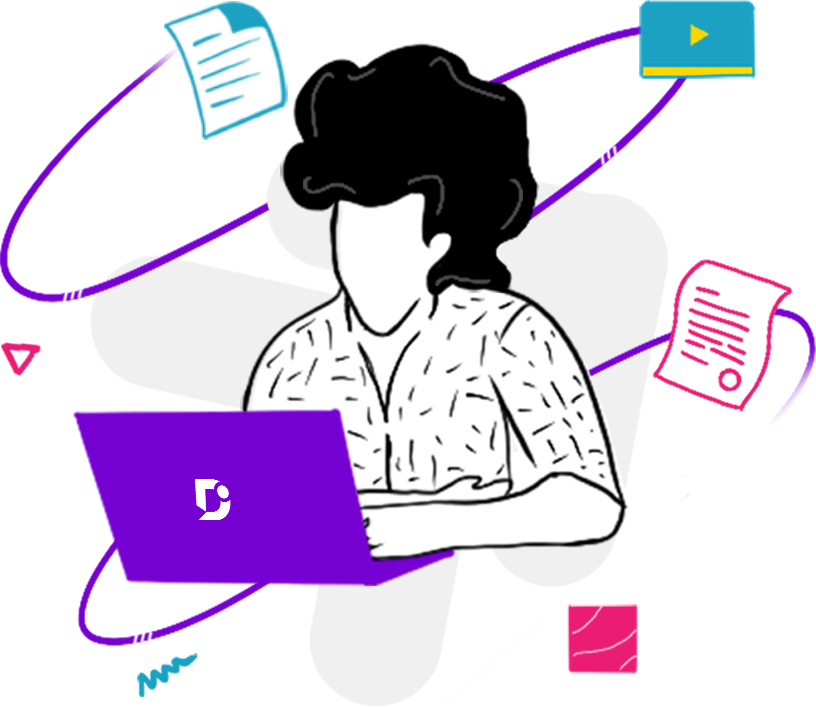 Challenges in the Implementation of Knowledge Management Systems in FMCG
As with every system, the knowledge management system comes with its challenges. These challenges, if not properly controlled, could cause complications for the company. Thankfully, they have been proven to be solvable. A few of them are analyzed below:
Data overload: Because of the mass storage knowledge management systems offer, teams tend to overload the system with data, most of which is irrelevant, just to make sure nothing is left behind. This overworks the system and the users of the system, making it difficult to filter through and identify information that truly matters. Also, due to the huge customer scale in the FMCG industry, there is always vast data ready to be taken in. This doesn't make it any easier as managers struggle to organize and feed the system with such a large amount of data.
Fostering Knowledge-Sharing Culture (Resistance to change): For companies that have just begun implementation of a knowledge management system, it can be a huge problem if the human resources of the company do not operate a flexible culture. Adjustment can be hard, and the system might end up being a huge failure if it cannot be controlled properly.
Choosing the right knowledge management system: A knowledge management system (KMS) does not have a universal, one-size-fits-all solution. The KMS a company chooses is dependent on factors such as the size of the organization, the skill level of workers in the organization, the attitude of employees, and the strategy of implementation adopted.
Handling sensitive data: Industries in FMCG handle massive confidential information and company secrets. Storing this is a system that should be accessible to everyone in the company is a bother. It is, therefore, important to implement encryption and passwords to limit access whenever necessary.
Keeping knowledge current and relevant: The system needs regular and consistent updates. This can be overwhelming for managers, especially in the FMCG where there is always a record of huge turnover every second. This requirement needs to be managed by real-time configuration and automated alert systems.
Also, Check out our blog on What is the Role of Knowledge Management System In Retail Industry?
Examples of FMCG companies with Knowledge Management Systems
Unilever
Unilever is a multinational consumer goods company. It has earned a reputation as one of the top companies in the fast-moving consumer goods industry. It specializes in numerous categories of FMCG, including food, beverages, cleaning agents, and personal hygiene products. The company is also known to be socially responsible, contributing to its global growth.
Having set a standard for uniqueness, Unilever maintains this in its knowledge management system.
Source: Unilever
As you can see from the image above, the KMS is designed to maintain and disseminate information about the company – its history, reports, employees, etc. If customers have any information or questions about the company, they can also use the FAQ section or contact the help desk.
Coca-Cola
Coca-Cola is mostly recognized for its flagship product – Coca-Cola. Since the creation of Coca-Cola, the brand has put out numerous successful beverages into the market. It has also diversified in tailoring products for customers with special needs. The company has a massive partnership globally and has thrived even in tough economic crises.
Coca-Cola provides a knowledge repository where stakeholders can get answers to their questions about the company. There are FAQs on which clicks are monitored to note what customers really care about. There are also customer support channels that are documented and recorded for audit and quality assurance purposes.
Source: Coca-Cola
Danone
This Paris brand is highly recommended for its diverse product portfolio, health and nutrition focus, global presence, sustainability initiatives, corporate structure, consistent research and innovation, and social responsibility status.
Donane's website has a search functionality that ranks and analyzes searches to collect information. It is impressive to no3te that it has an option for user-generated content where users can give feedback directly to the company.
Source: Danone
It also has multilingual software to accommodate diversity in language, making sure every customer is duly attended to.
Danone website in French
Procter & Gamble (P&G)
This company has many other brands under it that cover a wide range of products. It has a well-established supply chain and is fully engaged in e-commerce and digital marketing.
The knowledge management system of P&G is straight to the point and enables customers to get more information about the brand and contact them for inquiries.
Source: P&G
When a customer clicks on any topic to learn more, they get redirected to another webpage where they can get more information about the topic.
Source: P&G
How Can Document360 Help?
Knowledge is an asset to every FMCG company because it can make or mar the business. Knowledge base software like Document360 can help you keep your company's knowledge in one place so the right people (customers, employees, stakeholders) can have access to it. Here are more ways we can help your business:
Knowledge sharing: Document360 serves as a storage house for information, where you can store, and manage your company's knowledge. It is easily accessible to your team based on your arrangement and saves you the hassle of figuring it out on your own.
User-Friendly Documentation: Managing documentation on Document360 is easy due to the user–friendly nature of the interface. Creation, editing, and organization of documentation is super easy.
Searchable Content: Locating specific information on Document360 is not a problem at all. Thanks to the search functionality, it is super fast to browse through the massive knowledge bank.
Role-Based Access: With Document360, your security is assured as it allows you to control privacy and access settings to your documents.
Analytics and Insights: Analytics is available for every document. This makes it easy for you to monitor your document and identify the interests of your audience.
Content Collaboration: The system is designed to allow for team collaboration on content, team sharing, and collaborative management.
User Feedback: Document360 enables mechanisms where users can provide feedback in terms of contributions, questions, and suggestions. This helps you identify their needs and makes it easier to satisfy them while pursuing the company's goals.
To wrap up, investing in knowledge base software like Document360 will help grow your FMCG business, increase customer & employee satisfaction, speed up decision making, and reduce silos. Request a demo and begin your 14-day free trial.
Schedule a demo with one of our experts to take a deeper dive into Document360
Book A Demo