Integrating your chatbot with a knowledge base
Chatbots can help you convert website visitors into customers. But you need to make chatbots more intelligent by integrating them with your knowledge base. A chatbot on its own is not that helpful to your customers because it doesn't have access to the right information, but linking your customer support knowledge base to your chatbot enhances its usefulness. 
Chatbots are becoming more popular with companies who want a simple way to improve their customer service and offer a well-rounded customer experience, without increasing their headcount. 68% of customers like chatbots because they provide quick answers to their questions. No one wants to wait around for someone to get back to you through email, or wait on hold on the phone.  That's why chatbots are the fastest growing brand communication channel, increasing by 92% from 2019 to 2020. 
What are chatbots?
"A chatbot is an intelligent virtual agent used to optimize communication processes between companies and their customers." – Visor.ai
A chatbot is a computer program that processes and interprets human conversation (whether written or spoken) and allows people to interact with digital devices as though they were talking to a real person. 
Chatbots work using a combination of Natural Language Processing and Machine Learning to simulate conversations with humans.
Instead of requiring your customers to contact customer support, a chatbot can field basic queries from customers, instantly. 
Why are chatbots useful?
Chatbots save businesses money by offering a convenient way to help customers without the intervention of a human. They are a convenient way for customers to obtain answers to common questions without having to pick up the phone to call support. 
Chatbots allow businesses to more easily scale their operations by offering personalized and proactive service. When relying solely on people to offer support, businesses can only help a limited number of customers at a time. With chatbots, you can help a potentially unlimited number of people at once in an engaging and personal way. 
Messaging applications are increasingly becoming the preferred way for customers to interact with businesses. Chatbots offer a level of service and convenience that sometimes goes beyond what a human agent can provide. While saving businesses money and making them more efficient, chatbots enhance the customer experience. 
Chatbots streamline interactions between people and services, offering companies new opportunities to improve the process of customer engagement without having to spend more money hiring new agents. 
They can also convert website visitors into customers by answering the questions that people have about your products and services. An interaction that would have taken minutes or hours can take place in seconds, resulting in more leads for your business in a fraction of the time it would have taken without a chatbot. 
70% of customers use a knowledge base for support-related queries. Serve them better with Document360!
Book a Demo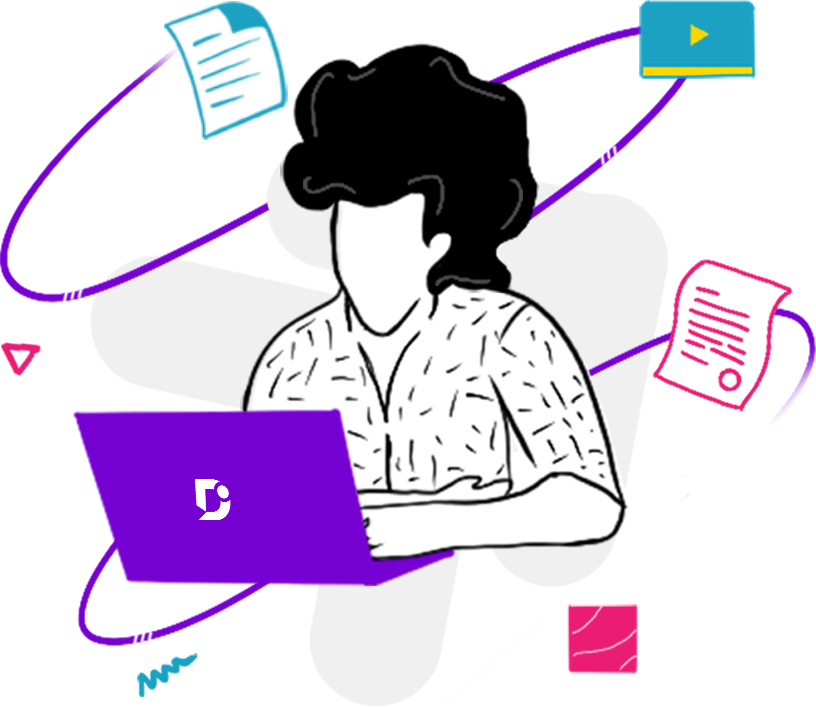 Integrating chatbots with your knowledge base
Without a knowledge base integrated with your chatbot it will lack the ability to answer customer questions. When you integrate your knowledge base, your chatbot is empowered to answer basic customer questions by serving relevant content. 
There are several reasons why you should connect your knowledge base with your chatbot: 
Chatbots need access to diverse source data. Chatbots simulate human conversations and to be able to do that successfully they need data to create data learning models. When talking to website users chatbots need an idea of the kinds of questions that are usually asked and what should be the best answer. When integrated with a knowledge base the chatbot can comb through the articles and determine the closest response that will solve the user's question. 

Chatbots need structured data. Chatbots can understand unstructured input data, interpret it correctly and deliver structured output to the customer. For example, the unstructured data could come in the form of a question. The chatbot uses its machine learning capabilities to match the query to the structured data in the knowledge base and deliver an output. 

Chatbots can deliver much faster responses to customers than human agents can. When it comes to simple problems, the computer can search quickly through thousands of keywords and function as an extension of your knowledge base. 

Chatbots are able to interpret the same question asked in a multitude of different ways and return correct answers to customers. This contrasts with a basic search tool which is limited in the number of searches it can perform at a time. 
Intercom and Document360
Intercom is a conversational and messenger based business solution provider. It's a SaaS product that enables effective communication with customers using chatbots, live messaging, and much more. Intercom comes built in with a Resolution Bot which is a chatbot that accelerates resolution times for customers, even if your support team is busy or offline. 
We have designed Document360 in a way where third-party extensions like Intercom can be configured by the users without any complexity. You can use Intercom with Document360 to provide real-time support for your website users by searching for and sharing articles (link or article content) from your Document360 knowledge base, within the Intercom chat box.
Drift and Document360
Drift is a conversational messenger platform that you can add to your website, knowledge base, or online business. Drift comes with custom chatbots that you can use to engage website visitors in seconds with specific messages and interactions for every visitor. Drift also offers AI chatbots which lets you engage and qualify every site visitor no matter where they land on your site. 
Integrating your Document360 powered knowledge base with the Drift chat application gives you an additional edge when providing support or answering queries for your customers. You can share relevant articles and information from your knowledge base, without having to leave the Drift conversation page.
Combining Drift with your knowledge base is a good way to offer support to your customers, saving a lot of time and effort. 
LiveChat and Document360
LiveChat is powerful software that lets you communicate with your customers. Let chatbots generate leads, create help tickets, and chat across channels.  Greet customers and quickly route chats with the help of AI. Automatically segment visitors based on what they do on your site, so you can better meet their needs. 
You can integrate your Document260 knowledge base with LiveChat's live chat software, and use their chatbots to converse with your customers. 
Freshdesk Messaging and Document360
Freshdesk Messaging (formerly Freshchat) enables you to deliver on customer expectations using the latest in conversational messaging and AI-powered bots. See all messages from customers in one place, wherever it comes from – in-app chat, website chat, WhatsApp, Facebook Messenger, iMessage and more. Support customers across messaging apps and devices. 
Build once and deploy chatbots on all messaging apps and devices. Answer questions, guide customers to resolution, and gracefully escalate  to an agent – all done automatically. 
Document360 integrates seamlessly with Freshdesk Messaging so you can take advantage of its AI-powered chatbots to answer questions from your customers. 
Olark and Document360 
Olark combines a live chat tool with customer data collection to help you improve your communication with users. Use Olark with Document360 to customize and manage your customers' live chat experience. CoPilot is Olark's chatbot that doesn't replace your agent, it assists them. If it gets stuck, it calls for help. When your agents are free to take over, they can grab the wheel and own the conversation. This is a chatbot that keeps your people in control.
Document360 integrates with Olark so you can benefit from its full chatbot capabilities and help your customers when they need it most. 
Kommunicate and Document360
Kommunicate is an all in one platform to automate customer support using chatbots and live chat. Build AI chatbots without code, generate more leads, be available 24X7, improve customer experience – give your customers the best of AI with a human touch.
You can benefit from a simple, intuitive and easy to use interface wrapped over powerful conversational AI. Make NLP-powered support bots and conversational workflows without any code. Create bots that can qualify leads, schedule meetings, and/or support your customers 24/7. 
Document360 integrates with Kommunicate so you can quickly hand off your customers onto relevant knowledge base articles that help with their problems. 
Crisp and Document360
Crisp is an all-in-one multichannel messaging platform that connects companies and customers. You can take advantage of their chatbot builder which comes with a visual editor so you can create workflows through their no-code builder. Simply hit "publish" and your scenario is live, ready to help your company to scale unlimited, personalized conversations 24/7. 
Document360 integrates with Crisp so you can have your knowledge base articles recommended to customers quickly and efficiently. 
Final remarks
The cold hard truth is that if your business is not open all hours you will lose out on potential customers. Chatbots allow you to deliver round-the-clock support and handle all manner of queries, for a theoretically unlimited number of customers. With this technology, your support agents will also be freed up to focus on the more complex queries and have their morale improved by not having to deal with repetitive questions. 
Your chatbot needs to be integrated with your knowledge base in order to deliver the best service to your customers.
Also Read: How to enable and use the Integrately Document360 Integration
An intuitive knowledge base software to easily add your content and integrate it with any application. Give Document360 a try!
Get Started