Only a few businesses are as competitive and customer-oriented as call center enterprises.
That's why your every action needs to add value to the company to separate it from the crowd.
In today's time, when the bar for customer services is already set so high, you can't afford process oversights to impact the customer experience. And if your day-to-day operations are getting too hectic with constant back and forth to answer customers, then it's time to reflect on what isn't working. SOP can help you identify such gaps and improve your internal process management at a low cost.
How Can SOP Help?
SOP (Standard Operating Procedures) can help you streamline your daily operations so that team members have written documentation for reference instead of depending on unreliable shortcuts.
SOP is a detailed document that:
Identifies internal processes
Summarizes the requirements
Describes what action to take
Defines the timeline for each action
Decides who will be accountable for the task
Determines the expected result
It provides step-by-step guidance to employees on handling every situation professionally and efficiently.
Each department can have its dedicated SOP relevant to its daily tasks.
For example, your sales team can have an SOP defining how to convert a potential customer into a customer. While your customer success team can have an SOP about responding to customer emails.

Irrespective of the department, SOP can streamline your efforts and convert your unorganized activities to processes.
In this article, let's explore 10 significant reasons why investing in SOP can make your team efficient and customers happier.
Read more:  10 Essential Steps in writing SOPs
10 Benefits of SOP for Call Centers
1. Reduce Goof-Ups
To err is human. That's a cliche because it's true.
Your team members can make mistakes now and then if they don't have clarity about the process or the steps to take next. And these slight mistakes can trickle down to become a blunder or, unknowingly, become a part of your general practice if left unchecked.
Written documentation leaves no room for errors made by subjective interpretation and ensures a predictable result. Even if an incident occurs, you can update the SOP to accommodate the new possibilities and avoid them from happening in the future.
Providing written SOP walks your team through complex situations and reduces ambiguities that lead to mistakes.
2. Ensure Business Continuity
Onboarding and training new joiners can be demanding and time-consuming if you don't follow a definite course of action. Also, relying on just the verbal training method won't assure 100% information absorption.
Documenting product knowledge, internal processes, and troubleshooting information can quickly help new agents understand their responsibilities and take over their roles. Written documents help the new joiners prepare for the possible situations and customer questions beforehand. It can take off a significant training load to save time and money.
It also eases delegating tasks to another agent in case of attrition or temporary unavailability of the original stakeholder.
SOP ensures that the consistency of the outcome isn't impacted irrespective of the agent working on the task.
Read more:  Best Onboarding Practices For New Employee
3. Avoid Knowledge Loss
Transferring product or process knowledge through word of mouth can become a Chinese whisper with time.
Undocumented knowledge can lead to incorrect or omitted information to pass throughout the team. Also, if an experienced team member leaves the organization, then the valuable process information can get lost with them.
That's where SOP can help you compile all the facts to avoid relying on hearsay or knowledge depletion. It ensures maintaining process efficiency at all times and storing essential knowledge ready at the team's disposal.
But it's crucial to use an organized structure for documenting your procedures to maintain the relevance and gist of your information. And it's even more vital for technical documentation that introduces your product to team members and customers. Refer to some proven structures for technical documentation with practical do's and don'ts.
4. Maintain Service Consistency
With ten different agents, you'll see ten distant work styles. Sometimes, it can lead to inconsistencies in customer communication as well.
For example- a customer inquired about your refund policy over call and was provided the answer by an agent. But when the same customer wrote an email about this, another agent presented him with different communication.
You can eliminate such inconsistencies if all the agents have a definitive reference source. SOP can help you set up a knowledge base with details to maintain consistency and efficiency.
You can implement best practices for process completion to introduce positive changes and get optimized results.
SOP guides the agent on the action points and what timeline to follow for prompt task resolution.
It can also help your agents in tricky situations. For example- it can direct your agents on handling enraged customers without violating any rule, leading to better customer service at a low cost.
Read more: What Is Call Center Knowledge Base Software and Why Is It Useful?
Leave no room for errors by documenting your procedures!
Book A Demo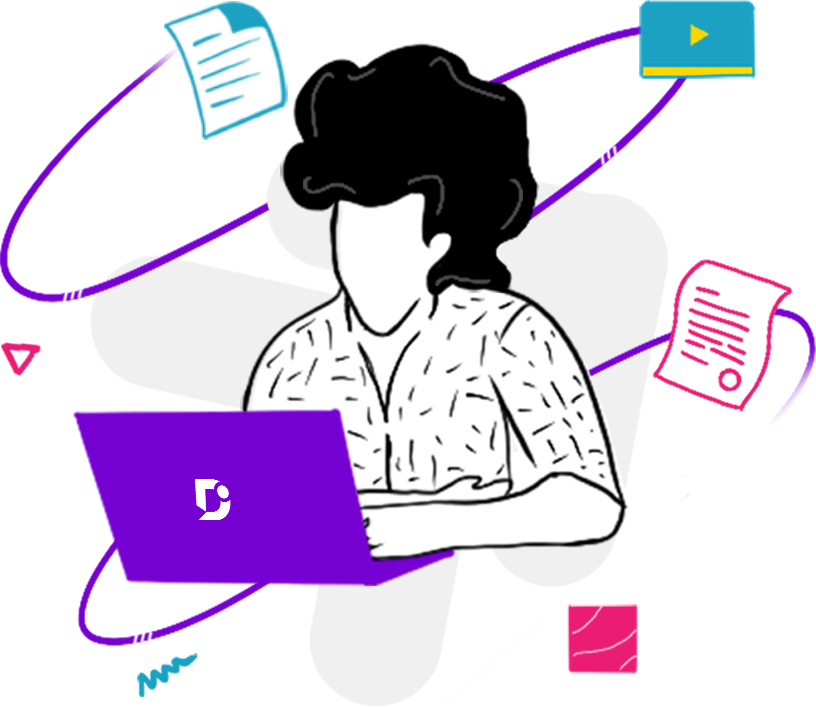 5. Cut Down on Call Handling Time
Average call handling time is the most critical parameter for any call center operation. It can help you move ahead of your competition and attract more prospects if your team is quick on its feet.
Empowering your agents with proper documentation can help them handle customer concerns in less time.
You can also include standard response templates in your SOP to save time on frequently asked customer questions and ensure your team follows company communication guidelines.
And, if your team uses a VoIP service for communication, you can integrate it with other communication platforms to ensure prompt response to customers.
This preparedness can help you resolve more customer queries without compromising service quality.
6. Measure Employee Performance
Each agent has specific roles and responsibilities based on which their performance is reviewed. But the performance review can turn into a futile exercise if the agent and their supervisor aren't on the same page.
Therefore, it's crucial to document the expectations and framework that managers or supervisors will use to measure the agent's performance.
It also provides clear visibility to agents on performance metrics and how they'll be assessed. A fair and transparent analysis is especially important to reward the high-performing agents and train the rest of the agents.
It'll avoid any conflicts and help the team to focus their efforts on things that matter.
Also Read: How to Write an Employee Handbook with Examples
7. Boost Autonomy
There are employees in every organization who know all policies and processes. And in the absence of any documented SOP, the new joiners have to depend on those experienced team members for every query or concern. That's why 75% of managers across 50 industries were dissatisfied with the training provided in their company.
It impacts your team's overall productivity and slows down the turnaround time.
It can do severe damage to your customer satisfaction scores, considering customers need solutions to their problems instantly.
To avoid such situations and ensure that each agent takes accountability for their tasks, empower them with all the help they'll need. When agents spend less time figuring out how things are done, they can work on their goals and even stretch them further.
Providing documented step-by-step guides can allow agents to make correct decisions without depending on other team members.
8. Ensure Standard Compliance
Call centers have to adhere to strict rules set by regulatory organizations, and therefore, compliance becomes an essential factor in running a business without any hiccups. SOP allows you to think through such requirements and incorporate any legal knowledge management necessity to protect your employees and customers.
Layout these guidelines clearly in your SOP to educate your agents about do's and don'ts for a customer call and mitigate all possible risks.
Choose the VoIP service provider that records and transcripts call so that you can analyze and ensure compliance.
9. Scale Swiftly
With clear SOP drafts, you gain capabilities to scale rapidly. If your operations need more workforce, you can add new team members and speedball your processes without compromising quality.
Usually, in companies with multiple departments, responsibilities might get blurred, and therefore, drafting SOP lets you set a clear scope of work for each department. It also defines your company hierarchy and the chain of commands to avoid confusion among your team regarding whom to reach for any review or special approvals.
There are fewer internal miscommunications and errors when all team members are on the same page.
Standardizing operation procedures allows you to maintain uniformity and business value even if you're serving hundreds of customers. And working on SOP can also help you identify the scope of minor or significant automations that can reduce your team's manual burden.
10. Simplify Audits
SOP makes internal audits easier to ensure that you meet all necessary compliance and safety standards. Effective audits can help you track any kind of deviation between the actual performance and the documented expectations.
It also helps find the gray areas of the companies that need some extra work for growth. SOP allows easy review in case of any incident investigation and sees how to eliminate such scenarios in the future.
You can also enhance your processes for business growth by introducing continuous improvements in your SOP drafts. And since the foundation is already clearly outlined, new changes won't disrupt the ongoing operations.
Conclusion
Creating SOP isn't easy. It takes a lot of hard work, time, and effort.
But that's necessary because it has the power to transform your business operations and a thought-out mechanism is crucial for long-term success. It's also a great way to identify the gaps in your existing processes and fill them for better efficiency.
Introducing SOP answers your team's frequent questions and makes them self-sufficient. Instead of worrying about what they should do next, they'll be able to achieve their maximum potential.
While creating an SOP, ensure that you involve the team members who use these daily. Take their feedback and draft an SOP that structures their repetitive tasks and boosts their performance.
You can use tools to make the SOP relevant and engaging so that your hard work doesn't remain left in some forgotten computer folder. Learn how to write an effective SOP with some sample templates you can use.
And remember to keep updating your SOP (at least quarterly) with new changes in your processes to keep it relevant and valuable.
To see how much value SOP can add to your processes, you can introduce it for a single task and compare the team performance before and after implementing SOP. If you find this of value, you can proceed with working on other SOP as well.
Also Read: 10 Top Standard Operating Procedure Software (SOP) for 2023
An intuitive knowledge base software to easily add your content and integrate it with any application. Give Document360 a try!
Get Started