Did you know that 75% of organizations believe that creating and preserving knowledge across evolving workforces is important or very important for their success over the next 12–18 months?
That's great, isn't it? Organizations understand the growing importance of knowledge management.
But here's another fact that's likely to shock you.
Only 9% of respondents from the same study are ready for this trend.
This huge number gap goes on to show the difference between importance and readiness among businesses towards knowledge management.
If you see yourself as part of this gap, it is time to develop a successful knowledge management (KM) strategy today (not literally).
The question is, why build a KM strategy now?
Benefits of Implementing a Knowledge Management Strategy
With a successful knowledge management plan, you can reap multiple benefits for your organization. We've listed a few below to help you understand their growing importance.
Improves awareness of roles and responsibilities:
With an internal knowledge base, you can ensure that all your employees are aware of all their roles and responsibilities. Your HRs and managers can avoid answering repetitive answers around the same.
Secures ideas for the future:
It becomes a repository of ideas that your product team members can always go back to. Team members can store their ideas around your product as and when they come and share them with the organization.
Helps support team members become productive:
Your customer-facing teams, such as support and success teams, can benefit from a well-developed knowledge management system. They can find answers to common questions and focus on more daunting queries.
Encourages prospects to know your product better:
You can build a knowledge base for prospects to consider your brand. It will help them understand the number of features you offer and whether it matches their functionality needs or not.
Promotes collaboration within and across teams:
While knowledge sharing is the primary benefit of a knowledge management strategy, that promotes collaboration. Employees can update the existing information in the repository and ask other team members to pitch in as well. They can drop in comments to help others rectify the articles or internal documentation.
These benefits are quite encouraging for one to build and implement a successful knowledge management strategy at their organization. But before you dive right into the strategy development process, let's take a look at the top 10 methods used for building KM strategy.
Top 10 Methods of Knowledge Management Strategies
You may wonder, "Why stress on methods for KM strategies?"
They'll help you collate data from various teams or departments and even upscale employee productivity. That's why you can skip directly to the steps of developing a KM strategy. You'll have to follow through with these methods to ensure everything aligns with the strategy in the first place. Here's a list of our top 10 methods to direct you in the right direction.
1. Incentive plans
Want to encourage your employees to offer that extra effort every time?
Build an incentive plan that includes rewards or better steps for recognizing their efforts for taking the right knowledge management actions at the organization.
2. Promote networking
We can all agree to the fact that collaboration is becoming the bread and butter of a thriving workplace.
Whether it is collaborating within the team or externally with other departments, it helps each employee brainstorm better ideas that benefit the organization. These benefits skyrocket when employees decide to collaborate with industry experts on social platforms—such collaboration results in innovative ideas that improve the product and brand visibility to a large extent.
3. Invest in Knowledge repositories
All the intelligence gathered needs to be stored and categorized in a way that it becomes accessible to the right audience.
How do you make that happen?
Just onboard knowledge management software.
Even studies claim that more than 50% of companies offering web or mobile self-service have seen an increase in their website traffic. And so can you.
4. Assist and analyze
You've got all your organization or product-related information in one place – within your knowledge management portal.
That's great!
But you can't just use it for reference. Use the same repository to assist you in finding better facts or identifying solutions to an existing problem. Identify where your product lacks post-data analysis. You are likely to find areas where your product lacks and identify how that can be rectified.
5. Codification
You have intellectual property at hand that can benefit both customers and employees. But you've got to make it visible so it's found easily in challenging times.
Here's what you can do to make your articles visible to those in need:
Add a search bar to your repository so people find relevant information faster
Add relevant tags that help users reach the desired article hassle-free
Create SEO-optimized articles using metatags like titles, descriptions, and alt-tags
Such codification will help you make the necessary information accessible to the audience.
6. Publicize
Let people know that you have a repository such as this in place. They can refer to it before reaching out to your support team or HRs at the organization.
How do you make that happen?
Here's what you can do to promote your internal documentation system:
Send out an email with a link to the repository
Make it accessible in the employee portal
Inform employees about it during orientation
Here's what you can do to promote your external documentation system:
Add a direct link to the repository in your website's navigation bar
Make your articles SEO-optimized so they appear during normal search
Share the repository link via email with existing customers
7. Make inventions
Help your employees voice their ideas to bring the right inventions to life at your organization.
Encourage them to participate in brainstorming sessions. Even if their ideas aren't feasible at the moment, don't let them feel as if their idea is bad or they didn't make a better effort. Explain the technical side of their idea so they know why it's not possible to implement it right away.
Try to recognize employees in group chats when they share new ideas. This will set the right example among others and encourage them to voice their ideas as well.
8. Put into action
With the right ideas for invention in place, you can decide how they need to be put into action. Decide on a timeline for the planning and execution phase of the ideas. Loop in other teams to see how the idea will fill in the existing gaps in your product or work process. This way, the execution of the idea will take place seamlessly.
9. Develop demand-driven KM
Don't just document what you feel is essential for your employees or customers. Build a knowledge management system that meets the existing demands and resolves never-ending common questions from your target audience.
10. Enhance
Never stop at building the first version of your knowledge management platform.
It needs to be upgraded every now and then so that your target audience finds the right information hassle-free. Find the common queries on a quarterly basis and identify the scope of their articles. When creating their articles, ask yourself the following questions:
How much information needs to be added?
What should be excluded?
Can it fit into an existing article, or needs a standalone piece?
Based on these tried and tested methods, you can guarantee complete knowledge management in place.
What Are the Essential Components of a KMS?
While we are clear on what methods can prove to be beneficial for knowledge management strategy, we are yet to explore its essential components. Let's take a look at them in this section.
1. People
One of the first components that you need to get right for your knowledge management plan is the people working on it.
You need to decide:
Who will be responsible for documenting the information in the repository?
How many individuals can work on getting the information right in an article at a time?
Who gets to build strategies on knowledge sharing with the target audience?
Based on the answers to each of these questions, you'll get to decide on the right people who get to work with the repository regularly.
2. Methodologies
Another crucial component of KM strategy is methodologies. From research to finishing each article, each stage needs to be taken care of using a specific methodology. You need to ensure that every member involved with the knowledge management process is well aware of the chosen methodology to avoid mistakes.
3. Explicit content
Avoid writing confusing content that makes information inaccessible to everyone. Your content needs to be direct and answer questions like:
This will help you build a more approachable repository for people seeking answers or ideas for product innovation.
4. Ideology
Stick to one ideology around building your knowledge management platform.
If you plan to build an internal KM platform, make sure it answers all the questions that employees may have regarding their employment or job role.
But if you plan to create an external repository that is used exclusively by your customers, ensure to answer all the questions about your product and its functionalities. Avoid deviation at all costs.
5. Technology
Adopting the best knowledge management software is a crucial component of this process. Select one that gives you the freedom to build both internal and external repositories.
What's more, it should also help you assign roles, add functionalities like a search bar and integrate with other platforms for improved performance.
Steps Involved in Developing a Knowledge Management Strategy
With methods and components in place, we are ready to explore the top 6 steps that are involved in the development process of knowledge management strategy. Let's dive in!
1. Identify your goals and objectives
Understand what end goal you plan to achieve with this knowledge management platform in place.
With the help of other colleagues, identify what organizational difficulties you plan to resolve with this repository and how it can be made viable in the long run.
2. Perform a knowledge audit
With your goals in place, you can move forward to the next step which is performing a knowledge audit and identifying possible gaps that this repository can fill. If you lack collaboration during the information-sharing process, use this strategy to bridge that gap and involve every employee so they stay up-to-date on every piece of information.
Similarly, for example, you can perform an audit to identify the knowledge gap among customers around your product and its services. Based on that, you can identify possible questions that customers may ask frequently and build a knowledge repository accordingly.
3. Analyze business value and prioritize opportunities
Once your audit is done, your next step is to analyze the business value and prioritize opportunities. For this, you need to identify the value your KM strategy brings to your business and what type of opportunities it brings to the table.
For example, if you plan to create an external knowledge management platform, understand how it can turn out to be a marketing and sales asset along with a support resource for existing customers. By doing so, you prioritize its value for your business.
4. Prepare a Knowledge management framework
With the value out in the clear, it is time to create a knowledge management framework. This framework will be inclusive of the following:
Ways to procure the information
Ways to validate the information collected
How it needs to be documented (set a template)
Who will be responsible for updating it regularly
Who will access the information (customers or employees)
These components will help you create a standard framework that employees can follow through and maintain the quality of the knowledge management platform.
5. Pick a knowledge management tool
You've sorted all the information collected, so it is time to add it to a platform that makes it more presentable. Use a knowledge management tool to make the collected information accessible to the target audience.
Knowledge management tools like Document360 will help you:
Document the information and allow you to make it accessible with its search bar and tag features
Add multimedia files such as videos, images, GIFs, and more to make the articles look more polished and self-explanatory
Secure the information stored using features like IP restrictions, SSO, security groups, and more!
An intuitive knowledge management software to easily add your content and integrate it with any application. Give Document360 a try!
GET STARTED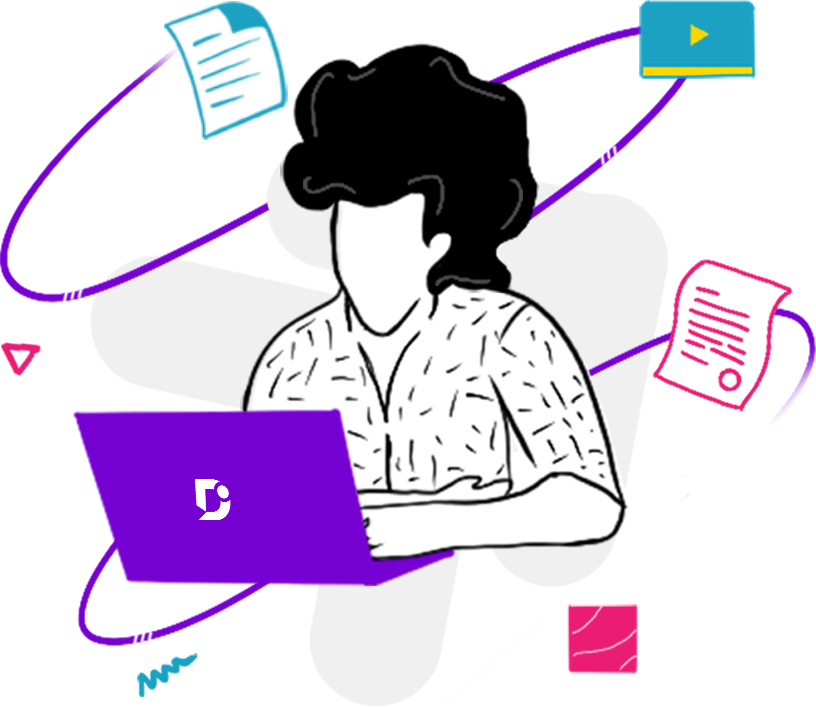 6. Develop and share an action plan
Got the right information? Check
Have a knowledge management tool? Check
Now, time to develop and share an action plan on how the knowledge management platform needs to be updated on a regular basis. Understand how often the platform needs to be updated with new information. Identify ways to avoid knowledge gaps, such as updating an article when feature upgrades take place or when more search queries for common questions add up in the repository.
Best Practices of KMS
By far, we've covered methods, components, and steps to develop a knowledge management strategy. But now it is time to identify and reflect on the best practices. Let's explore a few briefly.
Build awareness across the organization for all types of knowledge that is available to date.
Discuss the future plans for your organization around this strategy. Share your current position as a business and where you see yourself going in the future. Once you share your aspirations, discuss various ways to measure your goals.
Explore various ideas on bringing in new suggestions from every employee and how they'll be rewarded for adding more value to the organization.
Identify the right sources who can help you expand this initiative and its implementation.
With these best practices, you'll successfully build and implement your knowledge management strategy hassle-free.
Enhance Your Knowledge Management Strategy With Document360
It's always a challenge when you try to plan and execute a strategy, especially if it is around knowledge management. You can easily miss out on a lot of components. However, our quick guide covers more than just components.
We've brought together various methods, steps, and even best practices that will help you develop your KM strategy hassle-free. That's not all.
With the use of our knowledge management software, you can make sure that all the information stored is:
Categorize appropriately so that users can find relevant articles faster
Made further accessible with a search bar and tags
Secure against loss with SSO and IP restrictions
And the list goes on.