The Very Best Knowledge Management System Examples
Knowledge management can be a confusing concept. Afterall, knowledge is an abstract thing – it's not tangible, you can't touch it, and therefore it can be somewhat difficult to collect, record and organize. So, understanding how to break it down and convert it into a useful resource can be tricky. However, for organizations who successfully develop the capability to turn their knowledge into a useful resource, new opportunities will arise to enhance efficiency, deliver better service and help customers help themselves. 
In the modern commercial world, people want to be able to do things quickly without the need to wait on help from customer services, and so this customer empowerment can make all the difference. As a result, finding practical ways to make knowledge more accessible to customers can be hugely beneficial to your business's success. 
The Foundations for Self-Service
Do you remember the introduction of self-service checkouts? Many people assumed they were nothing more than a fad – the typical thinking was, there's no way customers would want to scan their own shopping. Yet, here we are, a whole digital age later, and we've already seen a fundamental shift. A larger percentage of people prefer to use self-service checkouts; it's quicker, easier, and allows them to do their shopping more efficiently.
While this analogy may seem like a world away, it applies pretty closely to knowledge too. Customers no longer want to wait in lengthy telephone queues listening to crackling music. More often than not, they don't even want to wait on emails from customer services. They want the information they're looking for as soon as possible, so that they can go-ahead and progress with what they're trying to do. 
To help them do this, it's important to make the relevant knowledge succinct, easy to navigate, and readily accessible to your customers.
With all this in mind, here are five of our favorite knowledge management programs that help you achieve a slick knowledge management strategy in your business:
Evernote
Canva
Instacart
Slack 
Amazon
1. Evernote
Evernote is often a favourite when it comes to its knowledge management systems due to its clean simplicity at showcasing information. You'll find their search bar front and centre, making it easily visible and accessible. This makes navigation that one step easier, which is a big priority – it's no fun searching for a needle in a haystack. 
Evernote makes it super simple for customers to search around specific issues and find the answers they're looking for. As previously mentioned, this is critical to a successful knowledge management solution. By positioning the search function so prominently, Evernote helps customers choose where to begin their information search. If that doesn't work for them, they're always other easy-to-access options available to help find what they need on hand, afterall nobody enjoys sifting through numerous pages just to find a support email address! 
Evernote makes navigation simple and clear to the user, helping them find the critical information they need, when they need it most! 
Create a self-service Knowledge Base for your teams, customers & organizations.
Book a Demo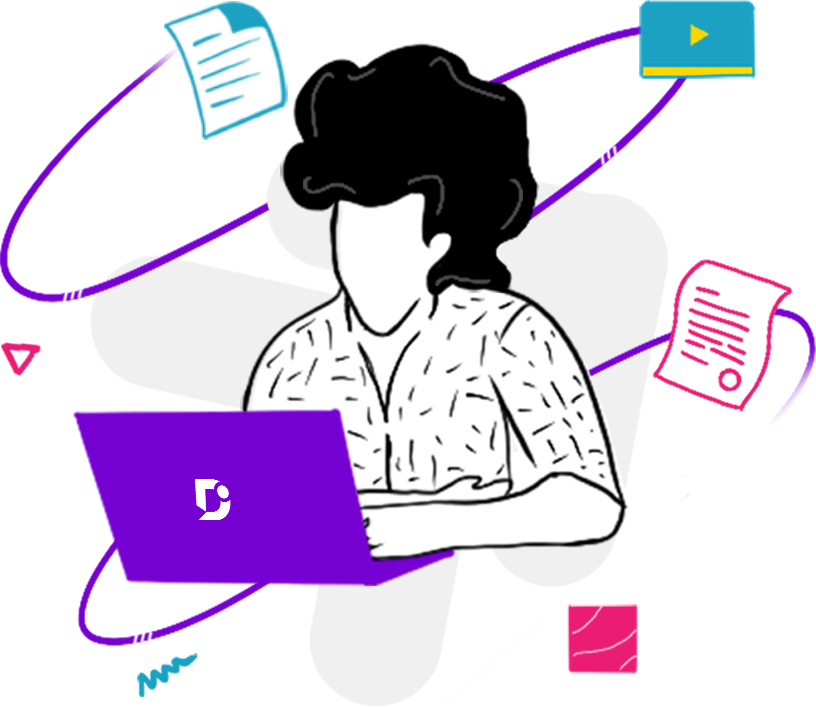 2. Canva
Canva's knowledge management makes it easy to find resources around getting started and resolving issues. Canva clearly understand that customer interactions with their product and website play a major role in their overall success. 
By giving customers a voice, Canva has unlocked the opportunity to learn from their customers – meaning they can make the necessary steps to improving their business and meeting the needs of those who matter most. 
3. Instacart
Instacart's approach to knowledge management is simple to implement, even for those who aren't savvy with technology. They host a prominent search bar and focus on clean graphics representing common customer questions, such as how Instacart works, how much it costs, and the ins and outs of ordering. 
This means that the majority of customers are serviced instantly as the most 'popular' information is hosted front and centre for their easy access. 
Instacart's help center consists of clean content categories and easy processes for self-sufficient customers. All of these factors combined make a simple, easy-to-use knowledge management system that gives the user everything they need to find the key information they're looking for. 
4. Slack
Messaging software company Slack uses several core help topics to manage and organize their knowledge management system. The layout is clever and uses brand-heavy messaging with custom icons to effectively illustrate these topics in a unique and interesting way. While this may seem like a simple difference, it genuinely does encourage customers to click through. When a user engages, each section opens out, revealing a convenient list of relevant subtopics and articles, while still anchoring the main navigation. 
This intuitive Information Architecture means that customers always know where they are in Slack's knowledge base, helping them to navigate and discover the content they're looking for. 
5. Amazon
They might be known more for their world class customer service, but Amazon has been excelling at knowledge management as well, since they took the plunge into e-commerce in the late 90's. 
The company applies many core knowledge management and user experience principles in catering to the needs of its employees. One such principle is that of housing a single interface to meet the needs of all its users. This keeps all items easy to index and find, and has allowed  Amazon to skyrocket and diversify its business from selling books to having its own product lines.
The way Amazon store, categorize and manage their vast quantities of information is genuinely one of their greatest competitive advantages. 
As Simple as a Search Bar
These knowledge management examples all have a few knowledge base design best practices in common. Implementation of an easily accessible search bar, short and simple article titles, and a clear process to get more help if needed.
Having something as simple as an easy-to-access and efficient search bar (which leads to quality content) can give your business a major advantage. Being able to search for content as and when required is a critical capability of any knowledge base and is almost as important as the quality of the content itself. There's no point in having a great quality knowledge management system if it can't be found when it's needed most. 
Efficiency plays a massive role in the value a knowledge management system can deliver within an organization as it often dictate how practical the knowledge available really is. If it takes overly long to find key info, then the likelihood of it being used is radically reduced. 
Summary 
Remember, when implemented effectively, knowledge management systems can reduce costs, increase customer satisfaction, and increase brand loyalty.
"Sharing knowledge is not about giving people something, or getting something from them. That is only valid for information sharing. Sharing knowledge occurs when people are genuinely interested in helping one another develop new capacities for action; it is about creating learning processes." – Peter Senge
When fully embraced, knowledge sharing can help organizations understand ways to significantly strengthen relationships and networks for the good of all involved. Shared lessons can lead to good practices, and can even can facilitate better learning.
Your internal knowledge management system can and should be an invaluable resource within your business, and providing you put their needs front and center of every decision, you'll be able to offer the information they need and help them when they need it most.