Teamwork is the foundation stone of any successful business. If your staff can't work together, you won't be able to complete projects on time, you won't be able to deliver successful products, and you'll lose your competitive edge in the industry. 
For teamwork to work properly, you need to have the right tools available so employees can collaborate effectively. This is where document collaboration software comes into play. 
What is Document Collaboration Software?
Document collaboration software allows teams to collaborate remotely on the same document in real-time. This document could be a text file, spreadsheet or PDF. 
Multiple team members can simultaneously edit, update and comment on a document, making the document a true team effort. The right document collaboration software prevents version conflicts and is able to handle multiple, real-time edits. 
Document collaboration software eliminates the need to save multiple versions of the same file, as all version history is stored in the editor. Users can revert back to a previous version at any time. 
Significance of Document Collaboration in Business
Track your team's workflow
When you use a document collaboration tool, it makes it easy to keep track of what everyone in your team is working on. You can view all the files that are currently being edited and ensure that deadlines are being met. 
Improve productivity 
When employees have the right software to share their files and collaboratively edit, their productivity is improved. Less time is wasted hunting around for the right document and all files are stored right there in the cloud. Since more than one person can edit a file at a time, this speeds up the process of collaborating on a document and prevents version conflicts. 
Empower employees with information 
Employees have access to the right information with a document collaboration tool at their fingertips. Your important documents are all stored in one place and a quick search is all it takes to find the right file. 
Provide faster feedback and quick decision making
When information is readily available to employees, they can gain feedback more quickly and make more rapid-fire decisions. All employees need to do is share a link to a document and they can collect feedback in real-time. There's no more messing around with emails and multiple versions of a document. 
Open communication with teams
Document collaboration tools facilitate open communication within teams. It can be easier to share your thoughts in a document rather than wasting time in long meetings, and documents can be shared with the rest of the team to encourage their input. 
Encourage employee involvement
Employees will get more involved in their teams if they have access to the right document collaboration tool. The best tools on the market don't have any barrier to entry and employees can quickly get up to speed with how the software works. It's easy for anyone to share feedback on a document and make updates.  
Supports remote working easily
With a document collaboration tool, employees don't need to be in the same physical location to collaborate on a project. The software can usually be accessed on any device and all you need is an internet connection to collaborate on files. 
Eliminate organizational silos
When you store your documents in a document collaboration tool, you're making your company knowledge explicit. Teams will work better together as they have insight into what other teams are working on. 
Also, Check out our blog on How to break down Organizational silos and their impacts.
Features To Look For In Any Document Collaboration tool
Real-time editor
You need an editor that allows multiple users to work on a document in real-time. The document is "live" and users can make edits and comments that are instantly reflected in the document. 
Autosave
Your work should automatically save as you are making changes to the document, making sure that you don't lose important information. There is no need to manually save the document. 
Versioning
You need the ability to save different versions of a document and to revert back to a previous version if necessary. This ensures that you don't lose access to your existing work even if new changes are made to the document. 
Commenting and feedback options
Comments are a way to leave feedback, ask questions and assign tasks without actually changing the document. It's an important collaboration feature. 
Cloud Storage and sharing
 Document collaboration requires a large number of people and documents to work together so they need a large cloud storage space in which to save all their work. 
Tag a team member
You need the ability to tag a team member and assign them a task in the document collaboration tool. The tag should send them a notification and get them to check the software to see what they need to do. 
Ability to organize files and add tags
Your document collaboration software should enable you to organize your files within a workspace and add tags to enhance discoverability of content. 
Tracking changes and notification
You should be able to track the changes that have been made to a document and receive a notification to alert you to the change. 
Integrations and extensions
Your collaboration tool is more powerful when it can integrate with other apps your team uses such as project management apps or team communication tools. 
Top 9 Document Collaboration Software
1. Document360
Document360 is more than a document collaboration tool – it's actually fully-fledged knowledge base software that enables your team to capture and store important information in one centralized location. 
The software has a clean user interface that enables more than one user to work on a document at the same time. The software automatically saves previous versions that you can restore whenever you need to. Document360 supports multiple roles for your users so you can control who has access to what content.
The platform makes it easy to create and share content for review. You can tag team members and leave comments, and they will be notified to take a look. Document360 integrates with many popular apps including Slack, Microsoft Teams, and Chrome. 
Understand why Knowledge Base is important for your SaaS business.
Book a Demo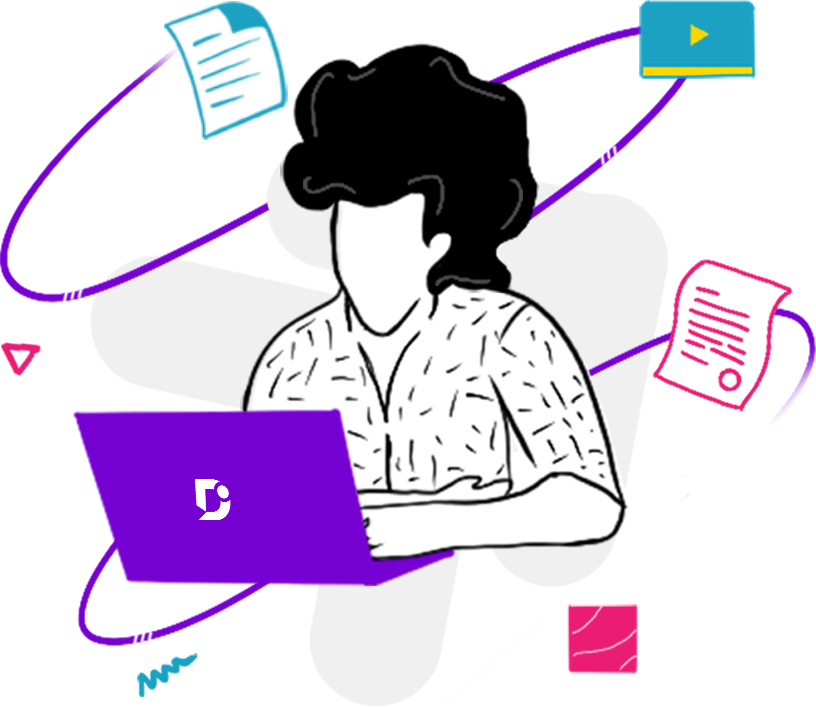 2. Zoho WorkDrive
Zoho WorkDrive is a platform for creating and editing documents and is highly suitable for businesses who have lots of documents to work on. It's cloud storage and management for modern teams. 
Team folders enable you to organize your files and store them in one place. Your team can be designated roles such as organizer, writer and editor so you can control who has access. You can manage your team's data and usage all from one dashboard, keeping track of any edits that have been made to your files. 
3. Google Docs
Google Docs is a cloud document collaboration tool created by Google. It's possible to make all your edits online and Google Docs saves all previous versions of your files that you can revert back to whenever you feel like it. 
Google Docs works primarily online so there's no need to save local files on your computer. You can share files with anyone who has a Google account using a simple link or sending a notification to their email address, and set whether they have editor rights or view-only access. 
Google alerts you with email updates when someone shares a document with you. You can see who has made recent revisions to a document and team members can leave comments with questions and feedback. 
The software supports the import of Word files and converts them into an editable format in Google Docs. 
4. Dropbox Paper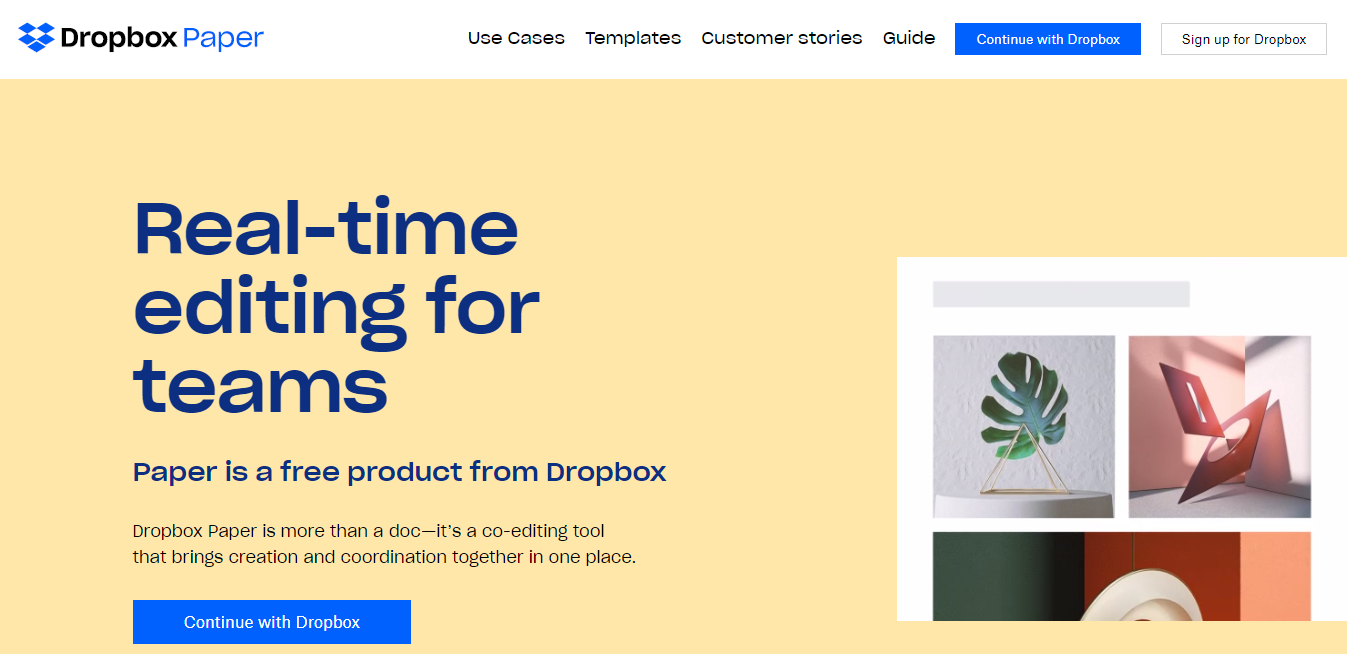 Dropbox Paper is an online document collaboration tool created by Dropbox which you can use for free. Dropbox Paper is more than just a doc – it's a co-editing tool that brings creation and coordination together in a single place. 
Paper helps you keep all your meeting notes organized. You can collate your background docs, agenda, minutes, next steps and task assignments. You can keep track of important tasks and deadlines. Manage cross-functional teams by setting milestones, assigning to-dos and managing approvals where everyone can find them. 
Paper can be used to brainstorm ideas and you can embed links to sites such as YouTube and Pinterest, share ideas in real time and gather feedback. You can use Paper to manage creative work with clients and avoid the long email chains and scattered files. All your information will be stored in one place. 
5. Microsoft Word
Who hasn't heard of Microsoft Word? Word is one of the most-used document collaboration tools in the world and most people are familiar with the text editing features. Collaboration hasn't been a strength of Microsoft Word but that all changed with the launch of Office 365. All of Microsoft's most popular apps are delivered through the cloud and it provides a real alternative to tools like Google Docs. 
One of the best features of Microsoft Word is the ability to translate your document into different languages with the click of a button. You can transform your document into web pages for others to see. You can quickly and easily share a document with colleagues using the real-time sharing feature. 
You can now access Microsoft Word through Android, iOS, Web, and Windows, so you can use the software across devices. 
6. ClickUp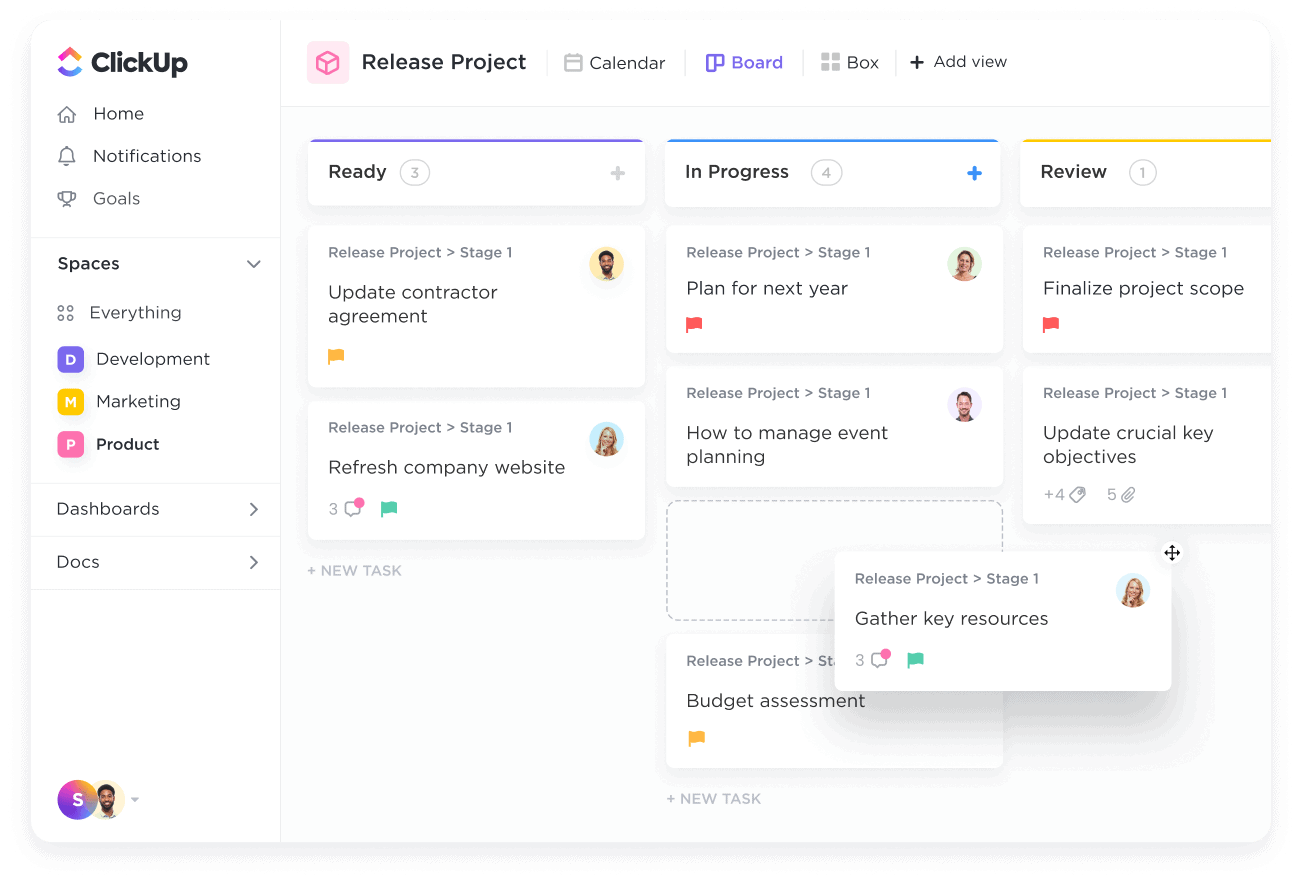 ClickUp is a powerful project management tool that comes with document collaboration features. ClickUp's Docs allows you to store company and project-related information for real-time updates and editing. Docs's collaboration detection tells you when a team member views, comments or edits a document, so you know who is collaborating and when. 
Real-time syncing makes sure that the latest version of a document is mirrored on every contributor's device. The Permissions feature lets you make your documents public or private and send links to others to share the file, but you can customize what the recipient can do with the document. 
ClickUp works on Apple, Windows, iOS, Android, and Linux platforms so you can stay connected on any device. It also integrates with several third party apps such as Evernote and Salesforce. 
7. Monday.com
Monday.com is another project management app that is highly adaptable to suit teams of all sizes. Teams can create individualized workflows and collaborate on any type of project. You can manage all of your work, processes and tools into one Work OS. 
Monday Workdocs allows you to connect and collaborate on your ideas all in one place. You can co-edit in real-time, share comments, and drag and drop text without interrupting other team members. You can bring your documents to life with real-time elements such as monday.com boards, dashboards, videos, and more. Every element is automatically synced as you work. 
8. Confluence
Confluence is a robust project management tool that also comes with capabilities for document collaboration. Confluence allows you to collaborate on live documents that it calles Pages. Teams can manage all sorts of files from documents, to spreadsheets, to presentations, and share them with your team. 
Confluence makes it easy to track every change that is made to a page, with the ability to leave comments without making any changes to the substance of the document. Confluence connects with Jira so you can quickly create issues and reports. There's a universal search option so you can quickly search your entire workspace for relevant content. 
You can integrate with over 3,000 applications from the Atlassian Marketplace, significantly extending the functionality of Confluence. 
9. Notion
Notion is a team collaboration tool that makes it easy for people to work together on project documents. You can connect your teams, projects and docs in Notion to reduce organizational silos and enhance teamwork. Businesses can create an extensive knowledge base for their projects and share it with team members. 
Team members can add comments on tasks for improved communication and accountability. Notion makes it easy to share pages with other collaborators or even the entire internet. You can set permissions so that contributors only access your content in exactly the way you intend. 
There's no limit to the number of people who can edit the same page at the same time. Updates and notifications alert you to work that needs your attention, so you can always stay on top of your workload. 
Wrapping Up
Using the right document collaboration tool enhances teamwork and ensures that your business is working to the best of its ability. You save untold amounts of time and your employees are happier because they're more productive. 
Some of these collaboration tools come with lots of extra features that you may not need. Perhaps the simplicity of Google Docs is all your team may require, or maybe you want the functionality of a project management app like ClickUp. Have some fun trying out the different options and taking advantage of free trials. 
An intuitive knowledge base software to easily add your content and integrate it with any application. Give Document360 a try!
Get Started