How to Document your change management process?
All businesses must change and adapt, at the risk of becoming obsolete. However, the outcome of change is uncertain and businesses may want to stay with what is tried and tested.
Video-rental company Blockbuster went from being valued at $3 billion one year to filing for bankruptcy in 2010 – all because it didn't adapt to change and lost market share to competitor Netflix.
Would you prefer to stick with a system that doesn't work or change it to one that does? You need change management to optimize the change process, and you also need standard operating procedures (SOPs) to make sure your change management process is successful.
What is change management?
Markets are always evolving and it's your business's job to keep pace with the change. If you don't adapt to changing needs then your organization becomes obsolete and loses market share. Take mobile phone brand Blackberry – it has failed to adapt to touch screen technology and recorded 0.2% market share in 2016.
Businesses may be aware of the need for change but lack the knowledge required to adapt. Organizational change management is a step-by-step procedure designed to manage change in your organization without putting operations at risk.
Why you need a change management process?
A good change management process makes sure that:
Accidents are prevented
Assets are more reliable
Changes can be traced
Change management is to do with managing people who will carry out the new procedures you have outlined for them. Whether your employees accept or reject the project is crucial to its outcome.

Adapting to change can cause anxiety among your employees and most would rather carry out work in the way they have always done due to fear of the unknown. The most efficient employees are motivated by effective procedures and this is where your SOPs come in – you help employees to adjust to change by providing them with detailed documentation on how to perform their new tasks.

Successful change management means bringing every employee in the organization along for the ride. Individual contributions to the workflow can make it fail or succeed and the effects are felt across the organization if one person doesn't play their part properly.

It doesn't work if you impose your change management process from the top down and order your employees to comply. Your employees may not openly reject the change but they will be hesitant to lead change initiatives. You need to communicate the "why" behind the change to your employees so they understand the requirements for the change. When your employees buy into the need for the change they will become fully involved in related activities.
An intuitive SOP software to easily add your content and integrate it with any application. Give Document360 a try!
Get Started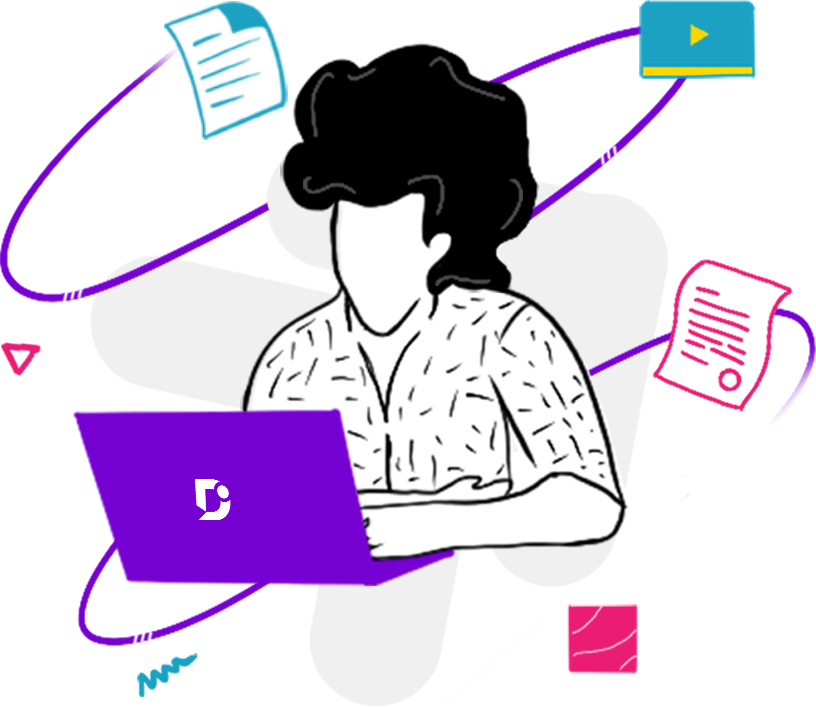 How to execute the change management process?
1. Outline your objectives
First and foremost you need to decide what you want to achieve with your change management process. Having a clear objective means you need to understand where your organization is right now and where you want it to be in the future.
To make your change management process work you have to align your objectives with your company's vision. Your business may change but you must stay true to your company vision and retain your identity.
2. Get your management team invested
You can't implement change management all by yourself, even with all the knowledge and information you need. Get the support of your management team to help you get started.
Get started by presenting the problems that you seek to solve with your change initiatives. Make it about the organization rather than yourself.
3. Nominate change management process champions
Although you need to have the support of everyone in your organization, having champions will help you lead the change management process in different areas. They are like your managers that help coordinate activities at the lower level – they will also be responsible for writing your standard operating procedures.
4. Share your vision with the whole team
You have to persuade everyone in the organization to follow along with your vision. Ordering everyone to adapt to the change plan because you are the boss is not the right approach. You'll get the best outcome if you can convince everyone in your company to share your vision.

Be passionate. Ask for feedback and contributions in case your team comes up with ideas you hadn't thought of.
5. Eliminate obstacles
When everyone is on board with the change management process, you need to make sure there is nothing standing in your way.
What outdated procedures or systems need to be replaced by new ones?
Do you need to adopt new tools in order to launch the new system you are creating?
Do you need to train team members in new skills in order to perform tasks in the new system?
Do you need to reassign duties and responsibilities to different team members?
Do you have all of the SOPs that you need in order for team members to adopt new processes?
6. Set milestones for your project
If your change management process project is large, it may seem impossible to achieve. Avoid feeling discouraged by setting smaller milestones so that you and your team can feel a sense of accomplishment. Milestones also make sure you have accountability.
7. Aim for quick wins
Employees feel motivated when you give them quick wins – they see that their contribution is paying off and that their hard work has been rewarded.
Set your team up for success with quick wins by setting targets that are achievable
8. Measure progress
Change management is characterized by a lot of planning, coordinating, and evaluating. You need to keep these factors aligned in order to be successful.
Keep an eye on how things are progressing. Are you taking too long to reach your milestones? Are there roadblocks?
There is a tendency for enthusiasm to wane as time goes on. Set regular meetings for you and your team members to keep motivation high.

9. Keep improving
Change is continually evolving and you shouldn't get complacent even after you've implemented your change management process. Review your current business processes for improvement – this is where SOPs can really help you get a bird's eye view of your operations.
Also Read – How to write a Business Requirement Document (BRD)
Why you need SOPs?
SOPs are useful for the following reasons.
They allow you to implement your change management process by providing employees with all the new information they need
They prevent process failures from occurring because all employees can follow the same instructions
Makes processes repeatable and ensures that everyone completes the process in the same way
Makes assumed information explicit and provides guidance for employees
Improves communication – with SOPs, everyone is aligned
Holds employees accountable
Ensures regulatory and standards compliance
Creates a safe work environment and prevents adverse effects on the natural environment.
How to write SOPs?
When you document a procedure for your change management process, there are a few steps you need to follow.
Write clear and concise step-by-step instructions
View your steps as providing a cause and effect
Use the minimum number of words possible to describe the steps
Try to avoid jargon and overly technical words
Use active voice and consider starting every step with an action verb
Create your SOPs in the style best suited to your organization
Final remarks
When implementing a change management process in your organization, you need to make use of standard operating procedures to help your employees get used to the change, and provide them with the right information. With SOPs, employees will be motivated to take part in the process and apply their efforts to making it a success.
Change management is an organization-wide effort, and requires the participation of everyone in the company. Use SOPs to help get employees on board and teach them the new way of doing things.
Also Read: Introductory guide to process documentation
An intuitive SOP software to easily add your content and integrate it with any application. Give Document360 a try!
Get Started