Knowledge sharing is critical for businesses that want to provide access to product documentation, either for external customers and clients or internal stakeholders. In order to make their documentation readily available for whatever audience, businesses need to take advantage of knowledge management software that can help them host their content.
That's why many companies and organizations are looking to solutions like Archbee to help them manage their documentation. Archbee and others like it come with many specialized features like a content management system and collaboration capabilities that make it easy to create documentation as a team.
While Archbee is a good tool, there are many other options out there that you might want to consider for your knowledge management needs. Archbee comes with some severe limitations like a lack of integration with popular apps, and no ability to customize your knowledge base to suit your brand. In this article, we'll take a look at Archbee as well as some popular competitors.
What is Archbee?
Archbee is a knowledge base solution that allows you to create and publish product docs for developers or other types of customers. Archbee offers a no-code experience that allows you to capture, import and update product knowledge, with collaboration features that enable you to tag other users and post comments about the documentation.
What makes Archbee different to other solutions on the market is its focus on technical documentation, with a range of features that allow you to insert more than 30 custom blocks for formatting your content.
Archbee can be used for a range of use cases, but it's typically aimed at developers who are creating product documentation. With developer documentation, user guides, APIs & SDKs in one place, your documentation becomes a growth asset for your team and you don't have to worry about letting your customers down.
What Does Archbee Offer?
Archbee comes with a number of useful features that help teams to create their product documentation.
Editor
Archbee offers a modern Markdown editor with powerful custom blocks, enabling you to insert formatting elements such as code blocks. Use Markdown or custom blocks to review and collaborate directly from the doc.
Collaboration
You can give your team the tools for easy document collaboration with inline comments, with the ability to tag other users and ask questions. Documentation is meant to be created as a team, and Archbee allows your creators to work together.
Document history
Documents have a long lifespan, and many individuals contribute to your final content. With Archbee, you can keep track of a document's history all the way back, highlight any changes and revert back to an earlier version if necessary.
Access Control
You might have various needs when it comes to accessing your knowledge base, and you can keep the knowledge base private or make it public on your domain. A range of access control settings can be configured, for either your team or your customers.
Customization
Archbee has minimal presentation options for your documentation but you can toggle between light and dark mode. You can set up a custom HTML page to load instead of the first document, which is the default option when the docs site loads.
Document templates
Archbee includes a selection of in-built templates for Engineering, Marketing, Product, Sales, or Executive. You also have the ability to create and save templates for your team. Under the Template Space, you can upload new documents with your chosen content.
Document stats
To track the feedback from your audience who visit the published documentation, you can take advantage of Feedback Analytics to collect votes and comments for each document. At the bottom of every page, in the right-hand corner, there's a question that asks visitors to rate the page.
Also Read: Create Killer SaaS Product Documentation for Your Customers
Limitations of Archbee
Despite having several advantages, in some ways Archbee is limited when it comes to documentation management.
Limited advanced analytics
Archbee doesn't offer advanced analytics that show how users are interacting with your content. You can't see where users are located or terms they are searching for on your knowledge base. Archbee is limited with respect to understanding users and documentation performance.
No integrations with collaborative apps
Archbee offers no integration with Salesforce and Microsoft Teams, so it's harder for teams to access other platforms while using the Archbee interface. It focuses more on tools like GitHub and Jira.
No advanced reminder settings
There's no ability to set advanced reminders to prompt your content creators to update your articles, so you will have to set content updates manually.
User can't have a mixed knowledge base
In Archbee, your knowledge base has to be either public or private, without the ability to set mixed access permissions. Archbee uses the concept of spaces, which you can set to public or private.
Limited customization
Archbee has no home page builder that allows you to customize your site according to specific branding. This results in all Archbee sites looking very similar.
Can't perform bulk operations
You can't perform bulk operations such as updating many articles at once or setting multiple articles to closed. You have to manually go through and make changes to articles, resulting in wasted time and effort.
Top 7 Alternatives of Archbee
Document360
Document360 is knowledge base software that can also be used to document products, just like Archbee. The software supports technical content with the Markdown editor and the ability to insert code blocks, without requiring the intervention of a developer. Document360 is intuitive and easy to learn, allowing you to get started in minutes rather than hours or days.
Don't require users to leave what they are doing to access the documentation – embed the knowledge base as a widget within your application so users can browse your content. Document360 offers a lightning-fast search that indexes both the title and body content to help users find what they need.
Make Document360's knowledge base truly yours with branding, styling, and creating a public or private knowledge base with a custom home page and domain. You can also use code to extend the level of customization that is possible with Document360. It integrates with Helpdesk, Chatbots, Analytics tools, Commenting and CRO tools. Also integrate with any product using JavaScript Snippet
User's opinion about Document360
"Doc360 Is a User-Friendly and Intuitive KB Platform"
The team and I searched for the right knowledge base platform solution for many weeks. After we tested Document360 and met with their support team, we knew we had found the one for us–one where you do not have to be a developer to use the product. Some things I love about Document360:
Comprehensive analytic reports from the number of article views to article ratings and user feedback.
Easy to create, edit, and publish articles.
Intuitive UI.
Flexible and customizable landing page. Doc360 is also equipped with many templates so you don't have to start from scratch.
Glossary makes it easy for readers to understand new concepts. This eliminates the need to reintroduce a concept across multiple articles.
Source: G2 Crowd
An intuitive knowledge base software to easily add your content and integrate it with any application. Give Document360 a try!
GET STARTED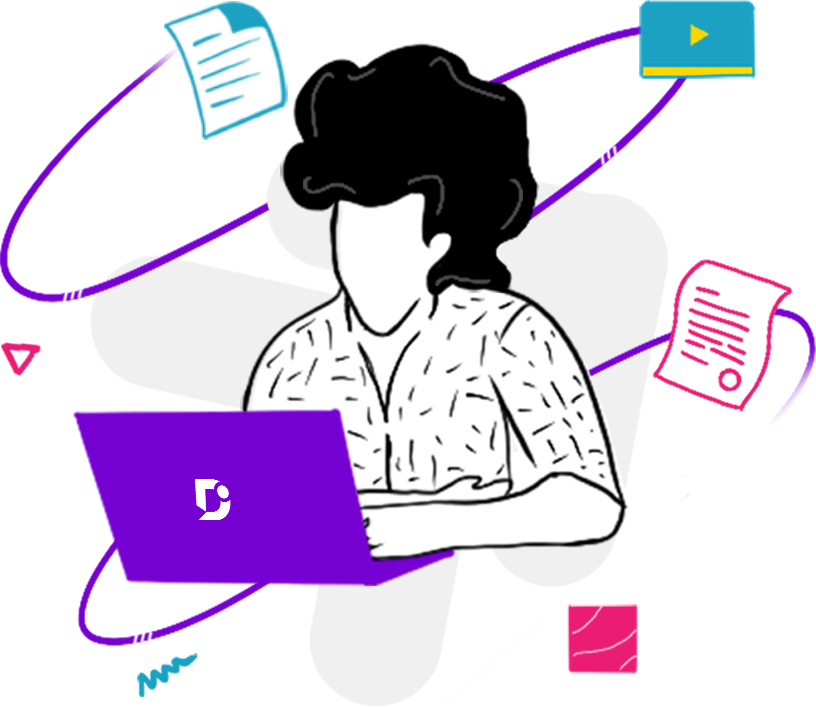 Bloomfire
Bloomfire is a knowledge sharing platform that gives teams one central, searchable location for information and insights. Use Bloomfire so you and your team members can perform your best work, no matter where, when, or how you're working. The advantage of Bloomfire is it creates an internal wiki that curates content for users so they can easily find relevant knowledge. Bloomfire's search engine deep indexes every word in every file—including videos. You can configure community-level and personalized feeds, newsletters and a homepage that can be adjusted within minutes.
User's opinion about Bloomfire
"Knowledge Sharing Revolution!"
Bloomfire has allowed me to have the opportunity to source critical knowledge from a variety of colleagues quickly. As a virtual-only organization, information exchanging hands to the correct recipient can be a rather strenuous process at times. Bloomfire gave me a hands-on solution to accurately and quickly source data within the workspace at lightning speeds.
Source: G2 Crowd
Confluence
Confluence is wiki software by Atlassian that enables remote teams to collaborate on knowledge. The advantage of Confluence is its integration with other Atlassian apps like Jira and Trello, so you can significantly streamline your workflows. Confluence comes with many in-built templates that make it simpler and faster to create content. You can track and view the versions of each page and revert back to earlier versions, making it one central hub for your entire organization's knowledge.
User's opinion about Confluence
"Business documents and project management over Confluence"
Confluence is a great platform to create, store and share business-related functional, and technical documents. We can easily create projects, collaborate with people, and share files across people and teams. it gives a huge collection of projects where one can go and search easily and get an overview of it.
Source: G2 Crowd
Read more: Document360 Vs Confluence: Which is a better Knowledge Base?
Guru
Guru is another wiki software that lets you organize your company's information and access it anywhere. It's specifically focused on assigning articles to particular experts so you always know when content has been verified. Guru organizes content into spaces and boards so there is a deep level of complexity for your content hierarchy. Guru's selling point is letting you capture knowledge wherever you are, whether that's Slack or using the browser extension to capture content from a web page.
User's opinion about Guru
"Nice documentation repo with easy editor and video embed"
The text editor of Guru is easy to use and similar to WordPress. Embedding Vimeo, You Tube videos etc is easy. It is easy to create folders, tag cards with keywords, and create sections for each team so it helps keep documentation organized.
Source: G2 Crowd
Gitbook
Gitbook is a documentation solution for technical teams, specifically aimed at developers creating technical documentation. You can create API references, code guidelines, product overviews and everything in between. Gitbook helps you assist your users with simple-to-publish, easy to use, extensively searchable docs. You can use Gitbook to centralize decision-making in one place, from company wikis to engineering docs. Enable every team member to contribute, no matter what their team or technical skill.
User's opinion about Gitbook
"All you need to document and collaborate"
I use Gitbook for my design & product community for documenting and sharing knowledge. It really is the perfect tool to document. Even if it's tech oriented, you can easily bend the tool as you want. The best features that impacted our decisions on this tool was :
the UI, which is really clear and also effortlessly customizable
the fact that the tool is focused on documentation and does not spend useless effort on doing much than that (instead of aNotion with too many features)
the open-source design of Gitbook, allowing merge request contributions and a git branch system to help us organize new content properly.
Source: G2 Crowd
MadCap Flare
MadCap Flare is a very popular technical authoring tool that allows teams to manage their entire content development workflow. It comes with features for importing and content creation, subject matter expert contribution and review, and multi-channel publishing, translation and integrated cloud-based workflows. If you want a powerful and extensive tool, then MadCap Flare is for you.
Also check out our article on the best Madcap-flare alternatives
User's opinion about Madcap Flare
"Powerful software for your documentation needs"
The flexibility and feature-set of the software. If something is not supported natively in Flare, it's always possible to script it and create features using Javascript or other common web-based tools. Combining Javascript with the native Flare features opens up nearly any possibility.
Source: G2 Crowd
Coda
Coda is a project management and knowledge sharing tool. Coda is the all-in-one doc that organizes your business's knowledge and enables your team to access the wiki it needs to work smarter. You can discover hundreds of templates for team hubs, wikis, and knowledge bases in Coda's Gallery, and use building blocks to create interactive knowledge pages for your teams.
User's opinion about Coda
"Knowledge Management Your Way"
I looked at a lot of knowledge management and project management tools for my editing agency. I'm a spreadsheet person, but using Excel meant not being able to share with my contractors. In my research, I found tools that either I couldn't afford or that didn't fit my business. Coda is spreadsheet based but with several different views and lots of functionality. By building my own tables and utilizing different views, I was able to create just what I needed to track Right Touch Editing's projects and share what I needed to. Thanks, Coda!
Source: G2 Crowd
Wrapping Up
Archbee is a good solution for product documentation if you want to empower technical teams to create shareable content. Notable features include a block-based editor that makes your content dynamic and engaging, as well as in-depth collaboration capabilities. Archbee is not the best choice if you want to extensively customize your knowledge base and publish a mixture of public and private content.
For more advanced features, you should consider Document360 which is excellent for creating technical content. It's very intuitive to use while creating an outstanding experience for the end user. Product teams enjoy using Document360 to create their content and for an understanding of how visitors are interacting with pages.