In the crowded digital marketplace, where a multitude of products and services compete, the need for a user-friendly and thorough instruction manual has grown significantly. Such a manual is crucial to guarantee a smooth and hassle-free user experience with your product.
Users need to be able to easily navigate your product, understand the functionalities, and solve problems by themselves. In this digital era, user manuals have transitioned from traditional paper manuals to interactive online resources that provide real-time solutions to user queries.
Thankfully, there are a range of tools you can use to not only create an online user manual but also to maintain it. By utilizing these tools, you will be able to enhance overall user satisfaction and reduce support costs.
We'll explore 11 online user manual tools to help you deliver a well-curated user manual that reduces churn rate.
What is User Manual Software?
A user manual software is a tool that helps you create, manage, and deliver user manuals, guides, and documentation for your product. Some of the benefits of user manual tools include specialized features for content creation, editing, version control, customizable templates, and collaboration tools.
These user manual tools support the entire manual creation process, allowing you to design content based on your specific need and want. You can also enhance your user manuals by incorporating visual elements such as images, GIFs, screenshots, and videos.
Things to Consider While Choosing a User Manual Software
When choosing online user manual tools, there are several factors to consider to ensure you select one that properly aligns with your product requirements and needs. Some of these include ease of use, customization, analytics, search functionality, and other collaboration features.
Less to No Code Requirement
Choosing an online user manual tool that requires minimal to no coding knowledge or expertise is a game changer, especially in today's fast-paced digital world. Searching for a platform that simplifies creating and customizing your user manuals without diving into complex codes is important.
This also encourages collaboration within your team since everyone can contribute, and maintain the documentation regardless of their technical proficiency.
Powerful Search Engine
A robust search engine is one of the most important functionalities to look out for in your user manual software. It ensures users can navigate the documentation easily and find answers to their queries independently.
Choosing a user manual tool that provides helpful features like predictive search suggestions, filters, and keyword highlighting enhances the user's search experience.
Ease of Use
Usability greatly influences how beneficial your user manual will be to your user. It's no news that an intuitive and user-friendly interface precedes flashy aesthetics when selecting the ideal online user manual software.
Prioritizing easy navigation can help your users troubleshoot the issues they face independently and improve accessibility, reducing the burden on your support team. Consider software with drag-and-drop functionality and WYSIWYG (What You See Is What You Get) editors for effective documentation management and to reduce the learning curve for your team.
Analytics
Choose online user manual tools that provide useful insights into user interactions with your manuals. These analytics capabilities should include popular search queries, user engagement data, and user behavior within the documentation.
This provides the data to identify areas needing better clarification and helps you continuously improve your user manuals.
Integrations
The ability of your online user manual tool to integrate with other applications and workflows plays a crucial role in ensuring an efficient operational process. You can easily integrate your existing project management tools, version control systems, and customer support platforms, providing more streamlined processes.
How Can a User Manual Tool Improve Customer Experience?
If your goal is to prioritize customer satisfaction, then it's vital for you to work with online user manual tools. They also reduce the cost of support since customers are able to easily understand and navigate the user guides and carry out quick troubleshooting. All these results in self-reliant and satisfied users.
Reduce Support Dependency
User manual tools empower users to find solutions to their queries independently. An accessible user manual means users can gain information and consult the manual quickly for necessary answers.
In turn, the self-service approach saves time and helps to reduce the cost and reliance on support. You can efficiently allocate resources for support and streamline your business operations while enhancing overall customer satisfaction.
Ease of Use and Understanding
User manual software helps you create documentation that is easy to understand, ensuring clear language, initiative interfaces, and structured content. You can create user manuals that are user-friendly and easy to navigate.
These tools help simplify complex technical concepts, making it easy for users to comprehend and use the information in the manuals. This reduces user frustration, boosts confidence, and enhances overall customer satisfaction.
Quick Troubleshooting
Using these user manual tools ensures easy troubleshooting through comprehensive guides and solutions. With this, users can quickly locate answers to common issues and resolve these problems independently.
Swift troubleshooting and problem resolution leave your customers satisfied and have an overall positive perception of your product or service. It also means they can explore and utilize various functionalities of your product, leading to a lower churn rate.
Efficiency Onboarding
Another benefit of user manual tools is that they improve your onboarding process by providing detailed and properly structured documentation to accelerate the learning curve for new users. In addition, you can access valuable resources like the Customer Service Training Manual by Document360 to gain insights into efficient onboarding practices.
The availability of these comprehensive resources enables a seamless transition into being a proficient user of your product or service. Efficient onboarding also creates a positive user experience, increasing loyalty and long-term engagement.
Visual Aids
Online user manual tools easily incorporate visual elements such as images, screenshots, videos, diagrams, etc. This simplifies complex concepts and instructions, making it easy for users to follow stepwise instructions, understand information, and troubleshoot quickly.
Visual aids also make your user manual more appealing to your users than having documentation filled with text. The process becomes seamless when users can see the instructions they are to carry out.
AI Generates & User Manual Tools: Can They Go Hand-in-hand?
A combination of generative AI technology and user manual tools will ensure enhanced quality and effectiveness of user guides. The integration of generative AI streamlines the content creation process by generating vast amounts of text quickly, saving time and effort.
This is vital in creating detailed user manuals of complex products or software as it ensures the user guide is comprehensive enough by explaining all features and functionalities thoroughly. Unlike static content, AI-generated content is more interactive by generating responses and explanations based on the context of the user's inquiry.
While exploring how to choose user-manual tools, it's essential to recognize that while combining generative AI with user-manual software offers numerous benefits, you must also ensure it aligns seamlessly with your brand and product requirements.
Best Online User Manual Tools
Now, let's explore top online user manual tools that simplify documentation creation and enhance customer experience. We'll consider how well they can streamline documentation, improve user onboarding, structure content, and other publishing functionalities they can help better your user manuals.
1. Document360
Document360 is a Knowledge base platform with a user-friendly drag-and-drop interface that simplifies user manual creation and management. Its WYSIWYG editor ensures you can see how your content will be displayed for users, making editing and task formatting much easier.

The software offers an in-built Markdown editor, which provides a text-centric approach ideal for creating user manuals. Its version control system lets you easily track changes and keep your user documentation up-to-date.
You can integrate other third-party tools and platforms, such as Microsoft Teams, Zendesk, Drift, and Google Analytics, for better collaboration and seamless workflow. It also provides support for translation that allows you to seamlessly create multilingual user manuals to cater to a global audience.
2. ClickHelp
ClickHelp is a documentation and authoring software with many features and an intuitive user interface, making it accessible to a wide range of users, including those who don't have advanced technical skills.
With the single-sourcing feature on ClickHelp, you can create multiple versions of your content and reuse it efficiently across various documents and manuals. This streamlines content management, ensuring consistency and reducing redundancy in your user manuals.
The full-text search feature simplifies information retrieval for your users. It enables them to perform quick and comprehensive searches throughout the manual, easily finding the exact information they need.
3. Notion
Notion is another popular knowledge management tool that offers various features to help individuals and businesses create and manage documentation. It allows you to collaborate on projects, save information, and properly structure your content.
There's a customizable workspace where you can create pages, tables, and databases to structure your documentation per your needs. This flexibility means you can organize your user manual with various sections, categories, and topics.
You can also add visual elements, texts, links, and videos to create a rich user manual with diverse content. The notion also simplifies their sharing functionality, allowing you to share user manuals with clients and stakeholders. There are options to create shareable links and control access permission.
4. Helpdocs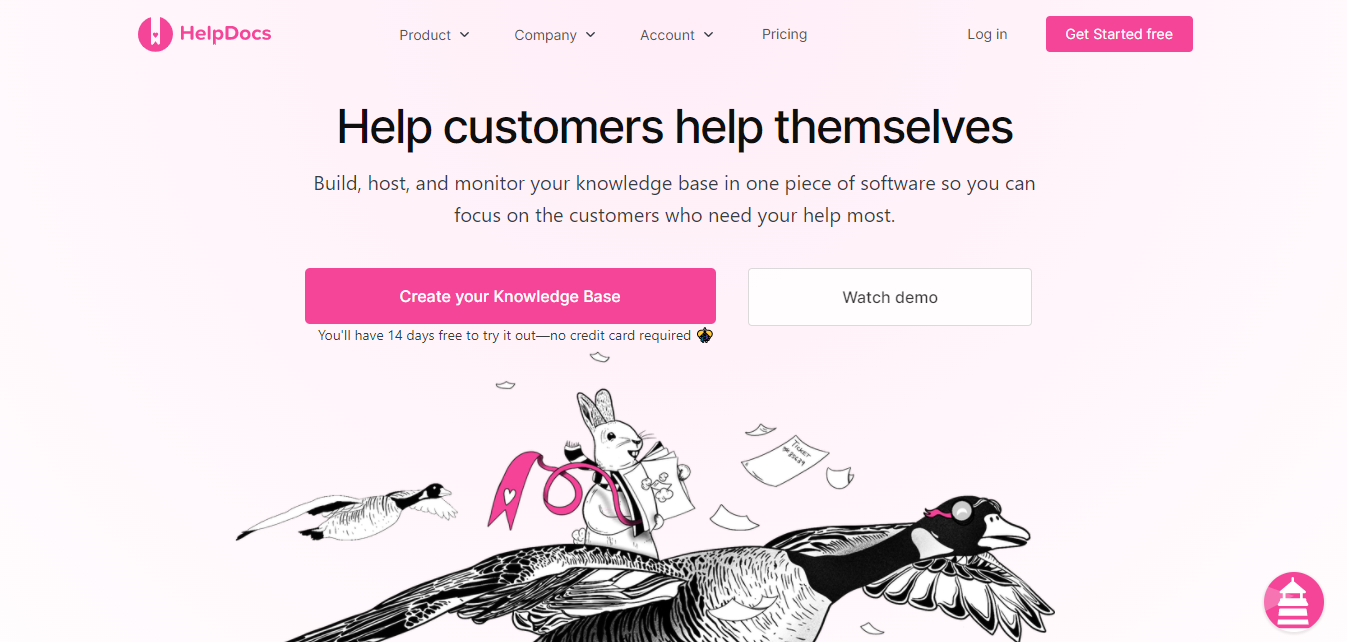 Creating and organizing user manuals with Helpdocs is a breeze! It's a Knowledge base software with a straightforward and accessible interface. One standout feature of helpdocs is its knowledge base templates with pre-designed layouts and structures, allowing you to organize your content into categories, articles, and sections.
Helpdocs's SEO-focused templates follow best SEO practices, ensuring that your content is optimized for search engines and easily discoverable by users. There's also the flexibility to customize your templates using HTML, CSS, and JavaScript, fine-tuning the appearance and functionality of your user manuals to match your user experience requirements.
5. Paligo
Paligo provides specialized features that help improve your user manual creation and management process. The structured authoring environment allows you to create and organize your documentation into chapters and sections, establishing content hierarchy.
The platform offers an easy-to-use XML editor that simplifies editing and management of structured content even for users with limited technical expertise. Paligo also offers translation tools that make creating manuals in multiple languages easy, helping you reach a global audience and localizing the user experience.
6. Nuclino
Nuclino offers a unique approach to knowledge management by streaming documentation processes and providing a platform for collaboration. One key feature Nuclino offers is its real-time collaboration options, where multiple users can work on the same document simultaneously. This makes it an ideal choice if your organization has complex documentation needs.
You can seamlessly integrate multimedia elements, including images, code blocks, embeds, and videos, into your user manuals, making your documentation more comprehensive and catering to diverse learning preferences.
Another standout feature is its organization system, where you create sections and arrange content to have hierarchies. It provides a well-structured layout for your online user manual, making it easy for users to find the information they need.
7. Gitbook
Gitbook is a versatile documentation platform offering a range of features catering to individuals and teams. Multiple team members can collaborate on documentation like user manuals simultaneously, creating room for real-time updates and effective teamwork.
A key feature of Gitbook is its structured authoring environment, where you can organize your documentation into sections, subsections, and chapters, providing a clear structure for user manuals.
Gitbook's version control system ensures that users can track changes made to the documentation. This simplifies review processes, making locating edits and reverting to previous versions easy.
8. KnowledgeOwl
KnowledgeOwl is documentation built with distinctive features, such as its intuitive content organization system to make creating and organizing content easier. The platform offers advanced analytics features, providing insights into user engagement. Beyond basic metrics, KnowledgeOwl provides data on which article users find most helpful.

The search functionality comes with instant search suggestions, which means as a user starts typing their queries, it suggests relevant articles. This helps users find information faster and reduces frustration.
In addition, KnowledgeOwl has a user-friendly interface that requires little to no technical expertise. It's ideal for organizations and individuals looking for a straightforward tool to effectively create and manage user manuals.
9. Dozuki
Dozuki is an online manual software tailored to industrial processes and training manuals. It focuses on helping organizations create well-detailed documentation to facilitate employee training, particularly in industries with complex procedures and processes.
The software offers version control features that allow you to manage all the versions of your documentation processes precisely. It ensures you can track manual changes as the documentation evolves.
Dozuki allows you to set access controls at a granular level to control who views, edits, and approves content. This customization level ensures that sensitive information stays secure and only authorized can access critical documentation.
10. Stonly
Stonly is a modern user manual software that excels in creating personalized and interactive user manuals and documentation. Its robust search system is designed to deliver targeted results, ensuring users can find information quickly.
Thanks to Stonly's user-friendly interface and intuitive editor, you can set up the software easily, which makes it accessible to both individuals and businesses for their documentation needs. Stonly also has a universal widget that helps with customer onboarding, feature adoption, and product setup.
Additionally, Stonly allows you to create personalized product tours that adapt to customer actions and ensures users receive guidance tailored to their unique interactions with the product. To gauge customer satisfaction and gather feedback, Stonly integrates NPS (Net Promoter Score) surveys, enabling businesses to improve their user guides and support materials.
11. Scribe
Scribe is another automated documentation tool that simplifies the creation of stepwise guides and user manuals. Once you set up the Scribe extension, you only need to navigate through your workflow and product's features. Scribe automatically generates user guides with clear instructions and screenshots using your provided content.
The platform also supports collaboration by allowing multiple team members to work together on the user manual or other documentation. This ensures the documentation stays updated even in dynamic team settings.

Other features of Scribe include drag-and-drop editor multimedia integration and more.
Conclusion
Whether you're a small business looking to simplify documentation or a large enterprise seeking enhanced user experiences, choosing tools to create user manuals plays a pivotal role. These online solutions offer a range of helpful features, from automated content generation to interactive user guides, enabling you to tailor your manuals to your specific needs.
By carefully considering your requirements and the capabilities of these tools, you can streamline the manual creation process and ensure that your users have comprehensive, well-maintained guides at their fingertips.
An intuitive knowledge base software to easily add your content and integrate it with any application. Give Document360 a try!
GET STARTED