It's a fact that customers don't always want to speak to your representatives when looking to solve a problem. You need to find a balance between supporting first-time users who have no idea what to do and experienced users who just need a little bit of help with using your product.
While one-to-one customer support will always be needed, it's critical that you provide your customers with the self-service support needed that will enable them to resolve their own problems. Knowledge base software like Document360 will allow your company to create a self-service portal that will allow your customers to quickly and easily answer their own questions.
Forcing your customers to contact support is a surefire way to lose them when you could be providing them with the option to self-serve. 90% of customers expect companies to provide them with an online self-service support portal. For this majority of customers, being obligated to contact human support is a definite next-best in terms of customer experience.
What is a Customer Self-Service Portal?
A customer self-service portal provides one-to-many customer support resources for customers who are searching for instant answers to their problems. It removes the need to contact your customer support team and allows customers to help themselves.
Customer satisfaction rises when you offer them self-service support. A customer self-service portal is an important part of the user experience of your product, allowing customers to find easy solutions and avoid bothering your company with repetitive questions.
A self-service portal means your customers are uninterrupted when using your product. They don't have to wait for a lengthy answer for your support team when they encounter common issues.
Why Should You Use a Customer Self-Service Portal?
24/7 Self-service access
When customers use a self-service portal, they have 24/7 access to the support that your company can provide. There are no times when agents are unavailable and they can take advantage of instant answers to their problems. Your company can offer truly global support which is unaffected by the times when your agents are available to work.
Also read: Guide to Provide 24/7 Customer Service with Tips & Benefits
Reduce customer service costs
A customer self-service portal means that fewer requests are sent to your customer support team. You can employ fewer agents to handle the same volume of customers, which is good news for your budget. A self-service interaction costs pennies when compared to the same interaction with a human agent, which costs dollars. You can expand your customer support team with less resources and save money in the long-run.
Improve Agent Productivity
When agents are dealing with fewer repetitive queries, they are much more productive overall. They have more time to devote to the more complex cases, and have more time to devote to non-customer facing tasks. It's easier for your customer service agents to be good at their jobs when they aren't dealing with the same questions over and over again.
Boost Site Traffic
Your site's SEO is boosted when you have customers visiting your knowledge base. When knowledge base content is indexed by search engines, you have more traffic coming to your site's domain. This improves your ranking in the Search Engine Results Page (SERPs). The more visitors you have coming to your site, the more visitors you attract in the future, meaning you expand your site's visibility to new customers.
Reduced customer frustration
When customers have their small issues solved, they are less frustrated with your product as a whole. If a customer just wants to find out how to change their password, they shouldn't have to fire off an email to your support team. Having access to instant answers improves the customer experience and increases the chance they will stay with your brand for the long-term.
Consistent service across the globe
No matter where your customers are based, a customer self-service portal means your customers will have equal access to support. This reduces the pressure on your support team to provide service out of hours and means you can offer 24/7 support with minimal effort, independent of the location of your customers.
Competitive edge for your business
You can be assured that your competitors will be providing a customer self-service portal. In order to keep pace, your business should do the same or your customers will start looking elsewhere. A self-service portal has become part of what your customers expect from your business and they will be disappointed if your business doesn't offer it.
Enhance customer satisfaction
When you provide a customer self-service portal, customer satisfaction is enhanced. Customers are easily able to find answers to their most pressing questions and they don't have to wait for a reply from your support team. When customers can rate your response as instant, they have a much higher approval rating for your business.
Types of Customer Self Service
Knowledge base
The most prominent example of customer self-service is a knowledge base. A knowledge base contains in-depth guides and resources that take your customers through the most common issues that might arise with your product. A knowledge base can contain text, video and audio resources to provide customers with different avenues through which they might approach self-service support.
An intuitive knowledge base software to easily add your content and integrate it with any application. Give Document360 a try!
GET STARTED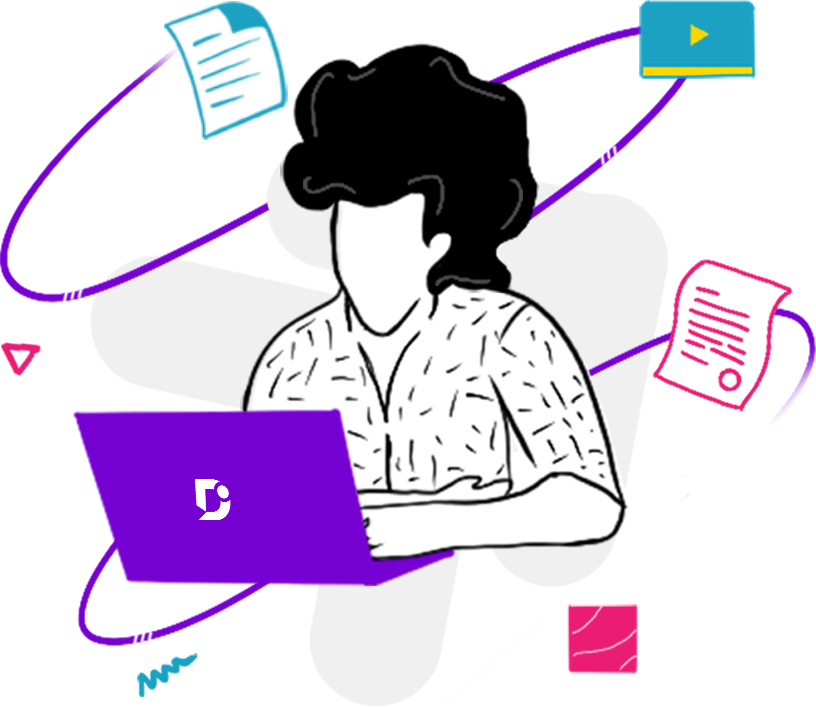 Read more: How a Self-Service Knowledge Base is the Key to Scaling your SaaS Startup
FAQ pages
FAQ pages do what it says on the tin – it provides your customers with simple answers to the most common questions that might be asked of your business. It is usually presented in a list format that customers can consult when they have a quick question. FAQs are a simple page on your company's website usually ordered alphabetically.
Read more: Guide to Create Online FAQ For Your Company: Tips & Benefits
Chatbot
A chatbot is an AI-powered virtual assistant that is programmed to respond to common questions from your customers. A chatbot mimics a human customer service representative able to conduct simple conversations with your customers. A chatbot removes the need to contact a live customer service agent and helps customers solve simple problems.
Read more: How Human & Chatbots can optimize your customer support
Interactive voice response (IVR)
When customers call your support line, they can interact with a computer-operated phone system through their voice and input via a keypad. IVR helps your customer support team manage large volumes of calls through routing the calls to the right department.
Automated Task Management
An automated task management platform manages requests from your support team without the intervention of a human agent. Using the system, your customers can check on or update their personal details with your business.
Online discussion forums
Online discussion forums are a peer-to-peer platform where customers answer questions posted by other customers. Sometimes other customers are a better resource when it comes to your products and services because they can respond to queries from the perspective of another customer.
The Self-service Portal: What Makes it Good?
Easy to use
Your new self-service portal should not require complicated software to get started with. It should be easy to implement and set up within minutes. As well as for the users of the software, it should be easy for the end users to get to grips with.
Powerful search
When users are navigating your portal, they should be able to take advantage of a powerful search that helps them uncover content they didn't even know they were looking for. Search should predict what users are typing and come up with results that are related to the search terms.
Content taxonomy
It should be easy to organize the content into sensible taxonomies that contain categories that group the individual articles together. Users are likely to come to your self-service resource to browse the content and the categories should point them to the location of desired articles. It should be easy to rearrange articles into new content categories as your content expands and includes more topics.
Scalable and supportive to growing needs
The way that your users interact with your self-service portal is likely to evolve over time. Your portal should be able to expand to support the growing needs of your customer base and be able to accommodate extra content. You don't want to change tools in a year's time in order to support a higher volume of customers.
Simple language
When you create your customer self-service portal, you should use simple language that enables users to clearly understand what you mean. Your users shouldn't need a dictionary to understand your self-service content and you should write in the language of your users. Leave the technicalese for your developers and talk to your users in a way they will understand.
Ability to collect and analyze user feedback
A self-service portal is never finished. You need to constantly collect and analyze user feedback in order to improve upon your content and ensure that it is meeting their needs. This can come in the form of likes and dislikes, or qualitative comments about the usefulness of your content.
An intuitive knowledge base software to easily add your content and integrate it with any application. Give Document360 a try!
GET STARTED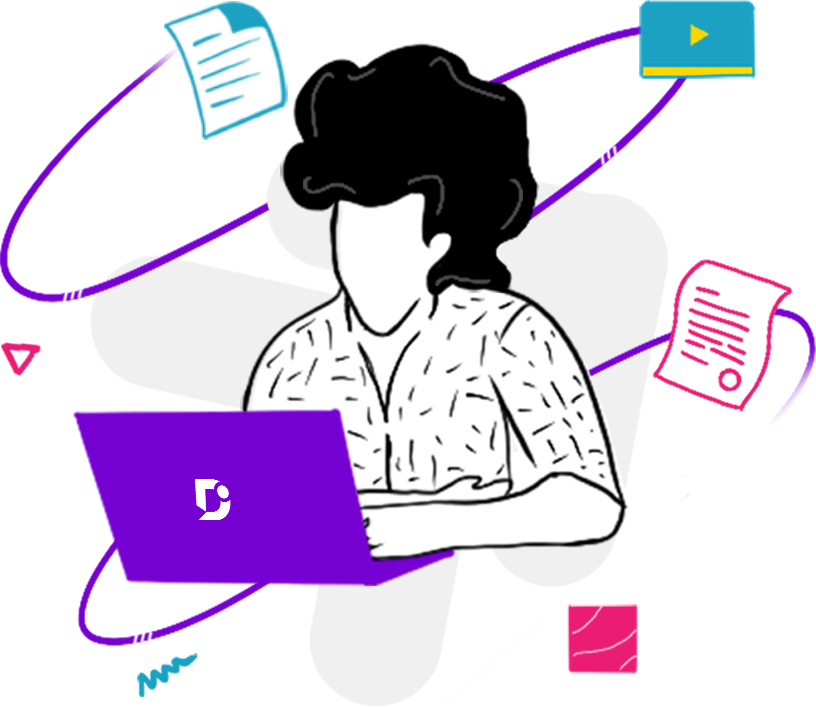 5 Best Customer Self-service Portal Examples
Learn from these customer service portal examples.
Knowledge Base Software- Document360
Document360 is knowledge base software that allows you to create a customer-facing knowledge base, FAQ page, product documentation or user manual. There are many use cases for Document360 which is the most flexible software for allowing you to create user-focused content that improves your customer experience. Use Document360 to create up to six levels of categories and subcategories to organize and display groups of similar topics, and easily rearrange or move them with a simple drag-and-drop UI.
The Markdown editor lets you focus on writing text and code-heavy documents. WYSIWYG lets writers who are most comfortable with Word-style editing feel right at home. Both editors let you add links, images, videos, callouts, code blocks, and more.
Document360's self-service portal offers the user a prominent search bar to get started looking for content right away. It contains a whole range of documentation from API references, to case studies and more.
Check out how to create a self-service knowledge base in simple steps:
Chatbot Software – Drift
Drift is live chat software that also comes with AI-powered chatbots as part of its offerings. When customers arrive on your website, Drift allows you to open up a conversation with them. If your agents aren't available, Drift offers self-service chatbots that allow you to identify high-quality leads from your website. Drift enables you to A/B test your chatbots to find out which messaging works best for your customers. The customer service chatbot allows you to assist your customers any time day or night, without requiring the intervention of a human.
The Drift customer self-service portal asks users how Drift can help them. They offer a list of popular categories underneath the search bar in case customers already know what type of content they need.
Automated call center Software – CloudTalk
CloudTalk is a call center software that helps growing businesses expand beyond local territories. When customers are calling into your CloudTalk system, you will never be charged. Your business can operate internationally while maintaining a local phone number.
Using CloudTalk, you can create your multi-level interactive voice response (IVR) menu to walk the customer through different options. You can ensure they are always sent to the right department, agent, or group of agents and that they are receiving relevant information through customized messages.
CloudTalk uses a very intuitive self-service portal to invite customers to search for articles they need. They provide a list of popular categories that users can choose from and they keep their knowledge base regularly updated. Users can easily navigate back to the main website in case they find what they need.
Also Read: What Is Call Center Knowledge Base Software and Why Is It Useful?
Community building Software – vBulletin
vBulletin is the global leader in forum and community publishing software. Customers have built thriving communities for over 10 years on vBulletin's secure and reliable platform. Developed with security, powerful administration features and speed in mind, it supports more than 40,000 online communities and is perfectly suited as a self-service portal. vBulletin provides market-leading product assistance, with the typical support ticket responded to within three hours, at any time of the day or night, seven days a week.
vBulletin offers its customers video tutorials in the self-service portal in order to help them get to grips with their product. The content is presented in a simple list format that customers can browse through. If the user scrolls down they can find a large body of videos containing instructions for everything they might want to accomplish with vBulletin.
Omni channel customer support Software – LiveAgent
LiveAgent is an omni-channel help-desk software that gathers all your customer conversations from the different social networks and manages them centrally in one system. Companies that trust LiveAgent for customer service can spend more time on the most mission-critical business tasks while ensuring that your customers remain satisfied. Link up all your social media channels into LiveAgent and take advantage of advanced automation that enables you to reply to customers without effort.
LiveAgent's customer self-service portal contains prominent links to their status page and the developer's changelog, supporting customers who might be searching for technical information. Aside from this, they offer a prominent search bar that customers can use to pinpoint content they're specifically looking for. Their portal is broken up into categories that customers can browse.
Also Read: What is API Developer Portal with Best Practices & Examples
Without customer self-service portals, your customers will be obligated to contact a live human for support even for the smallest query. If you want to offer your customers top-tier support, you need to provide them with a way to solve problems themselves. Not only does this save your business time and effort, but improves the customer experience and increases customer loyalty.
We hope you've learned from some of the popular examples of self-service portals we've included in this blog post. If you want to create your own portal, consider Document360 as a viable solution for all your self-service needs.