If you feel encouraged to say yes, chances are that you have failed to decentralize organizational information from the beginning. But that doesn't mean it can't be done now. With the right HRM knowledge management solution, you can document:
And more hassle-free. Once you align knowledge management in the HRM process, you can further streamline your organization's recruitment and onboarding process. What's more, it allows you to update the existing information at any time. These critical factors define the crucial role of knowledge management in HRM.
Before we dive deeper into the significance of HR Knowledge Management, its application, and various ways to enhance its potential, let's understand how HR management is the next strategic approach for businesses.
Unveiling HR Management: A Strategic Approach
Did you know that 58% of new hires who go under a structured onboarding program are more likely to stay with the organization even after completing three years?
As astounding as this sounds, a lot of organizations fail to reach this retention rate. Understand that onboarding is a crucial milestone for new employees. This is where they learn about the organization, their role, and how they will contribute to the existing process. If an organization fails to communicate these aspects during the onboarding stage, employees are likely to feel less interested and ultimately leave.
With a human resource management approach, you can streamline the onboarding process and ensure that there is less attrition and an improved retention rate. But that's not all HRM helps your organization with.
HRM simplifies and streamlines the recruitment and hiring process for the organization. Other than that, it helps the HR department plan and execute a training program for new hires that educates them about their roles and responsibilities at the organization.
However, a strategic human resource management approach takes these efforts to the next level. SHRM helps you attract the right talent, hire promising candidates, streamline the development process, and even helps you create competency-based reward plans for employees.
The reason why it is gaining more base among HR leaders is because this approach helps the company bring together all the employees and help them work as one unit. That means every works towards one objective. And when everyone works towards one objective, the results are likely to be positive for the organization. The success rate increases drastically.
With the SHRM approach, you can monitor and analyze the performance of each employee. Moreover, SHRM helps your organization with:
Identifying the growing need for a new workforce at the office that meets the changing demands of the competitive market
Building short-term and long-term goals for organizational growth and success
Enhancing the existing work operations and processes to capture the best employee output
Ensuring that the company adheres to all the rules and regulations as per government laws
Identifying the ever-evolving technological shift in the market and bringing in the right set of tools that enhance employee productivity
Due to these and many other reasons, SHRM is becoming a crucial approach that organizations must adopt in the workplace.
The Significance of HR Knowledge Management
Crucial research from Deloitte states that:
75% of organizations agreed that creating and preserving knowledge across their evolving workforces was important for their success over the next 12 months. However, less than 10% felt their current knowledge management system was up to the job.
If you are not in that less than 10% of companies who feel their knowledge management system has documented everything for the employees, it is time you start now. With HRM in place, several processes and information must be documented for employees, managers, admin staff, and even for the HR team.
With a knowledge management system in place, you can ensure:
HRs become more productive
Your employees can have multiple questions about absenteeism policy, compensation and benefits, key performance indicators, roster management, and others. And these questions can occupy a significant amount of productive time from an HR's routine.
But with the knowledge management system, you can ensure that questions around different policies and concerns are covered so that employees can refer to the self-service solution and get answers faster. As an outcome, you can ensure that HRs are taking part in admin activities and remain productive at work.
A holistic repository for all
With an HR knowledge management system, you ensure that all the information around employee hiring, employee onboarding, and lifecycle are documented in one place. Neither HRs nor employees have to delve into multiple sources to extract information. This all-in-one repository can help everyone find the required process data in one place.
Smooth optimization of current knowledge
Using the right HR knowledge management system from the start, you can ensure that all the articles around employee payroll policy and benefits stay updated regularly. Tools like Document360 will allow you to update and track all the changes made to the articles. You can also revert the changes if your company plans to avoid any policy updates. That means everyone in the organization gets access to the latest information on rules, regulations, and company policies.
Other than these benefits, there are other critical applications of HR knowledge management that one must know of. Let's explore them in the following section.
Critical Applications of HR Knowledge Management
Tailored Access Control and Customized Permissions
Only some can access your HR knowledge management system at work. Only those with access control and permissions can change to the existing articles in the system.
Tools like Document360 help you provide customized permissions for team members who can edit or write knowledge repository articles.
With the Access Permission option, you can keep track of all the people who are able to make changes to the current repository. You can also track who all have portal roles and content roles. 
Enhancing Employee Onboarding
58% of organizations confirmed that their onboarding program is mostly focused on getting the paperwork done and giving a brief idea of the processes at work.
But we all know that an onboarding process encapsulates more than this.
From completing the paperwork to meeting all the other team members and managers in person, there is a lot more that one needs to cover during the onboarding period. Sometimes it can go on for days.
However, a knowledge management system can summarize and detail all the activities new hires must look forward to during their onboarding period. And if you have a knowledge management tool like Document360, it can become more detailed for all the users.
You can add a TOC that helps new hires systematically complete their onboarding. You can even add a video from the founder so that new hires get to understand the vision and mission statement of the company.
Including such minute details in the documentation ensures that the onboarding process gets enhanced yet simplified for new employees.
Curbing Redundant Efforts
No more answering the same questions multiple times when you have HR knowledge management in place. You can help your HRs avoid repeating themselves to different employees for the same worries. All employees must do is visit the self-service repository and search for answers to their concerns about company policies.
Documentation tools like Document360 help users find answers to common questions with their search bar functionality. Users will find the search bar on the home page and across the repository articles. If they have subsequent questions, they can search for an answer using a relevant search term.
Users also get the option to conduct an advanced search if they are looking for some answers in particular. You can add filters like categories or tags to find more relevant information faster. This in return saves time for both the HR and employees.
Mitigating Errors
Want to ensure that no information gets miscommunicated to employees?
If it's a yes, you need to focus on building clear documentation consistently. If you have any new updates, add them to the existing articles in the knowledge management system. Create new articles in advance if you plan to roll out new rules and regulations. This will help you educate employees at an organizational level and avoid explaining them one by one.
This approach will allow you to avoid mistakes while sharing information with employees and keep everyone on the same page regarding company policies and regulations.
Informed Decision-Making
From identifying possible issues with the current policies to potential risks that may lead to attrition, a knowledge management system can help you do it all. It is not just a repository that offers information to everyone in the company about various policies.
An HR knowledge management system also lets you understand how many employees have frequently accessed the repository to find answers. You can narrow down the common queries and accordingly create in-depth articles or revamp the existing ones to cater to such queries.
Standardizing Processes
Help all your employees find the same answer to the same question. Rather than creating multiple sources of information, it would be best to maintain one repository that offers answers to all the questions. This way there won't be any discrepancies in knowledge distribution.
All you have to do is share the link to the internal wiki with the employees during the onboarding process. This will ensure that they always go back to the same source of information in case they have other questions.
Enhancing Employee Experience
Faster answers to questions result in satisfied employees.
Employees like it when the companies are transparent about their policies and offer detailed answers to their questions. From avoiding the wait time to ensuring they too have understood the policies from scratch, employees end up becoming more productive and build positive feelings for their workplace. This encourages them to stay engaged with the team and other organization activities.
Interested in Document360 Knowledge Management? Schedule a demo with one of our experts
Book A Demo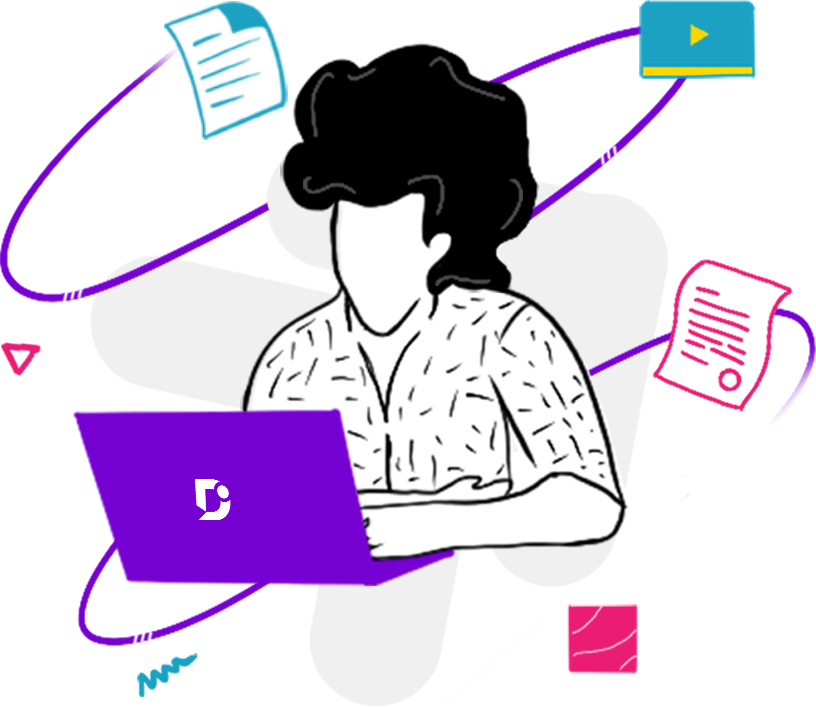 Enhancing Knowledge Management in HRM
We've understood the growing yet crucial role of knowledge management in HRM. It is safe to say that we cannot rule out the implementation of knowledge management to further enhance the performance of the HRM process at your organization.
But how can one enhance the existing HRM knowledge management system to reap more benefits?
Here are four practices one can adopt to strengthen the role of knowledge management in HRM.
Ensure HR data is not siloed
Your first step towards building a solid knowledge management system is to ensure that the data never gets old. Your role doesn't end once you create KMS for your employees. You need to ensure that it gets updated regularly in case new policies get introduced or there are new updates to the existing ones.
This way you can ensure that employees stay up-to-date on upcoming or recently introduced policies of the organization. This practice helps you build trust in employees towards the organization and increases loyalty.
Integrating Knowledge Capture into Talent Management
Captivate the expectations of team managers around all the positions to understand what roles and responsibilities do they see each team member performing once hired. This way the information is coming from a credited source. What's more, the employees will also stay on the same page as their manager and accordingly perform their roles.
But that's not all you can do in terms of knowledge capture.
As HRs, you can also capture all the latest information from employees and add them to the knowledge management system. In case the existing resource leaves the company, the new resource can go back to the data captured in the KMS and seamlessly start the work process where it was left off.
Optimizing Internal Communications for Knowledge Management
Another best practice you must adhere to is streamlining the communications for knowledge management. One, decide who will be responsible for building and maintaining the HR knowledge management system at your organization. This way, you can avoid any miscommunication and ensure the right data is added to the repository.
Two, ensure that all the authorized writers, editors, and admins have customized access to the knowledge repository. That means they can only perform certain tasks that are added under their role.
And three, ensure that they get to collaborate while building the repository to avoid confusion or miscommunication. Document360 serves as a collaboration tool with other team members working on the repository through private notes.
These private notes help you make sure that information is verified and added to the repository. What's more, you can make private notes accessible in the WYSIWYG editor as well.
Cultivating a Knowledge Management Culture
Document every change whenever it takes place to ensure you build a knowledge management culture at the workplace. But to make this happen, you need to create a plan for knowledge management and how it needs to be executed.
Other than that, factors like channels should be sorted out. With the right channels, you can take the internal wiki live and decide how employees can find it whenever they have a question. You must also work on a workflow for the knowledge management system to ensure it doesn't get outdated and can be updated whenever new information gets added.
With these four best practices, you can enhance knowledge management in HRM.
Implementing Actionable HR Knowledge Management
While the understanding of enhancing the existing HR knowledge management is clear, we have yet to assess how to implement an actionable KMS from scratch.
Here's how you can go about it in quick and easy phases.
Phase 1: Ideation
Choose the themes you want to cover in your HR knowledge management. This can include covering questions from payroll, leave policy, and roles and responsibilities for various positions in the company to talent management and acquisition. You can also collect employee feedback to understand what possible queries they will most likely seek answers for. This will help you collate more topics to be added to the repository.
Phase 2: Creation & Publishing
Once you've identified the possible subjects you'll give answers to, your next step would be to create and publish the knowledge management. First, you need to develop a detailed TOC where you have identified topics and sub-topics you plan to write articles.
It may look like this:
1. Leave Policy
Sick Leave
Paid Leave
Non-paid Leave
Floating Holidays
Marriage Leave
Maternity Leave
Paternity Leave
Bereavement Leave
2. Wellness & Employee Benefits
Bonus Structure
Health Care Benefits
Work From Home/Flexible Work Conditions
Stock Option Plans
And the list can go on. You can create different articles that will answer these questions rather than adding the information for all the sub-sections in one article. You can also add examples to help employees understand how these benefits or leave policies can be availed. A quick video from the HR team explaining each benefit will make the articles more engaging for employees.
Once ready, you can take your repository live using a knowledge management system like Document360.
Phase 3: Monitor Performance & Upgrade
This is an ongoing final phase of implementing an actionable HR knowledge management system for your business. This is where you need to track:
How many employees have used the repository?
Which articles are the most commonly read among employees?
Which articles have the highest bounce rate?
What is the average rating left by employees for each article?
How many terms qualify as highly searched keywords?
Tools like Document360 allow their users to add the feedback option to each article to see if readers found them useful or not.
Based on the feedback collected, you can identify possible areas where your knowledge management can be upgraded for a better experience. You can update your existing articles or use the highly searched terms in the search section to identify new topics that answer employee questions.
In these three phases, you can implement a successful HR knowledge management system for your organization.
Building an HRM system for your organization can be tough but fruitful, as it organizes and streamlines all the processes hassle-free. But if you add knowledge management to the equation, you can successfully strategize your HRM approach and ensure that no employee leaves without relevant information.
But to build an HR knowledge management, you need a solution that matches your needs and helps you build a repository of answers that employees find useful. If you're already looking for the right HR knowledge management solution, we'd highly recommend you try Document360.