Content holds immense significance for freelancers, small enterprises, medium-sized businesses, and large corporations alike. Not only do you need it to engage and educate your customers and potential customers, but also to provide vital self-service help for your products and services.
For that reason, there is a plethora of tools enabling you to author content on the market. With solutions to suit any purpose and budget, the number of options can often be dazzling, and that's why you'll definitely want to consider our own Document360.
If companies don't get ahead of the game in authoring content, they may find themselves becoming left behind. They don't have excessive amounts of time to spend evaluating each tool, so in this article, we are going to help you work out what to look for in a content authoring tool.
What is a Content Authoring Tool?
Typically, content authoring tools are end-to-end solutions that allow you to collaborate, edit, and publish content to the web. You might require a content authoring tool to help you publish documentation for your users, build elearning content, or write blog posts and articles for marketing purposes.
One famous content authoring tool out there is WordPress, which powers 46% of all websites and is very easy to use, with options for many plugins.
Since content authoring tools have such a wide range of purposes, there are naturally many solutions on the market. In recent times, they have developed in such a way as to often require very little technical skill on the part of the content producer.
If you imagine a typical application, you will log in and then be presented with options for setting up your website, creating new articles, editing and formatting your content, and finally, various publishing options. How you access the tool will depend on the final software that you choose, and this will have repercussions on how you pay for and license the software.
Benefits of Using a Content Authoring Tool
Now we're going to look at some of the major benefits of using a content authoring tool.
It's Easy to Create Content
Content authoring tools have been specifically designed to help authors create content with the minimum of fuss. If you choose the right tool, you won't have to invest in weeks of expensive training just to produce a minimum viable product. Content authoring tools support agile teams to focus on helping users, not messing around with software.
Multiple Authors can Collaborate on Content
Usually, with a content authoring tool you can select your desired number of users (for a fee, of course). This means that one person can create a draft of the content, another can review it, another can edit it, and finally, someone else can publish it. When you have all your content contained in the same system in this way, this makes publishing content as a team much easier.
Content is Fully Optimized for the Web
Content authoring tools are quite often web-based, which means that when you create your content, you can automatically optimize it for the web – SEO and readability are two desired goals. Even desktop tools usually have SEO capabilities. In Document360, for example, you can fill in the metadata and tag your content to ensure that users can always find your documentation.
Produce Large-scale Content Outputs
Content authoring tools give you the ability to produce content on a large scale, which is accelerated through the use of pre-made templates or copying existing articles and adapting them for your needs. With a tool like Document360, it's easy to organize your content for educational purposes and ensure that users aren't overwhelmed with information.
Iterate on Previous Versions of Your Content
After you publish your content, the final articles are not set in stone. Using user data and analytics, you can iterate and develop your content to ensure that it meets their needs, which makes it all the more essential to use a proper content authoring tool. Save previous versions in case you ever need to revert back or maintain more than one set of documentation for different software versions.
Integrate Multimedia Content
Publishing content on a content authoring tool isn't just limited to text – you can include multimedia files, such as images, video, and audio to create interactive and interesting content. Content authoring tools provide support for media libraries and should allow you to upload extensive numbers of files to accompany your content.
Types of Content Authoring Tools
Content authoring tools can generally be categorized into four types, which we'll discuss now.
Cloud-Based/ Web-based Content Authoring Tools
Cloud-based content authoring tools are hosted in the cloud and are typically accessed through a web browser with an internet connection. You would pay for the cloud-based authoring tool using the SaaS model, which is usually a monthly or yearly subscription license fee for the number of seats you require.
Features
Accessed through a web browser with regular updates and patches to the system
Hosted on a cloud server so, you don't have to worry about installation and storage
Integrations with other cloud services and tools
Pros and Cons
The SaaS pricing model makes it easy to scale up or down depending on your needs
The ability to access through any device with an internet connection suits flexible working
Vulnerable to productivity loss if the internet or cloud server goes down
Potential security risks if hackers take advantage of insecure internet connections
Example
Document360 is a popular cloud-based content authoring tool designed to streamline the creation, management, and publishing of online documentation and knowledge bases. It is particularly suited for businesses, tech companies, and customer support teams looking to provide easy access to information for their users.
Traditional (Desktop) Content Authoring Tools
A desktop content authoring tool requires you to download software and install it on your desktop. It's accessible without an internet connection and is usually more powerful and feature-rich than the equivalent web or cloud-based tool. You might access this tool by paying a one-time license without receiving future updates as part of the package.
Features
Handles large and complex files easily
Works offline without an internet connection to minimize loss of data
Installation required to operate desktop content authoring tools
Pros and Cons
More powerful and feature-rich than web or cloud equivalents
Files can be saved locally, minimizing data loss if the connection goes down
Platform-dependent, requiring different versions for the various operating systems
Often more costly and requiring more upfront investment from businesses
Example
MadCap Flare is a desktop content authoring tool designed for creating, managing, and publishing various types of content, with a strong focus on technical documentation and online help systems. It's known for its robust capabilities and features tailored to the needs of technical writers, content developers, and documentation teams.
Schedule a demo with one of our experts to take a deeper dive into Document360
Book A Demo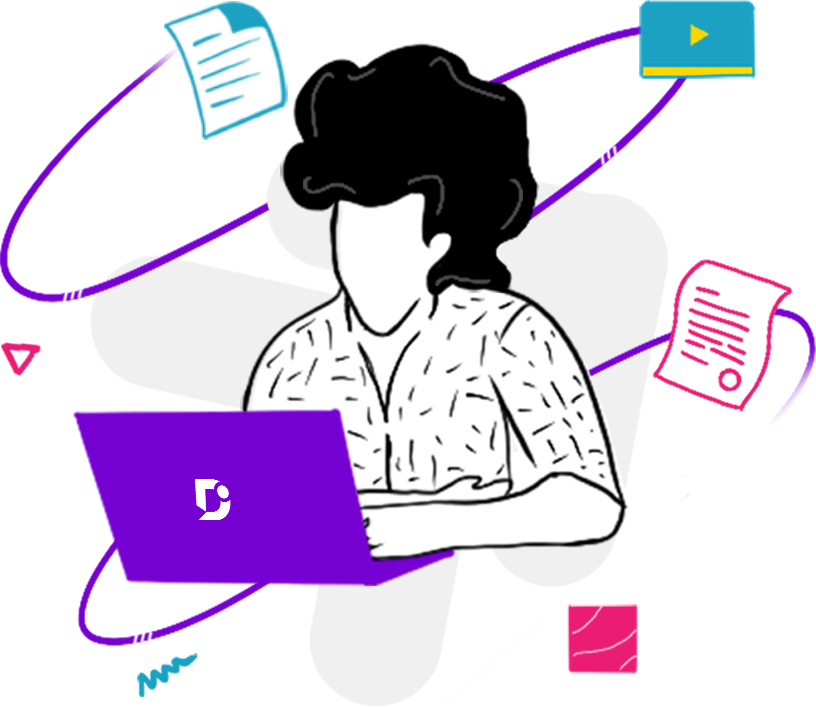 Mobile-based Content Authoring Tools
As the name suggests, a mobile content authoring tool is an app that you download onto your mobile device, allowing you to author content on the go. Companies that offer mobile tools usually make them available through the app store on your device, and you would pay a monthly subscription to access the app.
Features
Installed as an app on your mobile device with a limited set of features
Simple interface designed for small screen sizes
Provides on-the-go access to content authoring tool
Pros and Cons
Mobile content authoring tools make it very easy to create content
Usually, mobile apps are synced with other versions on different devices, creating a holistic authoring experience
Features are very limited on a mobile device due to processing power
Might present a security risk if the device is lost or stolen
Example
EdApp is a mobile-based content authoring tool that focuses on microlearning, interactivity, and engagement. Its user-friendly interface and mobile-first approach make it an excellent choice for organizations looking to deliver effective training and educational content to their employees or learners on a global scale.
Also read: Best Help Authoring Tools (HAT) & Software Compared
Advanced Features for Content Creation
Beyond the four types of content authoring tools, there are some advanced features you might need for content creation.
Interactive Elements and Software Simulations
Software simulations enable you to demonstrate how your software works for your end users, while interactive elements enable them to learn through doing. If you choose the right eLearning content authoring tool, you'll have access to these features that will accelerate the education of your users.
Template Library and Color Palettes
You quite often have the ability to save a template library and typical color palettes you might use to create content, enabling more sophisticated formatting options and consistency among content. You can tailor the experience of your content authoring tool to your unique needs and requirements so that multiple authors can choose colors and templates that suit your branding.
Choosing the Right Solution for Your Needs
Follow these guidelines to ensure that you choose the right solution for your needs.
Identifying Your Goals and Objectives
Every company considering a content authoring tool has different goals and objectives that their audience, strategy, and budget will determine. Choose a tool that has the capabilities to fulfill these objectives, which might be delivering content to particular platforms, focusing heavily on video, or multilingual capabilities.
Evaluating Key Features in Content Authoring Tools
Once you have identified your goals, you then need to evaluate the key features of content authoring tools. Some will have particular features but not others or require a premium plan to access. Integrations with existing tools can also be important, which is why you'll want to check out Document360's many integrations, such as Intercom and Drift. There will be costs and benefits associated with choosing various tools and their included features.
Considerations for Different Types of Content Creators
Not every content creator is the same, and you'll have several different roles in your content team. Being able to limit access for some types of creators and build workflows is essential when developing content like documentation. Some creators should be permitted to publish content or create drafts, while others can only edit.
Understanding User Interface Requirements
How users access the interface must be a consideration when choosing your software. Some users require great complexity when creating content with the ability to control elements and adjust formatting. User interfaces will differ across mobile, desktop, web, and cloud, with some providers offering multiple versions of the same app.
Review Responsive Design Options
Any web-based content needs to have a responsive design so that it works across different devices. Make sure your software adheres to responsive design principles so that customers enjoy an optimized experience no matter how they access your content, adjusting displays, sizes and fonts for different screen sizes among other things.
Evaluating Document360 as a Content Authoring Tool
There are many reasons why you might want to consider Document360, our own content authoring tool, for your content purposes. Principly, Document360 has been designed specifically for documentation so you can provide self-service content for your users seeking help.
Document360 can be adapted for many purposes relating to content, with its AI-powered platform underpinning an advanced portal for content producers and a simplified site for content consumers. Document360 makes it truly easy to author content, manage large numbers of articles, and create sites fit for different audiences.
You can integrate or extend Document360 with many important tools to supercharge your workflows. Authoring in either Markdown or WYSIWYG means you can support authors with varying levels of technical ability and familiarity with particular tools. Content is natively optimized for web consumption so you can be assured you'll be indexed by all the major search engines.
Wrapping Up
Content authoring tools are essential for companies dealing in content, which is ultimately pretty much everyone. They are fit for purpose in writing, editing, and publishing, with each task usually accomplished within the same tool.  Confusion and complexity are eliminated from the authoring process.
When you adopt a tool like Document360, content authoring can be more about the audience rather than figuring out complex systems. Documentation is often required to get a product ready for market and is always needed to provide self-service and answer questions for users who run into issues.
Creating content is all about the authoring experience for creators and the final product for end users. Document360 excels at both these aims by providing intuitive, easy-to-use software that renders great content.
An intuitive knowledge base software to easily add your content and integrate it with any application. Give Document360 a try!
GET STARTED