Internal customer satisfaction is crucial for any successful business. You might place a lot of focus on keeping your business's customers happy with a customer services team, but are your employees getting the same treatment?
With the right internal customer service strategy, your business could boost productivity, improve operations, and enhance its overall brand image. This is not to mention the fact that great internal employee service will have a direct impact on your external customers' experiences.
Confused as to how this all works? Follow this guide where we break down everything you need to know about internal customer service. We cover why it's so important and what you can do to optimize your internal service strategy.
What Is Internal Customer Service?
Internal customer service covers all of the processes that the different employees and teams within an organisation use to empower and help each other.
Instead of only focusing on external customers, an internal customer service team helps employees achieve their goals and perform their tasks efficiently. Internal customer service is also about keeping employees happy and motivated.
Outstanding internal customer service is important for achieving a highly motivated, productive, and happy organisation. This is because achieving high levels of customer satisfaction or work ethic will be very difficult if employee satisfaction is low.
Quite simply, if employees are happy, they will provide a better experience to customers. If customers have a consistently good experience, business growth and performance increase.
Internal Vs External Customer Service
"Internal customers" refer to any stakeholders that work within the company – in other words, employees. You can call employees "internal customers" when they require assistance from other teams or employees in order to perform their job.
External customers are, of course, people outside of the organisation who pay the organisation for goods or services. In both cases, the same principles of customer service can be applied.
External customer service is all about providing a business's customers with a positive experience. This enhances their customer journey and helps them develop a good perception of the brand. This can result in positive referrals and repeat business.
Internal customer service follows the same general idea. This process is all about making sure employees are happy and satisfied with the company. It aims to ensure that they have everything they need to perform their roles.
By ensuring that any internal customer (or person who participates in the business) has a good experience, you should also be able to boost the experiences of external customers at the same time. This is because happier, more satisfied employees will be more willing to go the extra mile for customers.
The Benefits Of Internal Customer Service
If employees are getting paid (and not paying the company like external customers), then why is internal customer service important?
It's important because it not only benefits employees but your company as well.
Internal customer services may seem like an interesting concept to many traditional businesses. But if you get it right, it has many positive effects on the overall business performance.
Here are some of the main reasons why good internal service is important.
Increases Employee Productivity
One of the main reasons why internal customer service providers operate is to improve employee productivity. If employees have all the resources and support they need to do their job, then they will be able to perform better. Make sure employees are happy and motivated, and productivity will improve even more.
Improves Employee Satisfaction
Companies provide internal customer service to keep employees happy in their work environment. It makes their work easier and ensures they can find help when they need it. As a result, it reduces frustration and boosts employee satisfaction.
Establishes Clear Avenues For Communication
Excellent internal customer service ensures employees have clear and efficient communication channels in place. It's important to create multiple, convenient channels of communication for better support systems.
Efficient internal communication instantly enhances the way any company operates. This is because it helps to reduce bottlenecks, promote collaboration, and help eliminate information silos.
Improves Workflows
Internal service ensures your employees can work as efficiently as possible. When they need anything, they should be able to instantly access your internal customer service team for help. This support enables smoother workflows as employees can focus more on their tasks and goals.
Increases Employee Loyalty
Satisfied employees will feel more positive about your company and will therefore be more motivated to stay at your company longer.
Speeds Up Problem Resolution
If a problem arises, internal service teams can help employees find a solution faster. This helps companies work more efficiently and consistently.
Improves External Customer Service
Happier employees provide good customer service because they are more motivated and satisfied in their roles. Good external customer experience is critical for any business.
Reduces Employee Acquisition Costs
Employees that spend longer at a company reduce acquisition costs for new employees. This is one of the most important internal service metrics.
13 Best Practices in Providing Internal Customer Service
Internal customers serve your business, so it's important that your business serves them in return. Here are some of the best ways to optimise your internal customer service.

1. Treat Employees As Your Customers
Apply the same principles in external customer service as you do with internal customer service. Gather employee feedback, think about "customer" interactions, and always look for ways to improve your customer service knowledge base.
2. Set Firm Expectations
Make sure your employees know what is expected of them and that they understand how you can support them.
Using standard operating procedures (SOP) and providing easy access to internal documentation can help to improve employees' understanding of how things work.
3. Clarify Internal Customer Responsibilities
If employees have firm responsibilities, they will know exactly when they need to ask for support and who they can ask for this. This makes internal requests easier to manage.
4. Provide Employees With Multiple Ways to Contact You
Opening up multiple communication channels makes it easier for you to provide efficient service to all employees when they need it.
5. Choose The Best Tools For Your Tech Stack
Internal teams excel when they have the right tools available. This includes having the right internal knowledge base software, collaboration tools, official email software, internal helpdesk software, and more.
These tools are essential for being able to help employees achieve their goals and do their jobs well.
6. Keep It Conversational
Any internal customer service provider should always use a conversational tone to make communications easier. You want to keep it friendly to ensure your employees aren't put off asking for help.
7. Keep Your Help Desk Fully Staffed
Just like you have with your external customers, you should also have a fully-staffed help desk for internal customer services. Having an internal customer service provider always available means good service is always possible. It also means employees will get the support they need efficiently so that they aren't delayed in doing their work.
8. Share Knowledge And Resources In A Central Location
If you want your employees to be able to easily access great support, then you'll need to make support resources easily accessible. Having a central resource location like a help desk or knowledge base will make a major difference.
9. Try To Understand Where Your Employees Are Coming From
Put in the effort to try to comprehend where employees are coming from. Truly understanding their situation will help you provide better support and eliminate the cause of the issue.
10. Keep Track Of Feedback
Keep track of any feedback your employees give regarding your internal support team. This will help you make improvements that serve your employees and follow up with them when you fall short.
11. Prepare Employees With The Next Steps
Your support team should always notify employees about the next steps during their internal support communications so that they are fully prepared about what to do.
12. Recognize Every Question
Even if you don't know the answer, it's important to recognize every question and take every aspect of the employee's query into account.
13. Use Data To Identify Areas For Improvement
Data is critical for guiding your internal customer service strategy. Use it to identify areas that you can improve and offer better support. For example, are employees asking the same questions? If so, include the answers in your knowledge base so that your employees can find the information they need more efficiently.
An intuitive knowledge base software to easily add your content and integrate it with any application. Give Document360 a try!
GET STARTED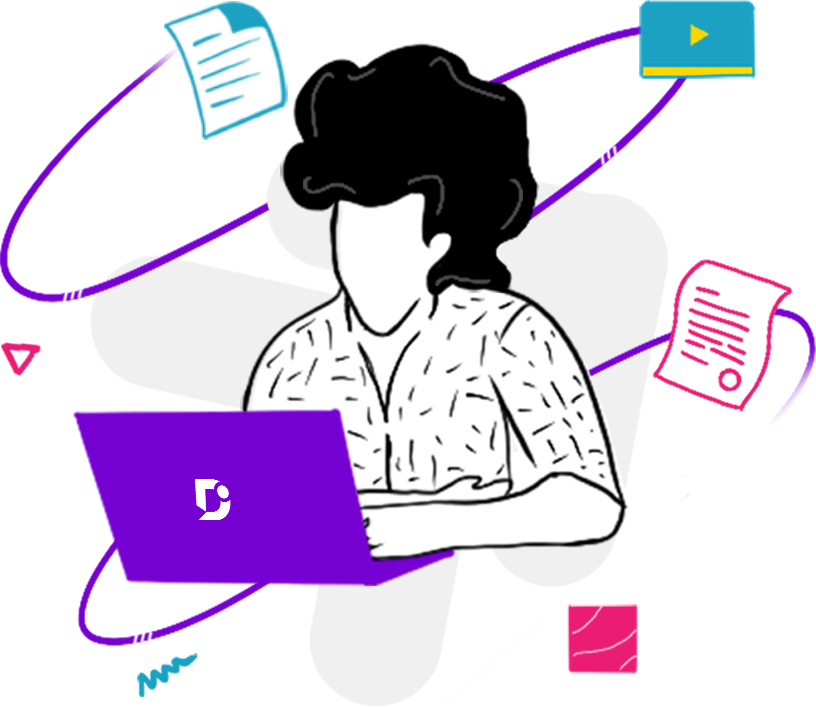 Examples Of Internal Customer Service
What exactly does good internal customer service look like? Let's break this down by understanding the internal structures of an organisation.
Various departments within a company act as the business's customers. So, uplifting their morale will have a strong positive response on the business overall.
Here are some examples of how this could work if the following departments receive great internal service:
IT Department: Able to optimise business technology and develop more impactful solutions.
Department of Human Resources: Able to make stronger hires and provide greater support to employees.
Facility Administration: Improve logistics of the business through better workflow organisation.
Department of Consultation: Able to enhance productivity and provide greater value to the business.
Department of Operations: Can better ensure that all elements and operations of the business run smoothly.
Wrapping Up
Treating both internal and external customers well will have a positive impact on any business. And when it comes to internal customer service, it's a good idea to follow the same general approach you would take with external customers.
Treat your employees with the same attention and care, and you will be able to get the most out of them. This can make an enormous difference to the success of any business.
Also, check out our article on Internal Processes