How to SEO Your Knowledge Base Articles
Search engines have become integral to our everyday lives. Google has even become a verb in the English language. Every business, therefore, needs to pay attention to their search engine ranking. One way to do this is through search engine optimisation (SEO).
For knowledge base articles, it's crucial that they appear in search results when customers are looking for help. You've likely spent a lot of time getting your knowledge base right. Time that will go to waste if your articles cannot be discovered – and 93% of all web traffic comes via a search engine. Therefore, SEO is as important to your knowledge base's success as the content itself.
Paid advertising is one option for companies looking to jump to the top of search results. But it still isn't as effective as improving organic search rankings through SEO. Almost 80% of searchers say they completely ignore paid search ads.
There are many search engines, such as Bing, Yahoo and DuckDuckGo. But the mammoth in the industry is (obviously) Google. Therefore, most SEO strategies are geared for Google because over 63% of online search occurs on this platform. But if you improve your knowledge base SEO on Google, it will likely get a boost on the other search engines as well.
What's included:
Technical versus content SEO
SEO is broken down into two main areas known as technical SEO and content SEO. You can think of technical SEO as the activities that underpin the rest of your knowledge base. Without a strong foundation laid through technical SEO, any efforts made with content SEO will be stifled. You need to start strong.
Technical SEO tips and tricks
Technical SEO lays the groundwork for the rest of your knowledge base SEO, so it's incredibly important. It requires a certain level of coding knowledge and tech savviness, meaning you'll probably have to consult an expert who really understands the intricacies of technical SEO.
Put your mobile first
Probably the largest change in technical SEO in recent years came when Google implemented an algorithm change that only ranked mobile responsive websites in mobile search results. Dubbed mobilegeddon, the change means that if your knowledge base isn't responsive it won't appear at all for smartphone users. The vast majority of people now search for things via their phones, so this is a significant part of your user base who could be missing out.
If you're not sure if your existing knowledge base is mobile-friendly, then Google has created a free online tool that will tell you if it's set up for mobile.
#1 Knowledge Management solution for growing teams.
Book a Demo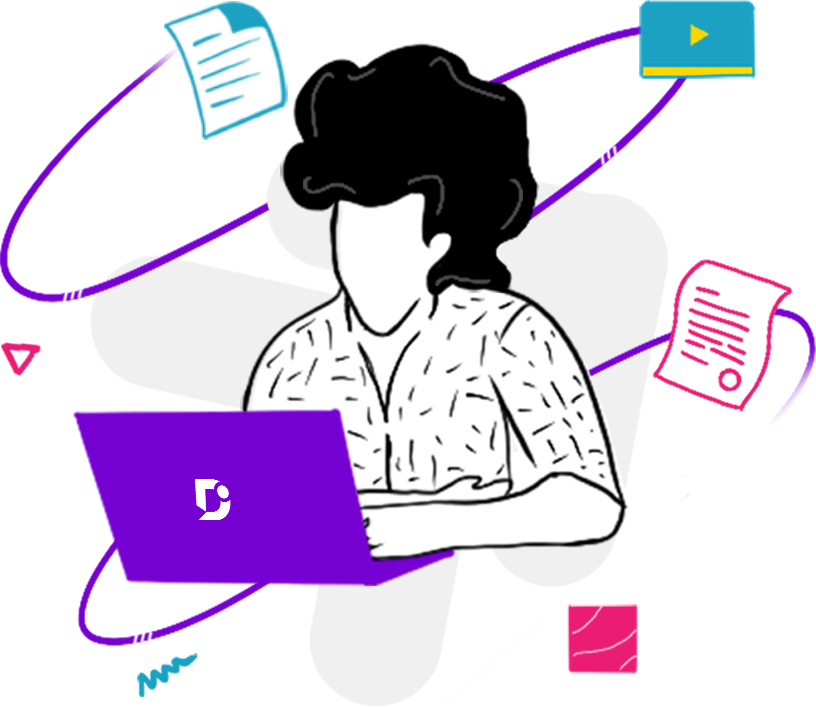 Get a sitemap
An XML sitemap is used by Google to find and index your web pages. Much like a real map, without it your knowledge base may not be discovered quickly by Google's crawlers (bits of code that analyse your website) and may be indexed incorrectly.
After creating an XML sitemap, it should be submitted to Google's search console. This tells the search engine to send its crawlers to visit your website. For good measure, you should repeat this whenever you've created a new knowledge base article or a new section of your knowledge base.
Speedy knowledge
For SEO, your website speed is everything. Ideally, your knowledge base should load within 3 seconds, which can be tough considering the amount of content, video and image files that many knowledge bases contain. Web pages that take a long time to load are penalised by Google and experience a higher bounce rate (which negatively impacts SEO).
There are a few simple ways to improve the speed of your knowledge base.
Use compressed images, HTML and CSS files to reduce the size of files that have to be loaded on your web page.
Enable browser caching (to temporarily store data on a user's computer).
Reduce your server response time to under 200ms.
Audit regularly
After mastering your technical SEO, it's vital that you don't rest on your laurels. Do a regular audit of your knowledge base to check that it's working effectively and not affected by any new algorithm changes. It should also be adapted to new technical specifications that arise. The rise of voice search through Siri, Cortana and Alexa, for instance, is heralding a new mobilegeddon for SEO.
To help, the collaboration tool in Document360 helps you communicate with everyone involved in creating your knowledge base, including the SEO whizz who will be reviewing your code and content.
How to optimise your knowledge base content
The other side to the SEO coin comes in the shape of content SEO. This is an ongoing process that needs to be incorporated in every knowledge base article that you write. Because knowledge bases are content-heavy, this type of SEO offers a great opportunity for them.
Pick your keywords carefully
To begin with, you need to pick the keywords that will appear regularly in your articles. There are several ways to do this:
Look at what terms your competitors are using (SpyFu is a good tool for this).
Type search terms into Google and look at suggested related searches at the bottom of the page and in the automatic search term list that pops up under the search bar.
Use Google Adwords to find the rankings for different search terms.
There are different kinds of keywords known as short and long tail. Long tail keywords are usually over 3-4 words long, and can include phrases such as "self service knowledge base software". Meanwhile, short tail keywords are only one or two words in length (for example "knowledge base"). Often, using a mix works best.
Pick a primary keyword and a few secondary ones to use throughout your knowledge base article. These can change from article to article, but there should always be a handful that you use consistently to rank highly for those terms. "Knowledge base" and "knowledge base software" are two examples used by Document360.
It can also be a good idea to have your company name as a keyword too. This builds your brand and if you use it for paid advertising too, it'll help prevent competitors buying the keyword and using your name against you.
Make sure that any chosen keywords are organically incorporated into your knowledge base articles. Google is becoming smarter at recognising when someone has specifically written a keyword-stuffed article that delivers no value to the reader. It downgrades your ranking if it detects this.
Keywords must be included in any video and image descriptions. Google doesn't have eyes (yet!) so those descriptions tell it exactly what's in an image or video.
Make it readable
The readability of your articles needs to be good, not just to help your customers learn and solve problems but from an SEO perspective too. Knowledge base articles should be detailed enough to help customers, but simple and easy-to-read at the same time.
Hemingway is a good online tool that can tell you if your readability is good and suggest improvements. Generally speaking, quick ways to improve readability include:
Using headings and subheadings to break up large bodies of text.
Using shorter words and avoiding jargon.
Avoiding passive voice.
Keeping your sentences short.
Using bulleted lists.
Include a meta-description
This is the short piece of text that you see in your results when you search for something. If you don't set a meta-description then one will be automatically created from the first part of your article. This isn't always ideal because often it will be cut off mid-sentence and may not be appealing to searchers. Customising your meta-description will attract more readers and allow you to put relevant keywords in it.
Document360 provides an easy way to do this through its platform, along with setting an SEO title and tags.
Link juice
Link juice is a term used to describe the links between your website and others in the industry, as well as links within your website linking to other parts of your site. Links are important to help Google understand more about your website and where it sits within the industry. If it is linked to reputable websites with good rankings, then it will also get an SEO boost because Google will perceive it as more useful and valuable.
Internal links also improve SEO, again because it gives Google more context about your website. However, don't be tempted to put loads of external and internal links in your articles as this may downgrade your SEO. Instead, stick to 2-3 per 1000 words and ideally avoid any links in your first paragraph. Document360 lets you easily hyperlink to external pages or internally with just a few clicks.
Images boost SEO
Always include some images in your knowledge base article. At the very least this should include a featured picture. Imagery helps to keep knowledge base articles from being too lengthy and dry. A simple screenshot can help users a lot more than a long description.
Any images (and video) that appear on your page must be tagged with relevant keywords and include a description. As already mentioned, Google doesn't have the full ability to 'see' an image or video, so it relies on tags and descriptions for context. This may change in the future as image recognition advances.
Yoast is a good all-rounder SEO tool that can be freely installed via WordPress. For images, it provides reminders to use, tag and describe them. It will also tell you if your article ranks well for SEO against a certain keyword, if you've used a keyword too much or if you have too many links.
Does length matter?
The jury is out on what length of articles makes a difference when optimising SEO because Google often changes the requirement for this. Digital marketing guru Neil Patel recommends posts of 400-500 words long but this is likely to change (and change again) in the near future.
Your best bet is to stick to a mix of different lengths to try to cover all bases. Plus, if you only stick to one length your articles may miss out key sections that add value.
What's in a URL?
A long time ago, there was a recommendation to include keywords in main headings and URLs. This isn't so much the case anymore. Neil Patel suggests it might even negatively impact your ranking.
However, it's worth ensuring that your URLs are relevant and logical. This helps your users as well as Google. They also shouldn't be duplicated elsewhere (or if they are, used something called a canonical URL to tell Google of the duplicate).
Give articles a refresh
Updating your articles means they remain useful to your customers, with no broken links and up-to-date advice. It also encourages Google's crawlers to return and potentially boost your SEO.
Make articles part of your wider marketing
No knowledge base article should be an island – they must be linked to and shared as part of a wider marketing plan. Posting new articles on social media improves their trustworthiness in Google's eyes. Plus, having an active social media presence adds further SEO brownie points.
Web traffic is another indicator of a good web page, so prompting customers to visit your knowledge base regularly by sharing it via email can improve SEO. Paid advertising is another option, but remember it isn't as effective as organic search rankings. You also need to have your SEO foundations laid first, to stop yourself paying through the nose for keywords.
We also recommend you to watch our Webinar on How to optimize your knowledge base for SEO. You will get to know in detail about basics of SEO, Optimization techniques, toolkit, and best practices to follow.
A constant work in progress
SEO best practice often changes, because search engines don't want people to trick the system. Therefore it's worth checking sites such as Search Engine Land for new updates. Mobilegeddon is one such development that may have caught some people unawares. Checking for updates every few months will mean you're not caught out.
In this day and age SEO isn't something you can afford to ignore. Especially when you consider the amount of effort and resources that have already gone into building your knowledge base – so give it the best shot by optimising your SEO. Don't sell yourself short by failing to SEO your knowledge base articles.