Drift+ Document360 – The integration that your support agents need!
What's the first thing that comes to your mind when you hear 'Conversational interface?' Live chat? Chatbots? Businesses offering support through messages?
Today, conversational interface is not just that but a lot more. Voice technology has taken giant leaps in recent times, and with the help of Artificial Intelligence (AI) and Natural Language Processing (NLP), businesses are now incorporating bots to assist with voice requests as well.
Live chat bots can help you close leads as and when they browse your site. By empowering your support team with the right tools, you can turn visitors into customers in no time. Live chat and chatbots are a great tool that can help you improve customer experience, and help leave lasting impressions on your customers' minds.
Drift is a text-based conversational messenger platform that users can add to their website to assist users in real-time. Document360 is a knowledge base (KB) platform that businesses can use to build self-service KBs for customers and employees.
With the Document360 and Drift integration, you can empower your sales and support agents to serve your customers faster and perform better. Here's a brief look at how you can employ live chat and chatbots to improve the overall customer experience, and how the Document360+Drift integration can help you do it better.
The process of setting up and connecting the Document360 knowledge base with Drift conversation is quite easy and straightforward.
Just follow Document360's simple setup guide and you're done in no time.
An intuitive knowledge base software to easily add your content and integrate it with any application. Give Document360 a try!
Get Started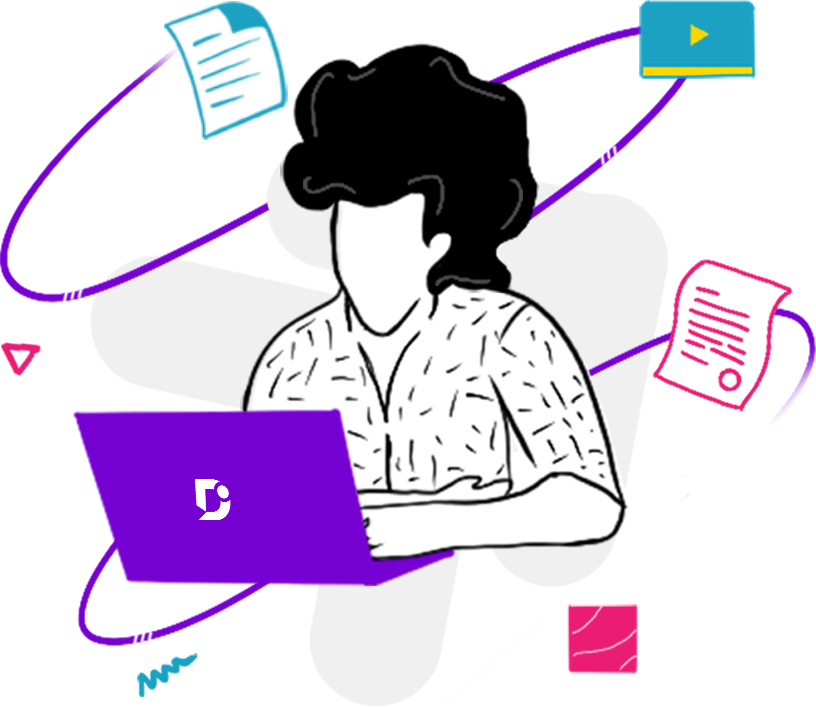 To provide customer support:
Today, an essential component of great customer service is to provide instant responses. Chatbots are programmed to sift through chunks of data to provide customers with instant responses. Providing live chat options and chatbots on your website can also help you reduce operational costs, improve your sales funnel, and enable you to interact seamlessly with your customers.

With the Document360+Drift integration, your support agents can now seamlessly get access to your knowledge database and send them across to customers with a single click. Agents can also add relevant messages along with the link to supplement the article.
To access the connected Document360 knowledge base, the agent just types in the slash command (/doc360<space>Search term) and hits enter.
For example, let's say a customer has come to your site looking for help on how to set up their home page. With this integration, your support agent can simply search for the required article with the relevant keywords, and the extension will automatically pull up all articles that have the keyword. This way, your agents can provide quick responses and save time spent on switching tabs and looking for the relevant article.
For converting leads:
Context is key when you're a sales agent trying to close deals. So interacting with a customer as and when they are checking out your website is a great way to assist them in the context of what they're looking for.

With Drift, you can achieve this by using live chat. Find hotspots on your website where prospects are currently on, and set up prompts that popup when a lead is on a particular page. For example, when a prospect is on the pricing page, you can configure your chatbot to ask something like, "Want to know more details about how our pricing works?"
This is a simple nudge that can prompt the prospect to interact with you, and in response, your sales agents can send out helpful articles from your knowledge base that provide more information about your pricing structure.

With the Document360+Drift integration, this process will be entirely seamless and hassle-free for your sales agents, as they can pull up the relevant articles without having to make prospects wait and without leaving the chat window.
For marketing:
Personalization and context are key to attract customers in today's world. To achieve the level of personalization that customers prefer, it is essential to get in touch with your inbound leads as soon as they engage with your content. It is also important to keep your brand alive in their minds. With live chat/chatbots, you can prompt highly personal messages relevant to the content they're looking at.

For example, let's say you have a prospect on your site looking at how to build a comprehensive knowledge base. In this context, you can send nudge messages that will recommend them to check out relevant content on your site like 'What is the first step to building a good knowledge base?'. This will not only help capture their attention but also help you nurture them as they move through the sales funnel.

Drift will help you connect with your prospects as and when they're consuming your content. With the Document360+Drift integration, your agents can pull up relevant articles like the ones mentioned above with a single click, and send them across to your prospects. This will help your agents interact with prospects in the context of what they're looking for, and ultimately help sales agents convert these prospects into customers.
Also Read: Integrately Document360 Integration with Drift
The Document360+Drift integration that your agents need!
Apart from being able to provide a seamless experience, this integration truly makes the job easier for your support and sales agents. It reduces their workload, enables them to save time, and helps them help more customers.
An intuitive knowledge base software to easily add your content and integrate it with any application. Give Document360 a try!
Get Started