How an internal knowledge base can fix disrupted communication
Last updated on Dec 17, 2021
While many businesses are aware of the benefits of a customer-facing knowledge base and how much it can benefit support, lesser known is the fact that an internal knowledge base can significantly enhance your operations. 
Think about how much time employees spend disrupting their work in order to answer questions from colleagues. You're probably talking to new employees on a regular basis, and explaining topics that you've already explained before. 
It's probably relatively interesting talking to these people, and you never have the exact same conversation twice, but if you add up all the time it's happened and think of all the employees new hires have to talk to when they start at your company, the hours start to add up very quickly. Also, having those conversations over and over again just isn't that efficient. 
And what if someone with crucial knowledge were to leave your company? Then there would be no one to answer the all-important questions. 
An internal knowledge base can become a key part of your employee support system to make this kind of knowledge-sharing more efficient and streamlined.
The importance of an internal knowledge base
Setting up an internal knowledge base saves your company time, and time equals money. Instead of spending time trying to locate the right person to answer a question, employees can just search your knowledge base in seconds. 
A knowledge base will also improve productivity. According to Mckinsey, employees spend 20% of their time at work searching for information in cluttered inboxes, disorganised repositories and in the brains of their colleagues. 
Each time an employee has to abandon a task in order to search, their concentration is broken and when they return to the task they have to start at the beginning. A knowledge base that centralises all the information will make it easier for employees to find what they need. 
Providing an internal knowledge base will also improve employee engagement. Making company knowledge available to all employees shows that your organisation values transparency, and fosters a sense of trust. Employees appreciate being kept in the loop and will have a bigger stake in the organisation's success when they can see what other departments are working on. 
An internal knowledge base also prevents knowledge loss. Employees may leave the organisation for different reasons and you risk losing all the knowledge that employee acquired during their time with the company. It then becomes a problem for employees who are left behind to sort the problems out. A knowledge base empowers employees to create documentation around projects they complete, questions they answer and protocols they develop. 
How to implement an internal knowledge base
An internal knowledge base is not a "set it and forget it" kind of endeavour. The more effort you put into it, the more you will reap the rewards. It's an ongoing project that requires continual updates. 
1. Think about what information to include
The first step in implementing your internal knowledge base is thinking about what to include. You should offer everything you think your employees are likely to need while avoiding the tendency to go overboard. 
Make a plan to cover all the content you want to include in your knowledge base. Examine your company's workflows, have conversations with as many employees as possible, and identify key processes. Note down common issues, questions, and time-consuming activities that are related to your processes. 
Break your list down to only the most important information. This could include employee contact information, company guidelines, procedures for tasks and projects, or best practices. 
Consider what information already exists and whether you can repurpose it for your internal knowledge base. 
2. Choose the best knowledge base software
You need a dedicated knowledge base software solution – there are many add-on knowledge bases that come with help desk software which won't be relevant here. You will be able to set up a streamlined workflow and use relevant functionality. For example, you will be able to build a private knowledge base that requires a login to access. You don't want the whole world to be able to access your company information. 
We can recommend our own product Document360 for use as an internal knowledge base.
You can create categories and articles, customise your homepage, and integrate with popular apps. Here are some key features: 
Search the entire knowledge base, not just article titles, with an AI-powered search engine that returns context-sensitive results in milliseconds.

You can easily customise the knowledge base to suit your company's branding. 

The tree view navigation helps readers to visualize the full structure of your knowledge base, helping them to move from one category to another easily.

Allow readers to login using Single Sign-On for easy and quick access.
Document360 also integrates with Slack, so you can create knowledge base articles directly from your Slack Workspace. With the new Document360 extension for Slack, you will equip your employees with a knowledge base without leaving your Workspace. Apart from searching for articles, you can author in the Markdown editor for any version or language in your knowledge base from Slack. 
Document360 also integrates with Microsoft Teams. By connecting Document360 with your Microsoft Teams, you can seamlessly search for and share articles from your knowledge base in Teams chats and channels.
3. Structure your internal knowledge base
The structure of your knowledge base depends upon its purpose. If you get the structure right at the start, it will save you time and increase your productivity. 
Arrange your articles into sections that reflect your knowledge base content. You might be using your knowledge base as a company handbook that tells employees everything they need to know about your policies and guidelines. You'll sort your content into sections such as paid sick leave, days off, performance review schedules, and so on. 
Experiment with different layouts and ways to organise your knowledge base. Knowledge base software like Document360 makes it easy to drag and drop your categories so you are never restricted to one iteration. 
An intuitive knowledge base software to easily add your content and integrate it with any application. Give Document360 a try!
Get Started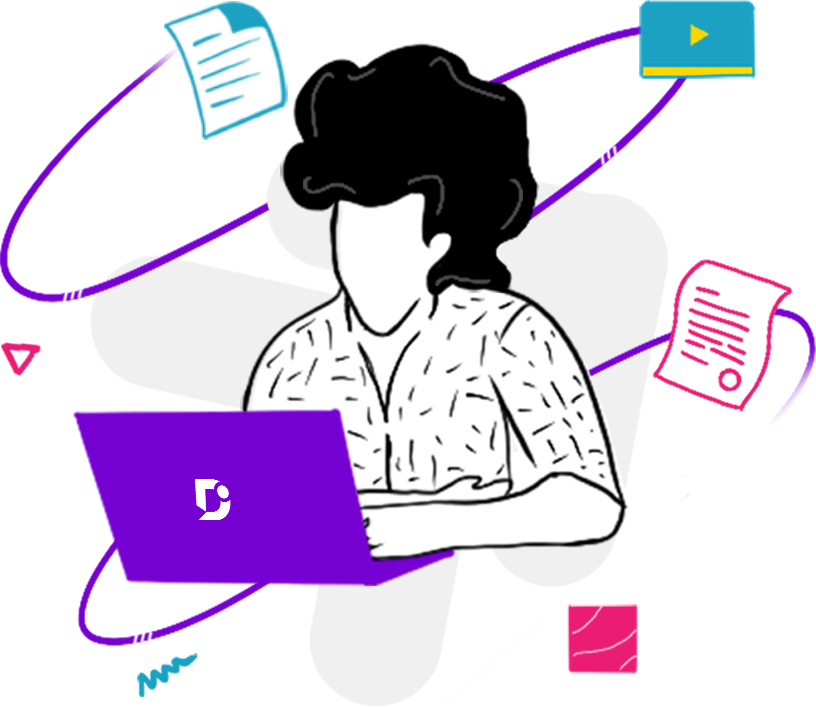 4. Write your internal knowledge base content
Some experience with technical writing is useful here because you are writing documentation for your employees. 
Make sure your articles are very short – you don't want to bore your audience with long pieces of content that could have been condensed down. Your aim is to save your employees time. 
Put the most important information right at the top of your articles, and then extra details can go underneath. Your knowledge base articles should all tend to follow the same format so you have consistency in your content. 
Don't make the reading level of your content too high – apart from business-specific vocabulary that needs to be included. Tools like Hemingway can help you with this. Keep your sentences clear and to the point. Make your articles so direct that no one will be able to misinterpret your meaning. 
Make sure each of your articles guides your employees to an actionable conclusion. Don't get distracted by explaining things with lots of extra detail when you should just be getting to the point. 
5. Gather feedback for your internal knowledge base 
If you have followed the steps already then you should have been able to create a time-saving internal knowledge base for your employees. However, with the best will in the world, some content may still be confusing, missing important information, or used in the wrong way. 
This is where user feedback comes in. Provide your employees with a way to comment on and give feedback on your knowledge base. 
Document360 contains an in-built feedback system where users can rate the usefulness of articles, or leave comments. Encourage your employees to give their feedback on the knowledge base itself using these systems. 
Send out a periodic survey to the users of your knowledge base. Ask questions about their experience using the system, as well as parts they find helpful or confusing. 
If possible, give users direct access to the knowledge base CMS so they can comment directly on articles, or even make their own edits. 
6. Update and maintain your internal knowledge base
As your business changes, so too will your internal knowledge base have to change. You can't create it one time and expect it to stay relevant forever. 
You should ideally perform a knowledge base audit every quarter to check what content needs updating. And if you discover underperforming content in the meantime, take steps to make it right. 
Every time something changes, go to the relevant article in the knowledge base and make the update. If there is no article, then now would be a good time to create one. 
Maintaining the knowledge base doesn't have to fall on one person's shoulders. Try to involve as many people across the company as possible in contributing to the maintenance of the knowledge base. 
Final remarks
Efficient and clear communication is an important part of running a business. By creating a useful and helpful internal knowledge base, you go a long way towards improving communication and giving employees access to information they desperately need. 
Make sure to follow these tips as you go on your knowledge base journey: 
Think about what information to include
Write your internal knowledge base content
Gather feedback for your internal knowledge base
Update and maintain your internal knowledge base
Also Read: How to Create An Internal Wiki: Types, Benefits & Tools
An intuitive knowledge base software to easily add your content and integrate it with any application. Give Document360 a try!
Get Started