No matter which platform you are running your eCommerce business, customer service is essential. Prioritizing the customers via 24/7 customer service can boost your sales notably. It can also create loyal customers and bring positive feedback to your business as well.
If you are not valuing your customers via customer service, they will indeed move on to your competitors. Currently, there are thousands of options available on the web where customers can get their products.
For eCommerce businesses, they must revamp their customer service options to satisfy their customers. Otherwise, there will be lackings between service and customers' expectations and it will hurt you in the long run.

According to Nextiva, 96% of consumers say customer service is an important factor in their choice of loyalty to a brand. Customers with good customer service usually stay with the store providing it.
This article will guide you through some solid customer service strategies that are applicable.
What is E-commerce Customer Service?
Ecommerce customer service is served to customers through a structured framework. The aim is to help shoppers via online platforms. We mean the eCommerce website that you are running to operate your business by the online platform.
Ecommerce customer service mainly simplifies a customer's shopping journey. You are helping customers to consolidate their buying decisions. In addition, you are offering solutions to their queries and issues. As a result, you provide seamless customer service and craft a fine reputation for your business.
Customer service is a primary concern to get your desired placement in the eCommerce marketplace. This is because, with excellent customer support, you can win your customers' hearts and expand your business by getting good feedback.
Why does Customer Service Matter?
Customers now differentiate the brands based on the customer service they experience. So, it's essential to provide an excellent customer experience to make your customers purchase again.
However, to increase your e-commerce sales, you must provide the service according to the standard. Otherwise, you will not only lose sales but also your reputation, and the brand image. Let's learn some stats on customer service that will clarify why customer service matters.
According to Obrello:
84% of the customers say that customer service helped them finalize their buying decision.
Brand loyalty massively depends on customer service, and 95% of the respondents say so.
68% of customers say that they are ready to buy products and services from companies providing excellent customer support.
With all these stats in mind, you can surely acknowledge the significance of customer service in eCommerce.
Read more: Top 11 eCommerce knowledge base examples to learn from
8 eCommerce Customer Service Best Practices
The greatest way to provide excellent e-commerce customer service is to exceed your consumers' expectations. Your service will compel your customers to provide positive feedback about your store at the end of the day. Additionally, they won't only say "Good" or "Excellent," but "Wow."
Let's introduce you to some of the best eCommerce customer support strategies that you should apply.
Maintain Consistent Customer Service
Meet customers on their terms
Develop a Multichannel Strategy
Deliver Real-time Support with Live Chat
Use Help Desk Software
Provide Self service-based Ecommerce Support
Leverage Customer Reviews to Boost Your Brand
Measure, optimize, repeat
We will break down each of the strategies mentioned above:
Maintain Consistent Customer Service
To maintain consistent customer services that surpass the overall customer experience cost of developing an eCommerce site is an essential subject an eCommerce business needs to focus on while building an eCommerce site for their targeted customers. Though the customer expectations do not align with the user's experience, there's a massive chance of failing as an eCommerce business.
When a consumer has an initial positive engagement with your company, it's realistic to anticipate the same quality of service in future interactions. Therefore, you should always maintain consistent customer service.
Customers expect the same level of service across all of your company's communication channels. This is because they don't want to be left in the dark about the conversation's outcome. Customer service must also be of the most outstanding grade during critical and urgent events, such as a sale. Keep in mind that if your customer service isn't up to the mark while selling something, you'll lose the sale instantly.
Customer service is essential to reduce the average response time. Moreover, you can get a better insight into your customer preference, and buying journey. As a result, you can ensure guaranteed sales. Additionally, the first contact resolution is higher with constant customer support.
Meet Customers on Their Terms
In the realm of eCommerce, there is no such thing as a one-size-fits-all solution. Customers demand a tailored approach that treats them as individuals. Businesses must maintain constant contact with their clients through customer service. As a result, they will have a deeper understanding of their clients and will be able to establish a long-term and meaningful relationship with them.
To succeed in today's marketplace, meet your customer's constantly changing and rapidly increasing demands and habits. Some customers prefer getting service over the phone, while others prefer the live chat option or regular email communication. Also, some customers prefer utilizing the social media platforms such as Facebook and Twitter to communicate.
However, you must be ready to serve your customers according to their preferences. So, it's essential to establish a multi-channel customer strategy that syncs with your business. The goal is to meet and surpass your customers' expectations.
Develop a Multichannel Strategy
More than 85% of customers prefer multi-channels for completing their shopping journey. It is clear that customers want to peruse business-related communication via multi-channels that includes:
Your eCommerce website,
Shopping-related search engines (Google Shop, Bing Shopping, Shopzilla, etc.)
Social networks (Facebook, Twitter, Instagram, Pinterest, and many more)
Email
Over Phone
WhatsApp
So, your approach should include a multi-channel communicational approach to serve the customers. Customers feel comfortable communicating in their preferred channel because they can multitask under one significant channel.
For example, if a customer is using Facebook and searching for a product, he may land on your business page. Therefore, while asking or inquiring about a product he can use the same interface to communicate with your business. Another benefit of a multi-channel strategy is, that you will get all the customer queries on one platform which is your business website.
There are three primary elements that you should focus on to provide a smooth customer experience:
Identify the channels that your customers prefer using
Try to ease your customers' buying journey by applying effective strategies to those channels
Create a consistent experience of customer service throughout the customers' shopping journey
The multi-channel strategy aims to utilize the power of these channels and optimize the customers' shopping experience. Also, it creates a bond between customers and the brands. In the ever-changing environment of eCommerce, the right channel and strategy can assist you in boosting your brand. In addition, you will get long-term success with stability.
Deliver Real-time Support with Live Chat
Live chat has surpassed email as the most popular digital contact option for online consumers, with 30% of customers preferringlive chat to connect with support agents to reduce wait time. Utilizing the live chat option, you can instantly respond to your customers from your website. As a result, the response time will reduce, and the conversion rate and sales will increase.
According to Emarketer, 63% of customers are interested in returning to eCommerce websites that use live chat software. This means they are willing to speak to a customer care representative via the live chat option.
Real-time communication with a natural person intensifies customers' buying intentions. As a result, they are more engaged with you and won't leave your site to get the service from others.

The critical factors of Live chat that makes it crucial for eCommerce customer service best practices:
With live chat, you can orchestrate real-time communication with your customers. Thus, identifying the customer's problem becomes easy and providing a solution becomes more manageable.
Solving multiple customer queries improves the capabilities of your customer service agents. As a result, your store's efficiency becomes better when it comes to multiple-chat utilization.
Customers mainly prefer messaging to get customer support. Implementing the messaging option on your website is ideal for utilizing the live chat option.
Use Help Desk Software
Perhaps your eCommerce shop employs professional customer service agents. However, having the appropriate tool is more important than having the correct support staff. How? Technologies have been enhanced to the point that they now exceed the capabilities of human beings.
The following eCommerce customer service support tools can enhance the customer support service by providing excellent service:
Zendesk
Zoho Desk
LiveChat
Freshdesk
Customer support representatives can use this software to handle client queries swiftly. Moreover, you can integrate social media platforms or the messenger option via these tools. Therefore, the communication channel is centralized on one platform.
An intuitive knowledge base software to easily add your content and integrate it with any application. Give Document360 a try!
Get Started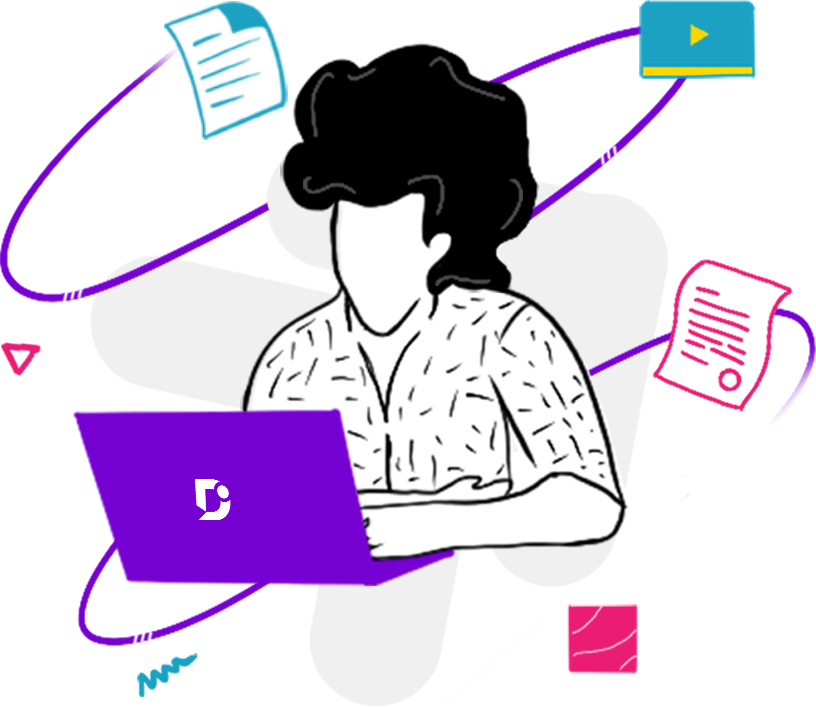 Provide Self service-based Ecommerce Support
Customers prefer fixing their issues by themselves rather than seeking customer support's assistance. Present age customers are concerned about selecting their products over the internet. They explore multiple websites and try to resolve their issues by avoiding customer support options.
However, to provide top-notch customer support, you have to solve issues before they go through the roof. Therefore, you need to provide customer support 24*7 and deliver the best experience proactively.
Customer service statistics show that "78% of customers expect a brand/product to have an online self-service portal over traditional customer service support."
Proactive support increases customers' trust in your business by lowering the support interactions. Also, it enables you to minimize your customers' buying journey. To provide a self-service-based eCommerce service, you can follow the tactics mentioned below:
You can create a page on your website that contains all the information related to your business. It will increase the knowledge of your customers regarding the product and service of your company. We have our own tool Document360 which is a modern-age tool that supports numerous eCommerce sites with an online self-service knowledge base. As a result, customers will simply understand anything related to your business. Here's an example you could look at:
You can create a page on your website that contains all the information related to your business. It will increase the knowledge of your customers regarding the product and service of your company. We have our own tool Document360 which is a modern-age tool that supports numerous eCommerce sites with an online self-service knowledge base. As a result, customers will simply understand anything related to your business.
Check out how to create a self-service knowledge base in simple steps:
Use chatbots to provide AI-based customer support. It is automated and available all the time, even when your support agents aren't available.
With frequently asked questions (FAQs), you can provide automated solutions to your customers. Add an FAQ page on your site so that customers can find out their solutions independently.
Read more: How an Ecommerce Knowledge Base can Supercharge your Business
Leverage Customer Reviews to Boost Your Brand
Customer reviews can significantly influence other customers who will buy your products. Viewing other customers' comments and reviews, they finalize their buying decision. Additionally, review improves the customer experience by minimizing the customers' effort.
77% of customers choose brands that solicit and respond to customer feedback. This is because customers are happy when you evaluate their honest feedback. With customer feedback, you can understand how your product or service is performing. Moreover, you can further improve your service based on their feedback.

Another fact is- satisfied customers are the best brand ambassadors that you can get for free. Because they spread positivity about your brand with word of their mouth. Moreover, their positive reviews will let others know how well the brand serves.
After closing a deal, ask your consumers for comments on your product or service right away. If you ask them shortly after you give customer service, they will gladly provide you with one.
While engaging with customers, executing deals, and so on, you can simply classify their feedback. Even if you are getting negative reviews or feedback, you can work on top of it. How? You're putting customer service first by enhancing your service in response to negative comments. You can decide which one to prioritize based on reviews and then fix each issue.
Measure, optimize, repeat
There are no hard and fast rules for eCommerce customer service best practices. Businesses that sell online must be proactive in resolving consumer complaints and improving their tactics based on data.
You can evaluate your customer service team's capabilities on each channel and improvise based on it. Find out the busiest hours of your business when you can assist more customers. Additionally, always keep your business and customer service options updated with trending topics.

Well, there are more aspects that you can measure and optimize to provide optimal customer support. To optimize the overall customer support service, you need to sort it out.
The average response time of your service
Resolution time
Quality of your customer support
Solved tickets & queries
These data set a monthly objective, track your lackings, and show the scope of improvements. In this way, you can improvise your customer service approach and resolve issues flexibly.
Wrapping Up
To bring success in your eCommerce business venture, customer service plays a key role. The total customer experience is closely intertwined with customer service. To constantly uphold the reputation of your brand, you must improve your customer experience via eCommerce customer service best practices.
We hope our mentioned strategies will surely help you enhance your customer service strategy. Ultimately, you will be able to grow your eCommerce business by ensuring legendary customer service.
An intuitive knowledge base software to easily add your content and integrate it with any application. Give Document360 a try!
Get Started