The Benefits of Adopting Knowledge Management Tools and Technologies in Your Business
We all know the old saying 'knowledge is power' and every day we recognise the truth of it more and more, in both our working and personal lives. In recent years, it has become undeniable that globally, we somewhat lack the 'high-end', technological skills that are crucial for many businesses and large corporations. 
Of course, gaining highly qualified employees takes investment. One of the best ways businesses can achieve this is by recognising, nurturing and cultivating those that have the knowledge in the first place. Knowledge is a remarkably valuable asset, as 74% of organisations estimate that effective knowledge management disciplines increase company productivity by 10-40%. With this in mind, it's not surprising to see poor knowledge-sharing practices cost Fortune 500 companies about $31.5 billion annually. 
What is Knowledge Management, and what is it about? 
Knowledge Management is a set of tools, procedures, methods, practices, and desired behaviors that help an organization to be more productive. It is a discipline promoting an integrated approach to identifying, capturing, evaluating, retrieving, and sharing all of an enterprise's information assets. The assets may include databases, procedures, documents, policies and previously un-captured expertise and experience in individual workers. 
For organizations, Knowledge Management is known as Knowledge Driven Business Management where Knowledge Management facilitates the use of knowledge sharing methods to promote learning and innovation across the organization. 
Knowledge Management is often focused on how to capture knowledge. It's about how you can take a nugget or an insight, then communicate it in a way that intrigues people, and makes them interested to learn more. How do you pack it in a way that doesn't destroy all of the emotion or context? The best way is to increase the use of multimedia internally, and improve  much more use of connections to some of the social media so that you're only one click away from a conversation. 
Knowledge Management has a lot to do with the way that we behave and work, the culture which we establish, support and nurture – or even come up against as organization leaders. In some cases, you may need to confront or defy a "not invented here" culture, to support and make it safe for people to share the experiences of their failures as well as their successes. Knowledge management embraces all of this: processes, behaviors, learning, technologies, and networks. This is what makes it an interesting and steadily evolving discipline. 
 
The benefits of proper Knowledge Management for your business 
Every organization can highly benefit from their people sharing, innovating, reusing, collaborating and learning information. This makes it a good idea to boost knowledge management by implementing proper knowledge management techniques in your business so you can take full advantage of the benefits:
Improve the decision-making process 
By obtaining access to the knowledge of the entire organization, employees can advance the quality and speed of decision-making. When making decisions, enterprise collaboration tools facilitate the access to opinions and experiences of different people with diverse viewpoints and judgements, which may contribute new and fresh perspectives to the choices made. 
Increase customer satisfaction 
Knowledge sharing and cross-collaboration help to increase the value presented to customers. The organization can give faster answers or shorten the time it takes to improve a product or service.
Promote innovation and cultural change 
Knowledge Management enables and encourages the sharing of ideas, collaboration and access to the latest information. It also allows individuals to stimulate innovation and the cultural changes needed to evolve the organization and meet changing business needs.
Speed up access to knowledge and information
Knowledge Management simplifies the operation of finding the information you need, or the people who hold it. It increases effectiveness and productivity and allows you to work better, reducing the tendency to reinvent the wheel.
Avoid redundant effort 
No one likes spending their time doing something over and over again. However, people do so all the time for many reasons. Avoiding effort duplication can save you a lot of time and money; it keeps employees motivated, and streamlines work too. So, by not spending time reinventing the wheel, you can have more time on your hands to invent something new. 
Accelerate customer delivery 
One vital differentiator among competitors is the speed of execution. Assuming that everything else is equal, companies that deliver sooner than others will win. By sharing knowledge and innovation internally, you can significantly reduce time to provide a proposal, product, or service to a customer. Which translates into increased win rates, add-on business, and new customers.
Stimulate growth and innovation 
It is becoming more challenging for businesses to increase their revenues as industries mature and competition increases. Creating new knowledge through effective knowledge sharing, collaboration, and information delivery can help stimulate innovation. If you achieve this and many of the other benefits enabled by knowledge management, you should be able to see growth.
Create a self-service Knowledge Base for your teams, customers & organizations.
Book a Demo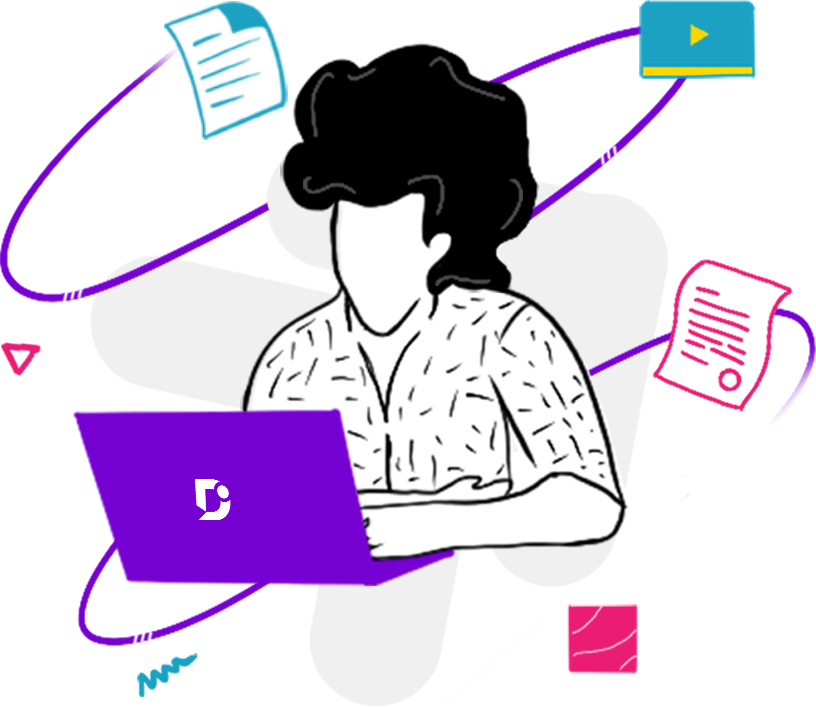 Knowledge Management Application tools and technologies 
Knowledge Management Application Tools, technologies and examples are the building blocks that support repeatable processes and procedures. Regular use of them streamlines work, improves quality, and ensures harmony across the organization. 
That being said, Knowledge Management Tools are one of the best ways to go on about your organizational goals, so here are examples of some of the tools and techniques you should implement:
Customer relationship management systems
With a CRM, you can track the engagements with a prospect to learn how they came to you, and which information they have consumed on your website. You can then track your sales team communications with them during the buying cycle, and proceed to track other interactions such as repeated purchases. Storing customer data in a knowledge management tool enables your entire team to understand the customer relationship, so you can offer a more informed response to any issues that may occur.
Knowledge base system   
An online knowledge base is a searchable index or directory of content about your products and how they're used. This knowledge management tool can include technical content about troubleshooting your software, answers to frequently asked questions (FAQs), and other information that will provide your customers with a better experience using your software or product.
Social Software 
Tools that facilitate knowledge socialization. Social features are now regularly included in core enterprise software such as customer relationship management 'CRM' and ERP. 
Competency management
Competency management is one of the foundations of the new strategic HR model; it consists of profoundly analyzing the organization's objectives to define what its knowledge, skills and attitudes are clearly. In other words, what competencies the company employees need to maintain or advance to achieve those goals.
Learning management systems
Many enterprise companies are using LMS tools as a way to manage the employee training and education process. Companies can use LMS technology to share online training modules and job-related educational resources that will help their teams optimize operations and improve performance. LMS courses are also often used to address compliance issues, ensuring that employees are aware of new regulations that may affect the way they do their jobs.
How can Knowledge Management Application tools and technologies benefit your business 
Knowledge Management Tools are an invaluable way to expand and grow your business as well as ensuring it's achieving its desirable goals. By using the right Knowledge Management Tools suitable for your purposes, your business will be able to embrace these benefits:
Enhance  business decisions thanks to facilitated access to expertise and leading practices.
Intensify innovation through more extensive and borderless collaboration.
Reduce the loss of know-how by capturing explicit and tacit knowledge.
Speed up productivity with onboard training and timely access to knowledge.
Increase client satisfaction by delivering value insights.
Improve the quality and ability to collaborate by standardizing ways of working and enabling discussions with leading expert.
Make information flow accurately and be accessible to all, with the help of technology, allowing your business to grow and achieve its goals.
Promote the generation of new knowledge from the dissemination of this information, which leads to the achievement of competitive advantages.
Increase organizational competitiveness by using this knowledge in a strategic way that unfolds in tactical objectives and operational actions.
In conclusion, having a Knowledge Management system isn't a luxury anymore, or an afterthought. Indeed, the business landscape is now defined by companies that leverage their human and knowledge capital, and so a Knowledge Management system is crucial for any large organization.