Having a knowledge base has become essential for almost every SaaS company nowadays. Since the SaaS pricing model relies heavily on retaining existing customers and not just getting new ones, it's important to keep all of your customers happy. Otherwise, you might end up with a high customer churn rate.
Once your customer base starts growing, it becomes difficult to provide qualitative support to all of them. And if you are a startup, you probably can't afford to hire many support agents.
That's why companies have started relying on their knowledge base to help customers with things like onboarding on the essential features of the product, troubleshooting problems, or even guiding them through advanced practices.
Unfortunately, simply having a well-built knowledge base is not enough. You could have amazing how-to guides, simple step-by-step tutorials, and all the other useful resources that a customer needs, but if they don't know where to find them, that will all go to naught.
Or worse, imagine if they are not even aware that such resources exist in the first place.

That would truly be a waste!
Many companies have figured out how to build a comprehensive knowledge base for their product, but they are still having trouble driving traffic to it.
That's what this guide is for. Keep reading if you want to learn more about:
Benefits of educating your customers on the existence of your knowledge base
5 easy steps for driving traffic to your knowledge base
So, before we dive deep into the actionable tips, let's outline the different advantages that your company can benefit by using knowledge base as a marketing tool.
Why Should You Educate your Customers on the Existence of your Knowledge Base?
There are several reasons why you should use your knowledge base as a marketing tool to promote. In order to discuss the advantages of using knowledge base as a marketing tool, we are going to assume that you have already created a good knowledge base for your product.
As such, the first advantage becomes quite obvious. You have already invested resources and time into crafting your knowledge base. By marketing it, you are simply increasing the return on your initial investment.
Other less obvious (but still important) benefits using your knowledge base as a marketing tool to your customers include:
Reduced Employee Overhead
If your customers know of the existence of your knowledge base, they will be able to use it as a self-service support tool.

The number of support tickets is bound to decrease. Especially in this age, where users would prefer to solve their issues with minimal social contact.

As a result, you can afford to maintain a smaller team of support people. For a startup or a mid-sized business, it is important to focus your resources on development and research.
Reduce Customer Churn
Almost 70% of the identifiable reasons why customers left typical companies had nothing to do with the product. The prevailing reason for switching was the poor quality of service.
A lower number of tickets also means that customers are happier. Essentially, they can take advantage of the self-service support to find a solution to their problem or question much faster than if they called or emailed support.

The days in which customers would call customer support and wait on line for 10 or more minutes for them to answer are long gone. Nowadays, people expect instant support to be offered to them. They have questions and they demand answers, now.

Additionally, customers now prefer self-service over the human touch. So, if they can find what they are looking for in an instant, without it involving any social interaction,  that's just perfect.

Enabling your users to get instantaneous self-service will keep them happy. And by doing so, you can greatly reduce customer churn while still being able to focus on attracting new customers.
Keeping your customers happy is a promise, we help you to keep it up with the help of a smart knowledge base.
Signup Now!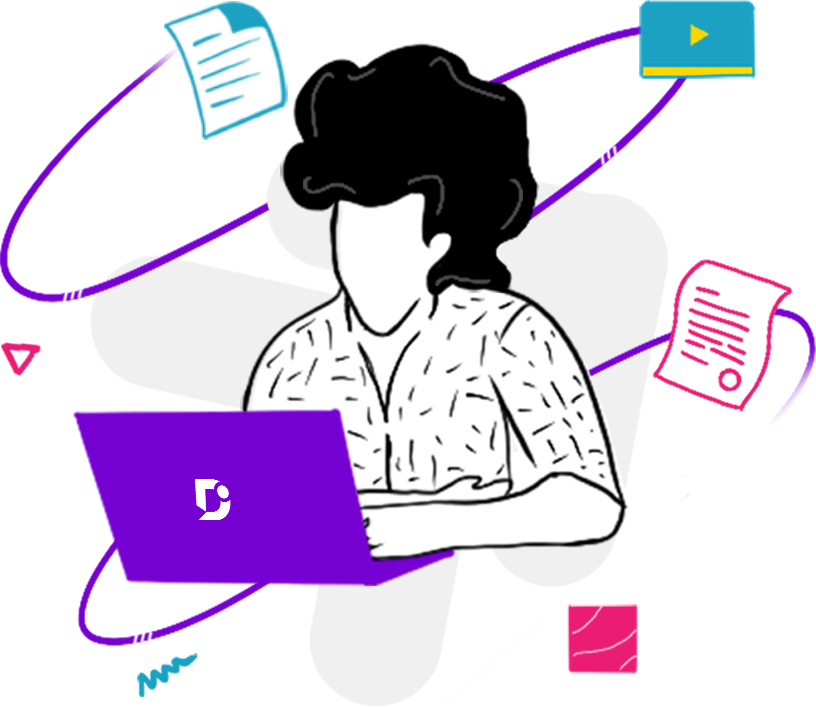 Which brings us to the next advantage:
Ability to Scale Your Business
Let's consider the two advantages mentioned above. By driving traffic to your knowledge base, you can automate your self-service support and keep your existing customers happy at the same time.

In turn, that means you can keep your customer support costs as low as possible (small customer support team). Additionally, the retained customers generate a steady stream of revenue which you can re-invest to improve products under development.
Creating a Community
When using your knowledge base as a marketing tool it also helps in building up a strong community around your product.

Good, well-promoted documentation brings in more readers to your knowledge base. If these readers find useful information on your knowledge base, they will engage more with your product.
Satisfied users are more likely to share the content in social media and other social news websites like hacker news. It's a great loop for your business to have.

A strong example of that is Digital Ocean, a cloud infrastructure provider. Their knowledge base is made up of different kinds of content. Starting from beginner level how-to-do-X-and-Y tutorials to advanced optimization guides.
However, despite Digital Ocean has one of the most comprehensive knowledge bases, sometimes users can't find exactly what they are looking for. That's where their strong community steps in.
"Connect, share and learn…"
By creating top-notch content and using their knowledge base as a marketing tool, Digital Ocean managed to create a community around their services and products.
And if you check their issue threads and questions, most answers are generated by users themselves. Thus saving the support team a great hassle.
However, if your users have no idea of the existence of your knowledge base, creating a supportive community around it would be almost impossible.
So, these are a few reasons as to why companies have to educate their customers and use their knowledge base as a marketing tool to promote.
Without further ado, let's jump right into the actionable tips.
5 Steps to Use Your Knowledge Base as Marketing Tool
There are several ways to educate your customers about the existence of your knowledge base. However, it can be confusing where to start from.
In most cases, your knowledge base should be treated with the same care you would treat the Blog of your website. And each separate documentation component should be treated as a stand-alone potential landing page. Of course, the content itself and the structure would be different.
If you ask most copywriters, content creators, people who document software, and so on, they will probably tell you to start by providing quality content.
Step #1 – Provide Quality Content
This is not a direct way of using knowledge base as a marketing tool. However, if you don't fulfil this step, using your knowledge base as a marketing tool will become an almost impossible task.
Providing good content is what you should be focusing on most of the time. Make sure that your knowledge base has the most valuable and optimized content there is.
After all, good content promotes itself, it's that simple.
If a troubleshooting guide proves to be useful to several people, they will start sharing it within the community, include it in the comment section of several posts, and maybe even link to it on some Quora questions.
Once content from your knowledge base helps customers, answers their questions, concerns, or problems, the customers themselves will start cross-sharing links on multiple platforms.
A great example of this would Stripe's developer knowledge base.
Stripe has crafted a knowledge base that is easy to follow and navigate by both users and developers. Instead of using keywords, buzzwords, and technical jargon, they explain every concept clearly and in a simplified manner.
What's the result?
Developers love their knowledge base content so much, that they share links to it, or even tweet about how awesome their documentation is.
Some even go the extra mile and post pictures of their Stripe merchandise.
Well, it's probably clear by now. You need good content that users would love to share.
So, what does providing good content means? While there are plenty of comprehensive guides out there on writing kickass knowledge base articles, we have put together a concise and clear list of points to keep in mind…
Key Points for Writing Good Content
Keep in mind your target audience at all times. Don't write in a highly technical manner if the article is going to be mainly read by new users. Try to make it as easy to follow and as clear as possible for them.
Use a descriptive title. The reader/user should know what to expect from the post just by reading the title.
Be straight to the point. Knowledge base content doesn't need long and artistic introductions. Instead, be concise, provide enough information for them to understand the concepts you will explain and get straight to the point since paragraph one.
Maintain a logical flow. Nobody likes to read a step-by-step guide that jumps from one thing to the other. That's just going to confuse your readers more.
Instead, keep your sentences simple and make sure to include good transitions when jumping from one section to another.
Include supporting media. Images, screenshots, walk-through videos are great additions to any knowledge base content. They improve the overall knowledge base quality.
After all, would you prefer a tutorial guide that includes screenshots for every important step? Or one that vaguely explains how to complete a series of steps?
Having good knowledge base content will also improve your overall SEO efforts.
Once you have set up quality content, you need to step up your game. Surely, great content will start getting recognition, users will start sharing it and so on, but that's not enough.
You need to also optimize the content so it becomes more visible. Which brings us to the next step.
Step #2 – SEO Optimization
Every time someone has a problem, they rely on Google.
We live in an age where the greatest part of the population tries to find a solution to each of their problems through a Google Search. The greatest part of queries made on Google, find answers within an organic listing or result.
In fact, paid advertisement influence only ~2.8% of all searches.
As such, optimizing your knowledge base content with the most up to date SEO practices works in your company's best interest.
The reason why is simple. By increasing the overall online presence of your knowledge base's content, customers are more likely to find an answer to their question organically.
If you are still not convinced, think about it this way. If you need to add an extension to your web browser (take Google Chrome for example), would you go and search for a way to do it on the web browser's help section, or would you just search for it on Google?
Get your knowledge base search engine optimized to quickly connect with your target audience.
Request for Demo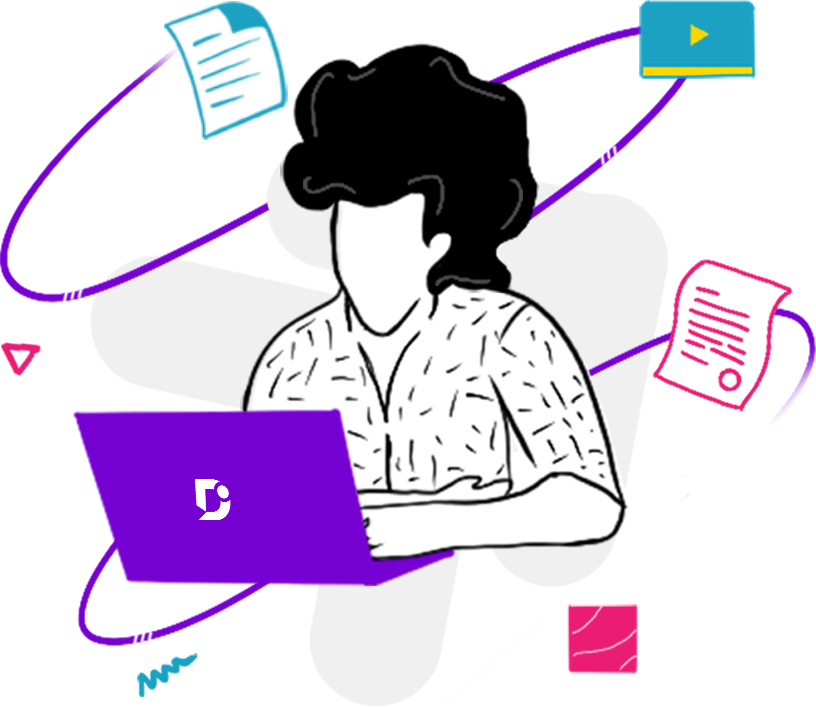 For the most part of people, it's the latter option. So, you would most likely want the help section article on extension installation to be featured on top of the SERP. Or even better, on the featured snippet.
If you want your customers to find out about the existence of your knowledge base, you should be putting effort into optimizing your knowledge base content using up-to-date SEO practices.
In simple terms, when writing an article for your knowledge base, you should keep in mind factors such as title, meta description, URL slug, keyword density, interlinking, CTA-s, etc…
Here's what you need to know about SEO tactics to optimize your Knowledge Base for search.
Step #3-#4 – Linking to Your Knowledge Base Content
You could regard this step as an extended version of what's known as "internal linking" in SEO.
Once you have great knowledge base content that is optimized through SEO practices, it's time for you to link to it everywhere.
Everywhere?
Yes. Essentially, you want your customers and employees to be able to get to your knowledge base content from different sources.
This requires a two-step process.
Educating Your Support Agents
Your knowledge base is still fresh. That's why you are trying to drive more and more traffic to it. In turn, that means you still have to rely on your support agents to cover some customer issues.
Your support agents are the ones who interact directly with your users. As such, they are your most powerful method for using your knowledge base as a marketing tool:
Onboard new support agents on existing content. If your new agents get acquainted with existing knowledge base content, they can send a link to a customer issue instead of having to write down the answer.
Notify agents on new knowledge base content updates. Every time new content is released or existing content is updated or deleted, your agents should know about it.
If you are using knowledge base software for maintaining your knowledge base, you can easily do this by creating a separate category for your support agents.
And then, you can create periodical (weekly or bi-weekly) knowledge base content update articles.
This way, your agents will always know which content is most up-to-date.
Train your agents to link your knowledge base content. You can establish a process guideline. Every time your agents receive an inquiry, have them provide a link to a knowledge base article in combination with the answer to the issue.
This way, their response will be more complete. And if your user needs a more thorough answer, he can read the full post.
Provide an internal search option. This is a necessity for any knowledge base. You don't want your agents to waste their time searching for a knowledge base article.
Linking Content
Once you have all the above set-up you can move on to actually linking to the content. There are several places that you can focus on.
We have put together a list of places to focus your linking efforts:
Automated received ticket response
If you notice that several users find an article helpful for a specific issue, then you can link to that article as an automated response to a user submitting a ticket for that issue.
Support Agent Ticket comments
You can train your support agents to include a link to a knowledge base article in the comments section of a ticket.
Top articles on a support page

Pin your most useful support articles on your help desk the main page.

And for each article, you can provide suggestions for related articles at the bottom of the page.

Resolved ticket automated response

Whenever a ticket is resolved, send an automated message including a link to your knowledge base.

For example, you can have a message like the following:

"Hey, your ticket on 'installing X' has been resolved. If you are looking for more ways to enhance your processes check out our Knowledge Base (include link). There you can find step-by-step guides, faq-s, tutorials, and more!"

Weekly Newsletter

Include links to your knowledge base in your weekly newsletter.

Dedicate the same amount of space to your knowledge base articles as you dedicate to your blog posts.

Social Media

Use social media channels to spread your knowledge base content.

Include links on Facebook, Google+, Twitter, etc…

Quora

Quora is a very powerful tool to use your knowledge base as a marketing platform.

Follow topics and interests that are related to your product. If one of your knowledge base articles can answer a question, make sure to provide a short and concise answer, as well as a link to the full article.
Step #5 – Don't forget to promote it!
Rule: Here's the 80/20 rule by Derek Halpern from Social Triggers:
Spend 80% of your time marketing the content and 20% in creating it.
You created amazing content and optimized it using the finest SEO techniques. Heck, you even trained your agents on its content and implemented a major linking scheme…
But that could all go to naught if you don't actively use your knowledge base as a marketing tool to promote the content.
Your marketing department should put as much effort to use your company's knowledge base as a marketing tool to promote your product, your landing pages, and so on…
Get your social media team involved. Train them to include posts from your knowledge base just as much as they do with other content. Promote it on Facebook, Instagram, LinkedIn, and just about any other social media platform in which your business is active.
Ask an influencer for a quote. Before promoting a guide on how to install X and Y on your platform, ask for a quote by an influencer. Or by someone that created X and Y features of the product. This will increase credibility when marketing the content.
And lastly, simply share, share, and share..
Recap
So let's go through a small recap…
We went through the different benefits of using a knowledge base as a marketing tool. More specifically:
Reduce employee overhead – your chat support can focus on the highly important issues
Reduce customer churn – users get their answer instantaneously, with little human interaction
Allows you to scale your business – by automating the greatest part of your help center
Helps you in creating a community around your product or service
And then we covered a simple 3 step guide to help you drive traffic to your knowledge base:
Provide quality content – good content gets shared.
Optimize your knowledge base content with SEO – treat your knowledge base like you would treat your blog section.
Educate your support agents – your agents should be up-to-date with any changes related to your knowledge base
Create an intricate linking schema – maximise your efforts by linking to your knowledge base and to its content in different channels.
Promote it!
Next Steps
For your next steps, you could look into using specialized knowledge base software.
It can make managing a knowledge base a lot easier. This way you can spend your time generating the most enticing and useful content for your users, instead of dealing with technicalities.
If you are looking to custom branding your Docs then do it as tailor-made with Document360. You can sign up for a free 14-day trial, with no credit card required.
You might be using some other software for managing your knowledge base. Or maybe you have your own in-house solution. Either way, let us know in the comments section below how your experience with managing and using knowledge base as a marketing tool to promote the content.
Also, if you feel like we might have missed something, or some section in the post required more detail, drop us a line below.