Just like the foundations of your office building, your knowledge base is fundamental to serving your customers. Whether you're building an internal knowledge base or a self-service customer support centre, you must provide value to your readers.
Your knowledge base is an essential tool since it allows you to help more customers at the same time, without increasing costs or lowering quality.
Every article should give readers what they need, want, and crave! Anything less, and all the resources you've put into creating your knowledge base articles will go to waste.
To learn about "Beginners Guide to Knowledge Base Organization in a Structured Way" Visit our
online eBook!
That's why it's crucial that you deliver your readers accurate, valuable information. After all, your knowledge base is the most legitimate source of information about your software and its features.
You need to provide trustworthy, well-organised content, in easy-to-read chunks.
Here's a simple guide to creating a knowledge base that sets the standard for information in your industry.
The Anatomy of a Usable Knowledge Base
Your purpose when creating a knowledge base is to satisfy your audience–which means you have to give them what they want when they want it.
31 percent of customers are looking for instant online help, while 40 percent of them expect to receive assistance in less than five minutes.
People expect to find everything they need on your website, with minimum effort and within minutes.
So, your knowledge base should be:
Well-organised – it should make sense as a whole.
Intuitive and easy to navigate – readers should be able to find the articles they need fast.
Highly informative – it provides relevant information for a specific goal.
Think About Your Users' Goals
When it comes to your users' goals, you need to start with the question, "What do my readers need to achieve their goal?". Then, focus on providing your audience with the right tools to solve their problems themselves.
You must provide all the information needed. At the same time, the articles should stay relevant and be easy to scan through and read. If a customer has to go through 3,000 words to learn how to change settings for an account, you're providing a poor customer experience.
The way you present the information is more important than the information itself.
Even the best articles will get zero engagement if people need half an hour to find an answer in a long list of items.
Information architecture (IA) is the way of structuring and organising your content to help your audience know where they are as users and how to find what they're looking for.
How can you practice information architecture to increase the usability of your knowledge base?
Here are a few tips:
Divide your content into categories and organise articles by topics, themes, and sub-themes. Each piece should treat one question (or problem) only.
Make navigation easy by linking related articles to guide your readers on a logical path.
Design a user-friendly menu that allows readers to know where they are and gives them an easy way to get to another category. 
Implement a killer search engine to help readers find what they need.
Use visual design and colours to help people differentiate the content.
Break the information into small chunks to allow your readers to assimilate what they read.
Guide users with solid UX techniques to lower the time they spend looking for information
Create your knowledge base with your public in mind–your employees for an internal company knowledge base or your customers if you're looking to provide self-service support.
Simple and intuitive knowledge base software for your business needs
Learn more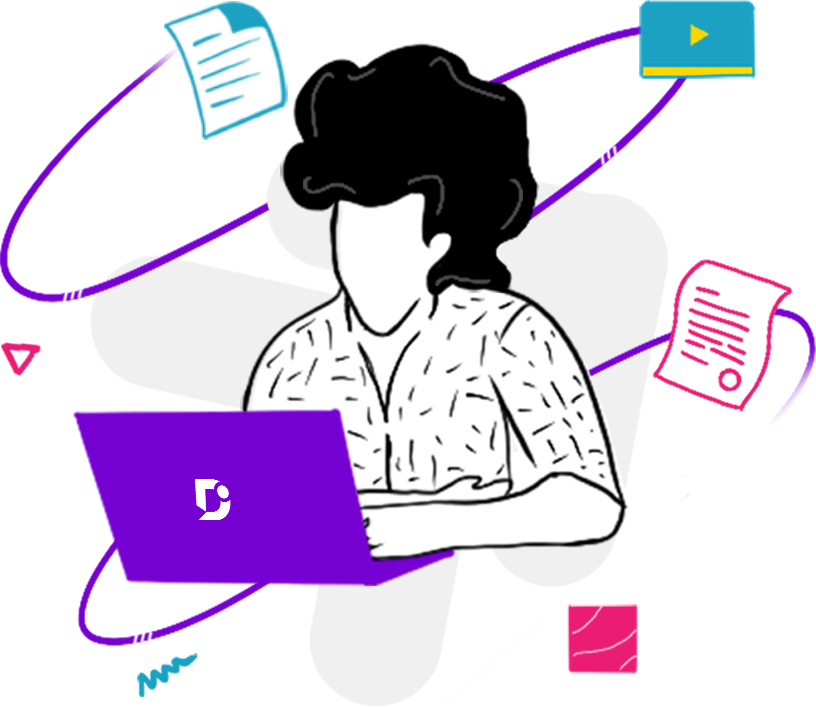 MailChimp as an Example
MailChimp, has an easy-to-navigate menu that helps you go through their knowledge base without getting lost.
The first thing you see are four main categories, illustrated with simple elements of visual design: "New to MailChimp? Start here", "Pricing", "E-Commerce", and "Email Templates".
Note how there's a logical order for these four main categories, which follows the customers' journey as they become more familiar with the product and its features.
Right under these four categories, you get a short video and some of the most popular topics that users search for inside the knowledge base. This way, users can instantly see the most important articles, which makes for higher usability.
Scrolling down the page, you get access to specific categories, from Lists and Emails to Templates and Google Remarketing Ads.
Again, the order in which the knowledge base lists the categories is logical and follows the path that users take when learning how to use the software.
On top of everything else, you can find the Search function–large, easy to see and use. If you don't have time to navigate the knowledge base, you just type in your keywords and get quick answers to your questions.
The more organised and stable your structure, the higher the chances of improving the user experience.
However, there's no ideal structure for a knowledge base software. As you have to build a customer-centred product, you need to test versions of your service and optimise based on users' feedback.
That's why you need a knowledge base software that scales with your product and allows you to perform changes as your business grows.
The Importance of Minimalist Design
Your knowledge base system should educate and help solve problems. This type of content isn't meant to entertain, so stick to the point and keep things simple.
Let's go back to the MailChimp example. When you access the Support menu from their website, you get something similar to a traditional home page, but for customer support.
Colours and fonts stay consistent with the brand, and there's even a small logo on the left side of the screen. But that's pretty much all you get.
The design is clean and intuitive. There's a prominent Search bar, and right under it, you see the main topic categories.
There's nothing on the page to distract you from your task.
When you open the article, you still have the Search bar on top, in case the piece doesn't answer your question.
On the left side of the page, you have a Table of contents, for quick navigation. As you scroll down, the section you read gets highlighted in the table. This is a great way of letting you know where you are as a user on the page.
On the right side, MailChimp guides users to either related articles or to getting direct help through email and chat support.
This second option is highlighted as well, using a different colour. This feature is meant to let users know that there's more in there for them than some simple instructions.
The article is well-organised as well:
Paragraphs are short (maximum of four sentences)
There are plenty of line breaks and white spaces
Tables and bulleted lists make information easier to read and digest
There are links to other pages and articles for users to get more information on a related topic
Long pages are a nightmare to read without organisation. Internet users today lose their concentration after eight seconds. So break the information into chunks that users can read without getting a headache!
Structure your articles for the average user. Keep paragraphs short. Bold the vital information to underline its importance.
Your brand is your identity. Carry your brand identity into your knowledge base
Request a demo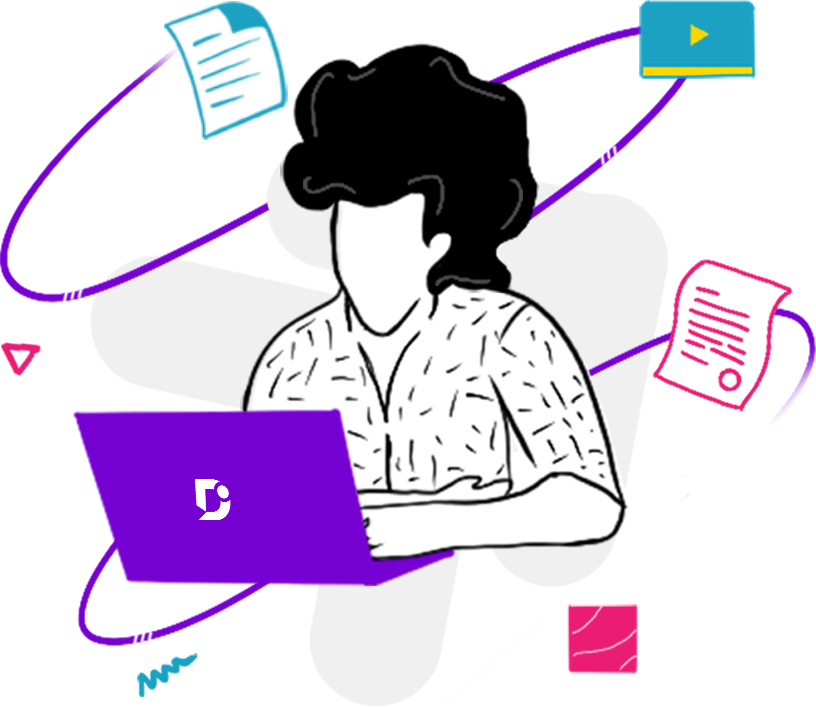 Knowledge Base Design Best Practices
Optimise for all devices. Two thirds of global traffic come from mobile devices. So, look for knowledge base solutions that allow you to provide excellent customer support on smartphones, tablets, and desktop.
Make your Search bar visible. It should catch your visitors' attention from the first moment they land on your page. (Don't hide it in the corner!)
Add quick links to hot topics and frequently asked questions to improve navigation. Also include links to related articles, for people who need to learn more about a specific topic.  
Use colours to differentiate the main categories and topics. Consider calming and relaxing colours, like blue, green, or yellow. Excessively bright colours aren't going to calm down an already stressed user!
Introduce a Table of Contents for long articles. This way, users can jump to the section they're interested in and save time.
Use white space to make the content easier to follow.
Insert visuals to break up the long paragraphs – screenshots, videos, graphics, or any other tool that can help readers better understand what they've read. Images add interest and clarity and help the eye and the brain to take a rest from the text.  
Highlight the section where users can get more help. It's essential for users to see that they can contact you when self-service alone fails to give them accurate answers.
Writing Optimised Knowledge Base Articles
A practical knowledge base provides value. You need to create lasting, strong content to satisfy your users, whether you address your employees in an internal knowledge base or your customers.
In our guide "How to Write an Incredible Knowledge Base Article", we explain how to craft professional, but friendly content for all your users, based on thorough research about your public and their goals.
Keep this question in mind when writing:
"How will my content positively affect my audience?"
Every article you publish in your knowledge base should give relevant information only. Cut all the fluff. If a paragraph doesn't influence or change the user experience, remove it.
Back up your articles with facts that can be trusted, and update the information on a regular basis. Users don't need to read about an old version of your software if they're already working with a more recent one.
Titles Improve Navigability
Your titles and headlines must speak for themselves.
SEO is important for a knowledge base, but here even more than on your business blog, you're not writing for search engines and SERPs.  
Write for humans. In some cases, angry, frustrated users need to dig through your website to find answers. They don't want to call for help. So make their experience on your site as positive as possible.
You don't need to hook them, or draw attention. Your mission is to improve usability and navigation. When users click a title or headline, they should get to the article or paragraph they expect based on the information in that title.
Excellent headlines allow users to scan the document and read the parts they need without missing any vital information.
Keep things clear and use simple wording to express what the article is about. Add keywords in the titles and headlines to make the information easy to find with a simple search.
Use the previous questions people have asked in your Search bar to write better titles and headlines. This way, you can write in the same words that people use to search for answers in your internal knowledge base.
Organise Your Ideas
Besides breaking the text into short paragraphs, you need to deliver the information in the right order for your readers to understand it.
Article templates can help you organise your ideas, but they alone can't do the job for you.
Different types of articles require for different writing techniques–it depends on the purpose of each piece you publish in your knowledge base tool.
When you want to explain a new product:
Start with basic information and build up to more complicated instructions towards the end.
Include video tutorials that show users how to install, setup, and use the software.
Under the video, include a script where users who don't have the time to watch can find the information they need.
When you write a how-to guide:
Use chronological order to explain each step of the process
For every new action, give clear instructions. Don't make assumptions. Your users don't know the product as well as you do. What seems like an obvious intermediate step for you may be unknown to a beginner.
Include screenshots to explain menus, categories, and buttons that users should click to get to the right result.
When you give short answers to frequently asked questions:
Skip the intro to keep visitors focused on their task.
Give clear instructions, with links to the pages they need to access to solve their issue.
Don't use video to solve problems. Users need quick answers. If they can get them with a quick scan of a 2-minute text, they won't sit and watch a 3-minute video.
Choose the Right Topics
Your knowledge base should include benefit-focused content only. Simple as that.
Instead of writing a hundred articles that you think might help, focus on your audience's needs.
Research before you start writing:
What do people look for online related to your industry?
What do your competitors write in their knowledge bases?
Problems that your current customers have?
Which issues show up the most often in tickets from customer support?
What do your employees need to increase productivity?
How can you teach your employees new skills?
How can you educate your clients to improve the customer experience?
Trends in the industry and your customers are also excellent sources to get topic ideas that could make your knowledge base more successful.  
Solve problems and prevent further issues. This is what your customers want and deserve.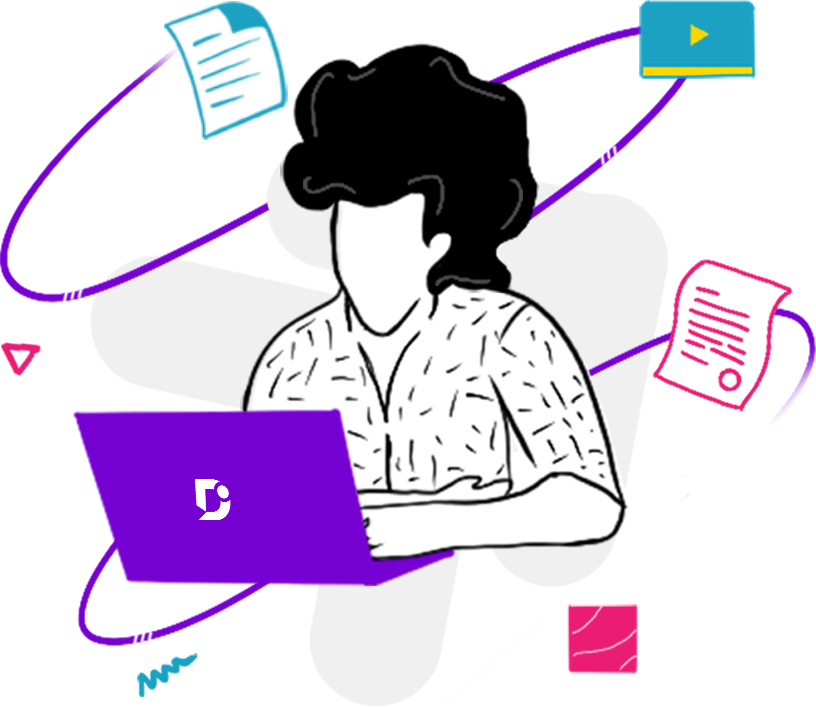 Choosing the Right Knowledge Base Software
The best thing about a knowledge base is that it is simple to put together once you have the right tools.
If you use WordPress, it's easy to implement some free knowledge base solutions as plugins. When using a WordPress site as your knowledge base, there are some benefits of using a free tool, as well as limitations that come with it.
If your business is growing and you want to improve customer support, you need scalability and flexibility. For these features, you need a company knowledge base software that allows you to customise your knowledge base to meet your expectations.
When choosing the knowledge base solution, you should consider these essential elements:
Excellent readability – users should be able to focus on your content only.
Killer search function – it's vital for quick and effortless navigation.
Mobile friendly – with most users accessing information from their smartphones, you need to make your knowledge base available from any device.
Cost-effective – you should calculate costs try to get the best value for your money.
Analytics – this feature helps you gather valuable data about your users and their habits. This way, you can improve your service based on your public's preferences.
Feedback collection – your customers should be able to evaluate your content.
Integration – the perfect knowledge base software should be easy to integrate with all the other tools you use to grow your business (Google Ads, Intercom, Segment, Olark).
Quick setup – the less time you need to install and update the software, the better. This way, you can focus on creative tasks rather than technical details.
Excellent customer support – just as you're looking to provide your customers with the best services, you should search for a partner that can hold your hand when you're in trouble!
Final Thoughts on Knowledge Base Organisation and Structuring
Knowledge base organisation and structuring takes time and effort. You need to put your ideas in order and find a reliable partner to help you with the technical details.
The way you deliver the information is what makes the difference between mediocre and excellent service. From the content you create to the way you break it into categories, everything should be customer-focused.
You need to have high usability, easy navigation, user-friendly features, and an optimised design to satisfy your users and increase efficiency.
Follow this beginner's guide to knowledge base organization and structuring and you'll be able to deliver customers what they want.
Are you ready to start organizing and structuring your company knowledge base? At Document360, we've got the tools and expertise to help you on your way!