Running a successful company depends on a few key factors — bringing talented resources on board and making use of the right tools. Large enterprises have the option of bringing in more resources on board to build successful products. When it comes to startups, it's the other way around. Startups must find and make use of effective SaaS products (tools) to grow their business. This will help them to effectively replace the task of adding more workforce.
Let's start off with the definition, SaaS refers to Software as a Service. In SaaS, the product is offered as a service by the provider, and the users subscribes to the software. The subscription can be on a monthly or yearly basis without any upfront costs.
Here are 5 reasons why you must use SaaS products for the success of your business;
Based on our experience, this blog lists the top 20+ SaaS products every startup should consider to run the business smoothly. Remember that you need not go and sign up for everything on day one! As you grow, you will come across the need for these tools or even better alternatives, as even more appropriate.
Customer Support (Self-Service) – Document360
Document360 is a cloud-based knowledge base software that helps to reduce support tickets and customer support calls.
It is best suited for small businesses to medium and large organizations. To create the perfect self-service knowledge base, you need specialized software with appropriate features. Document360 is designed specifically for SaaS companies to grow at any stage of their journey.
Document360 structures the knowledge base into projects. Also, each project can have its own colour theme, domain, team members etc. this solve the multi product challenge. It also integrates with Intercom, Slack, Freshdesk, Microsoft, Zendesk, and a variety of other services.
Find out how Document360 can help you to reduce support tickets!
Book a Demo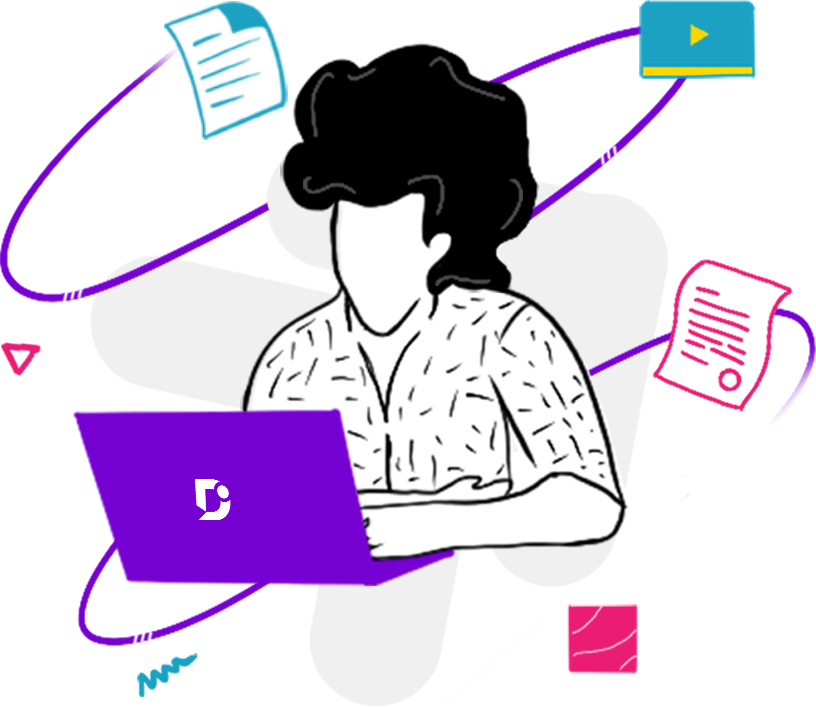 ---
Customer Support – Zendesk
Zendesk is a web-based customer service help-desk software and a support ticket system. Zendesk in most cases suited for small businesses to medium and large organizations. You can integrate your other support channel sources (such as email, chat) with Zendesk. This tool increases the productivity of your support team and ensures customer satisfaction. Finally with Zendesk, users can set up self-service support portals to help customers seek answers to their queries by themselves.
You can customize your customer support portal with the theme and branding options. Easily integrate with third party solutions like Salesforce, JIRA, FreshBooks and so on.
---
Customer Support – Freshdesk
Freshdesk is also a customer service software that offers help desk support for businesses. Freshdesk can be your single platform to manage your support tickets.
You can get to know the customer information, status of the ticket, add notes to the ticket, add a team member as a watcher to the ticket, send canned responses to most common questions, and merge tickets that report the same issue.
Freshdesk comes with a free plan for businesses to try out, and later upgrade to one of the paid plans.
---
Customer Support – ProProfs Helpdesk
ProProfs Help Desk is a cloud-based customer service software that allows your agents to join forces and resolve customer queries from a shared platform.
It's simple, Gmail-like user interface can work great for startups as your agents will not have to undergo any additional training to get started. ProProfs has a variety of customer service tools like Live Chat, Knowledge Base, Survey Maker, etc. that can help you offer a 360-degree customer support experience.
This dynamic tool can be integrated with popular business applications like Salesforce, MSDynamics, and a lot more. It offers an incredibly affordable pricing and users can get started with their Premium Plan free for the first 15 days.
Also Read: Top 7 ProProfs Knowledge Base Alternatives in 2022
---
Project Management – ProofHub
ProofHub is an ideal project management candidate for startups that need a centralized tool for streamlining their daily work activities. It consists of 8 work management apps wrapped into a highly functional interface.
Most startups have cross-functional teams that actively collaborate on work tasks. ProofHub offers that wholesome platform for communicating ideas, tracking ongoing activities, and managing project data. Its flat monthly fee is a definite plus for growing startups – they can bring their entire office to ProofHub with no bill fluctuations as new members join.
Right from organizing tasks into Kanban boards to discussing project topics and then sharing project files, ProofHub sufficiently meets all project needs. Managers can actively track who's doing what, instantly communicate using team chat and ensure optimal productivity levels with project reporting. Startups working hard to build that winning team synergy must try ProofHub for making the process much easier.
ProofHub is offered at a flat monthly fee of $89 when billed annually consisting of unlimited projects and tasks. It has no feature restrictions and comes with 100 GB of dedicated storage per account.
---
Project Management – Clickup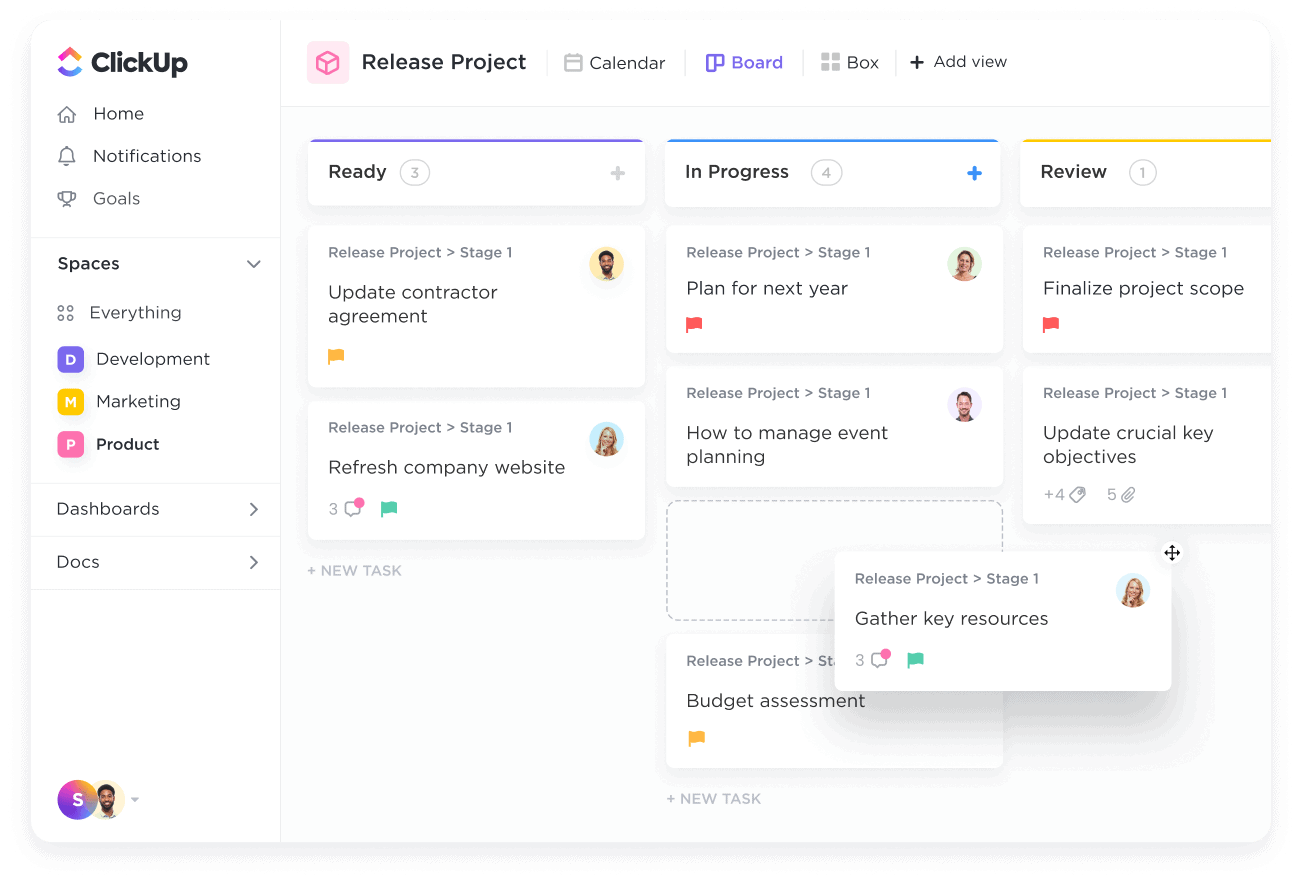 ClickUp is an all-in-one project management and productivity tool built for all types of teams, from large corporations and solopreneurs.
Teams across industries use ClickUp because of its customization capabilities, advanced features, and affordable pricing plans—making it the only tool you'll need to scale your business.
ClickUp can help you manage small to complex projects and everything in between. Easily create, delegate, and manage tasks, communicate with your team, plan project roadmaps, create custom dashboards for reporting, and more all within the same platform. Streamline your processes even further by bringing all your work in one place when you integrate ClickUp with 1,000+ other work tools.
Best of all, ClickUp offers a feature-rich Free Forever Plan. Get 100 MB of storage, unlimited seats, unlimited tasks, 24/7 customer support, and more—all for free!
---
Project Management – Trello
Trello is a project management tool best suited for project managers to create tasks and keep track of it. Leading businesses in the world such as Adobe, Google, RedHat use Trello for their project management purposes.
Users can create a board for the project and add new topics, ideas and set deadlines, assign users for specific tasks. The project owner can invite team members to collaborate and work on tasks. Create a checklist of tasks and allow team members to strike off tasks as and when complete.
Trello offers a free plan for you to start with. You can create an unlimited number of boards, cards and invite members to the project board.
---
Project Management – Asana
Asana is a free task management application to help business users create to-do lists and action items. It's very easy to start with Asana and quite popular because of this simplicity. You must create a workspace and add projects that lists the tasks and priority.
Asana is a perfect replacement for using excel sheets to manage tasks and projects. It improves the efficiency of work as it's easy to prioritize and organize the tasks.
Start your journey with Asana for free(up to 5 people), however, some cool features like Timeline view (to plan and manage projects) are available in the higher plans. Nevertheless, it's a great SaaS product for start-ups to get started with.
At BizTalk360, we used Asana to manage the tasks for our community initiative — Integration User Group. 
---
Project Management – nTask
nTask is a crucial tool to have if you want the tasks and processes of your project development process to be tracked and managed perfectly.
The application is an amazing team management tool that allows you to manage all of the different remote teams that are working for your company from all different corners of the globe.
And with the collaboration features and meeting management feature, the application can help your teams to stay connected without any danger of blank spaces when it comes to communication.
The application offers a free plan and a free trial, that can easily get you started if you are a startup and want premium features for a reasonable fee.
---
Business Process Management – Process Street
Process Street is an all-in-one, no-code modern process management platform. In addition to being a mouthful, Process Street enables your teams to efficiently and accurately run your recurring processes without digging around for some binder in a back closet.

Everything in that binder can be loaded into Pages+, which is a free-forever digital knowledge base that lives side-by-side with your workflows – all in one, easy-to-find, central location. Process Street also fully integrates with Slack, Zapier, SalesForce, DocuSign – the list goes on, really. With the Automations feature and the other app integrations, you can fully automate your most-used processes.

Process Street offers a freemium version with access to all features on up to 5 active workflows. Alternatively, for $25/month, the Pro plan offers unlimited workflows and members and the custom Enterprise plan comes with a dedicated Success Manager to support you every step of the way.
---
Team Communication – Slack
Slack is a SaaS product that facilitates team communication and collaboration for companies with any size of employees. Slack effectively integrates with many other productivity tools.
With Slack, teams can pretty much do anything — get on a general chat discussion, collaborate for team projects and do lots more. You can take the free version of Slack that should work well to experience the taste of the product.
Another good reason is if you are working with a remote team in a different time zone? Slack works a charm!
---
CRM – Pipedrive
Pipedrive is of great help for the sales teams in your organization. Pipedrive is one of the simplest, easy to use and customizable low-cost CRM tool. With Pipedrive, you can set up multiple sales pipelines with the set of stages. You can plan your action and see how the leads are moving through the defined stages.
Above all, Pipedrive integrates with third party applications and tools. You can download the app version of Pipedrive from Google Play Store or iOS App Store.
There is a free version of Pipedrive that should get you started with the tool.
---
CRM – Freshsales
Freshsales combines different tools such as email productivity, profile enrichment, lead scoring and in-app event tracking used by SaaS businesses into a single CRM solution.
Freshsales gives a graphical view of the sales pipeline with which you can prioritize your leads. You can use the Freshsales API to integrate with your own support system.
In contrast with other players, Freshsales has a free forever startup plan and other plans that suits small, growing, large teams and enterprises.
---
CRM – Salesflare
Salesflare is a smart CRM software that is designed to help the sales team coordinate with the leads and keep track of the sales process. To start, the app integrates with Google & Outlook and it automates the lead data gathering task from email, social media, company databases, phone, calendar and fills out customer timelines. Businesses can use it to track sales, set smart reminders to do- follow up, and engage customers in various platforms. Though the integrations seem to be limited at the moment, with Zapier you can connect to several other software solutions like papertyper, Intercom, MailChimp, Slack, Todoist and more.
---
Accounting – QuickBooks
Image Source: https://www.getapp.com/operations-management-software/a/quickbooks/
QuickBooks is best suited for small businesses to maintain their basic accounting needs. Businesses can use this software to track their payable bills, overdue items, and common accounting tasks.
As a result, users can generate profit and loss reports in just a few clicks. QuickBooks helps to keep clean business records that are well organized.
The software is very easy to understand. Even a user without an accounting background can learn the software quite easily. Users can export their data to other third-party applications (e.g., tax payment software) without any hassles.
You can get started with a free 30-day trial of the product, and later upgrade to one of the pricing plans.
---
Accounting – Xero
Image Source: Xero website
With Xero, small businesses can maintain accurate and up-to-date accounts. Business owners and users can connect their bank accounts and import the bank statements into Xero in just a few clicks.
You can generate customized invoices and send it to customers. Additionally, you can plan and schedule payments well in advance. Build and generate drill down reports using the real-time accounts data.
Finally, Xero comes with a wide range of add-ons for all business needs.
---
Payment – Stripe
If you are building a SaaS application, businesses should choose the right payment processor to accept payments from their users. Amongst the most common tools like PayPal, Braintree, Stripe is known to be more popular.
One of the main advantages with Stripe is because of the low credit card processing fees and its ease of use. Stripe is developer friendly and allows developers to build their own payment forms.
We, at Document360, love Stripe for that it offers a wide number of customizations!
---
Marketing Automation – HubSpot
HubSpot is one of the most powerful marketing automation tool available in the market. With HubSpot, you can and track workflows that will help to generate quality leads.
HubSpot offers a free CRM and a simple user interface that saves time for marketing teams from performing repetitive tasks.
You can get the HubSpot CRM for free, but the HubSpot Marketing Suite (specific to marketing team) starts at a price of $200 per month. Start with a free trial of the HubSpot marketing suite to explore.
---
Marketing Automation – SE Ranking
All-in-one SEO platform SE Ranking is a great solution for SEO automation used by digital agencies, businesses, startups, and SEOs. SE Ranking leverages automated SEO reports, ranking checks, backlink monitoring, and website audit with its webpage monitor feature.
SE Ranking provides daily rank checks in any location, search engine, and device. Automatic rank checking allows marketers to monitor real-time positions and dynamics of their websites and competitors by selected keywords.
Marketers can easily create and customise SEO reports and then set up an automated schedule to get progress reports via email.
Another helpful tool is Webpage Monitor. SE Ranking sends notifications about changes on the website, automatically monitors the index status of every web page, and alerts about competitors' updates on pricing, product releases, content. If your team made any changes that triggered rankings fluctuations, you would react fast and eliminate the error.
If the marketer focuses on building up a strong backlink profile, SE Ranking offers to monitor link statuses automatically and show you each website backlink status.
SE Ranking PRO package with automation tools starts at $89 per month. Sign up for a 14-day free trial to explore.
---
Marketing Automation – Marketo
If you are focused more on advanced analytics and in-depth workflow functionality, then Marketo is your best friend.
Marketers have the option to perform predictive analysis on the information. Marketo tools best suits for B2B businesses.
To start with Marketo, you can choose from one of the packaged bundles or customize a particular solution. You will have even more option to learn on having a paid subscription account.
---
Marketing Automation – Autopilot
Autopilot is ideal for small to large businesses. Businesses can use autopilot as an email marketing tool to send emails and in-app messages. If you are a marketer you can set up journeys for each stage of the marketing campaign and test every stage individually before publishing the journey.
View real-time reports of the journey performance, the number of link clicks in your email, the mails that are converting and driving sales. Autopilot integrates with almost 800+ tools including Salesforce, Segment, Slack and more. Choose a 30-day trial of Autopilot to start with.

DYK: We use Autopilot at Document360 for our marketing campaigns? Want to receive regular updates from us? Subscribe to our newsletter today.
---
Marketing Automation – Mailchimp
Mailchimp is best used to send mass emailers and newsletters. Marketers can create campaigns and trigger emails to almost 2000 subscribers in the free plan.
If your company generates a lot of content and you want to share it with your email subscribers, MailChimp is the perfect fit tool.
Start-ups can take full advantage of the free plan when the focus is towards building your email list. Choose a pre-defined email template or upload your custom HTML email templates.
Track the outcome of your emails based on parameters such as open rate, click rate, industry average open rate.
---
Time Tracking – Timely
Did you know that firms lose $52,500 per employee each year due to inaccurate manual time tracking? Even when logged daily, manual timesheets are only ever 67% accurate. Timely is an award-winning, AI-powered employee time tracking software that automates company time tracking and timesheet creation – solving the inaccuracy and effort of manual solutions.
Offering strict user-level privacy by design, Timely is a tracking tool that employees actually trust. Teams can work naturally and focus on their work, confident that every billable detail will make it to their timesheet.
You can get started today with a 14-day free trial
Time Doctor is simple and easy to use: establish a project, add a task, and then go to work. It logs the amount of time spent on each job, takes screenshots on occasion, and keeps track of the applications and websites visited. It also has a client interface that may be used to bill client projects. It can also be integrated with a variety of third-party apps.
---
Graphic Management – Canva
Canva is a simple tool that can be used by your graphic designers and content writers to create graphics for websites, blogs, and social media.
You can start with ready-made design themes or create custom designs with custom dimensions.
Above all, with the free plan, you can invite up to 350 members to your team and share the designs/folders.
---
Graphic Management – TinyImage 
TinyImage is the best image compression tool by Attrock, It is designed to help you reduce the size of your images without compromising on their quality. With TinyImage, you can easily compress images before uploading them on your website, social media pages, or any platform where large files could pose an issue.
The biggest advantage of this tool is that it is very intuitive and user-friendly. It is easy to use even for those who are not very tech-savvy. Plus, the compression process is pretty straightforward, allowing you to compress multiple images simultaneously, saving time and effort.
Another important feature of TinyImage is its ability to maintain the quality of the images even after compressing them. You can safely reduce the size of the images without having to worry about them looking blurry or pixelated.
TinyImage is also a web-based tool, which means there is no need to download or install any software. It is an extremely convenient option for those who need to compress images on the go or those with limited storage space on their devices.
The best part? It is completely free to use.
So, if you are a blogger, influencer, digital marketer, or anyone who needs to work with images regularly, this is a tool you must try.
---
Hootsuite is the best friend for your team working on social media posts. Configure multiple streams for a specific social media account. For example, with Twitter, you can create streams like My Tweets, Mentions, #documentation, #SaaSProducts, and so on.
Set up multiple social networks in a single place. Schedule posts across multiple social networks like Facebook, Twitter, LinkedIn, Google+, Instagram and lots more.
Save time by building your posts in a CSV file and uploading it to Hootsuite. Get an in-depth view of how your social media strategy is working from the Analytics data.
---
Appointment Scheduling – Calendly
For any startup business, scheduling customer meetings and demos are very crucial. Calendly is one of the best suited SaaS products for small to medium size enterprises.
The interface is very simple to set up a meeting. All your daily meetings visualized on the dashboard. You can also conveniently embed Calendly into a webpage where your customers can schedule a meeting according to their convenient time.
Calendly integrates well with Gmail, Office365, Outlook and other SaaS products like Slack, MailChimp, Salesforce.
At Kovai Limited, we use Calendly to allow our customers to schedule demos for BizTalk360.
---
Want a simple video hosting tool that offers detailed analytics and the ability to capture user details (like name and email)? the answer is Wistia!
Wistia is best suited for companies that use video on their websites for marketing, sales, and support.
It comes with strong analytics features that show the user engagement, how long the user watched the video, when they dropped off, and track the performance.
You can customize the appearance of your video by adding a thumbnail, change the colour of the player, and configure the social share icons.
One of the key features of Wistia is the ability to add a Turnstile to capture user information and add a call to action at the end of the video (like Watch More Videos, Read More and so on).
Choose a free plan that allows you to add up to 3 videos with the Wistia branding. The pro plan costs $99 per month.
---
Video Tools – Loom Video Recorder
Loom is a video recorder application to capture your screen and record videos. On a button click, you can start a video recording of your screen. Very effective when you want to send video responses via email explaining something important, record video tutorials for websites and documentation, and more.
Unlike other recording software, Loom has a cool feature where your presence seen visually in the video. This gives a different dimension to watching just a plain video.
The videos saved to a video library and available for export to popular video hosting platforms. Loom is available as a desktop application and as a browser extension.
---
Video Tools – Zoom
There are lots of video conferencing SaaS products available such as GoToWebinar, GoToMeeting, Join me, and more. For early start-ups and small businesses, Zoom pretty much has all the features required for video conferencing.
The stand-out feature of Zoom is the capability for both presenters and viewers to see each other. Zoom video conferencing is a combination of webinars and live events.
It comes free of cost for meetings under 40 minutes and can host up to 100 participants. You can record a full video and watch the replay of the meeting (including the questions on the chat window).
---
Analytics is a free offering from Google. Gather meaningful insights on your website and blog traffic. Google Analytics comes in very handy when you have set goals and you want to measure the traffic and conversions for that goal.
Analytics lets you know which content source drives more traffic to your website (e.g., direct, organic, paid, and more), from where people access the website, their gender, and so on.
The best thing is, it's free!
---
General Tool – NAKIVO Office 365 Backup
Startups rely heavily on digital data, including customer information, financial records, intellectual property, and critical business documents. Losing this data due to hardware failure, human error, or cyberattacks can have severe consequences. The NAKIVO Office 365 backup was developed with the intention of safeguarding and securing the information stored in Office 365. It offers robust built-in features that ensure reliable data protection for businesses and individuals.

NAKIVO Backup & Replication provides data backup for all Microsoft Office 365 applications, such as Exchange Online (email), SharePoint Online (collaboration and document management), OneDrive for Business (file storage), and Teams (communication and collaboration) allowing users to easily configure and schedule automated backups.
In addition to backup capabilities, the NAKIVO solution offers two-factor authentication, and role-based access control to protect backups against unauthorized access and ensure compliance with security standards.
---
General Tool – SEMrush
SEMrush is a popular keyword research and analytics tool used by SEO specialists. With SEMrush, SEO professionals can keep track of how the competitors are ranking for a keyword on Google and Bing search engines.
Your SEO team can also use this to find out the long tail keyword phrases to garner better benefits. It is the complete tool for digital marketers that covers all the aspects of online marketing.
For instance, you can compare your paid search campaign with that of competitors and tweak your spending effectively.
---
General Tool – Grammarly
As a start-up, churning out blog articles and relevant content is a key task. Grammarly is the content writer's friend! Grammarly points out any mistakes and provides alternate suggestions to what you have written.
Grammarly checks the content for spelling, grammar, voice (active/passive), and readability.
You get all these capabilities in the basic free version of the software. If you want more advanced features (such as a plagiarism checker), you can purchase the premium version of the software at $29.95 per month.
For instance, you can compare your paid search campaign with that of competitors and tweak your spending effectively.
Final Thoughts
The list is not done with these SaaS products. This is just a small set of the most popular SaaS products used across different areas of the business. Each product has its own purpose that aims to help start-up companies grow faster and scale higher.
If you have used any more of such awesome SaaS products, we'd love to hear your thoughts. Feel free to drop in a comment below.
Thinking about investing in a self-service knowledge base? Try Document360 — the knowledge base that scales with your product. Start with a free trial to build the complete self-service knowledge base with ease.