Worried your customers don't know your product the way you want them to?
Your concerns are rightly placed.
When customers fail to understand a product, they approach you multiple times with common questions. And once they are tired of reaching out to you for answers, they decide to take their business elsewhere.
In a nutshell, you lose customers. But this can be prevented if you have a SaaS customer education program in place.
The question is, what is SaaS customer education?
Let's find out!
What is SaaS Customer Education?
SaaS customer education means finding engaging ways to educate your customers about your products and services. It helps a customer learn what your product is all about, why they need it, and how it can benefit their business.
Daniel Ladra, Co-founder of Playou, talks about customer education with Radim Hladiš in one of the podcasts. Here's how he explains the term to their listeners:
"To me, customer education means explaining the essence of the product to the customer so they can understand "why". On the other hand, it's also imparting knowledge of how exactly the product works so that the customer can use it better."
To add to his perspective, customer education also establishes product value and helps you spread brand awareness. Rather than achieving one, you end up gaining multiple benefits with the help of your customer education program.
Benefits of SaaS Customer Education
Here's a list of the top five benefits that your business can attain with the help of an effective SaaS customer education program.
Eases product adoption
Those new to your product will find your SaaS customer education program quite useful. They'll understand your product from the moment they onboard with your business. In a nutshell, this will result in seamless product adoption and lesser support queries.
Improves customer engagement
A customer knowledge base helps you boost user engagement gradually. As they browse through your product knowledge base, they get a step-by-step guide that helps them understand each functionality hassle-free. The more they get to know your product, the easier it gets for them to interact with it in the long run.
Reduces customer support cost
One of the top benefits of using knowledge base software is that it helps you reduce customer support costs. How exactly? A product knowledge base helps customers find answers to frequently asked questions. When they'll have answers to common doubts, they would avoid reaching out to your support team for support. This will give support reps more productive time for pressing challenges faced by other customers.
Makes the onboarding process simpler
You've signed a contract for your product and it's time that customers start the onboarding process. Rather than conducting hefty onboarding calls around your product and how they need to get started with its use, it would be better to introduce your customer knowledge base. Help them learn how to use the product with the help of your knowledge base. This will help both you and the customers save time and effort during the onboarding process. What's more, they can learn about the product at their pace.
Reduces customer churn
When your customers know the product in and out, they feel confident using it every time. They would also feel confident about asking you to make changes to the product as per their needs. This is something they can't ask a new service provider. Due to this, you'll see more customers sticking with you for a long time rather than leaving every now and then. In short, you boost retention and avoid frequent churn.
These benefits have surely caught your attention and motivated you to start your customer education program. But we firmly believe that this motivation isn't enough to help you kickstart your program.
Also Read: 9 Proven Ways to Reduce Customer Churn
How to Launch a Customer Education Program?
Considering that you wish to launch your customer education program, we've listed basic yet essential measures that will help you get started. Let's explore them without further delay!
1. Encourage cross-team collaboration
From developers to product analysts, they've all worked with the product closely since the day it was launched, or at least for a few years. Basically, they know the ins and outs of the product and how it works. When you decide to create a customer education program, ensure your marketing collaborates with such crucial touchpoints to build the best training resources for the customers.
For example, when we built our knowledge base for customers, we decided that not just one team will be responsible for contributing ideas for new articles and edits.
As you see in the image above, multiple individuals work on the same piece. Some are responsible for editing the article while others correct the facts about the product. This has helped us build a knowledge base that helps our customers find the right information in the right article.
From our founder to technical experts on the product, everyone contributes to this knowledge base. Therefore, making it a relevant educational source for customers to refer to in case they get stuck with a functionality.
2. Identify buyer personas
Your customer education program shouldn't be focused on existing customers only. It should target all buyer personas to ensure you catch their attention at the right time at different stages of the pre-sales funnel.
Here's how your education program will catch the attention of different buyer personas if it accomplishes to do the following:
It should bring in the right traffic. Part of your education program resources should be designed to help you bring in the right traffic for your business. These resources can be inclusive of videos, webinars, SEO-optimized knowledge repositories, and more.
It should work like lead magnets. Buyers who are interested in your product will likely look for more information on how your brand has helped other businesses accelerate their growth. Materials such as case studies can help you educate buyers on that subject. Just make sure you use such resources as lead magnets to capture the right MQLs for your business.
This customer education program should also help you engage and convert buyers into customers. For example, you can use engaging yet educational content like webinars to help buyers understand your product or the brand more closely. They can also review your product via live events where you can talk about how the product can target their pain points and challenges efficiently. Such efforts will help you convert that buyer into a customer in no time.
The whole idea of identifying buyer personas on the basis of their location and interests is crucial. However, that needs to be done at each stage of the sales funnel. Only then, will you target the right buyers and pitch your program correctly.
3. Spot customer education opportunities
What all platforms would be best suited to create educational content for your customers?
There are myriad ways to create educational content for SaaS customers. You can use:
Blogs
eBooks
Guides
Whitepapers
Knowledge base
Videos
Podcasts
Webinars
Live events
Oh, the list goes on. In a nutshell, you have multiple options when it comes to creating and executing customer education content. However, it would be crucial to identify the right customer education opportunities that help you introduce these resources hassle-free.
For example, when your customers reach out with common questions like how a certain feature works, simply guide them to your knowledge base. They can find answers to commonly asked questions efficiently. Similarly, if customers would like to get a better understanding of how your product can be implemented for different teams or scenarios, share your ebooks, blogs, or even video links. These will help them learn how your product works for different teams hassle-free.
These subtle yet efficient ways will help you engage and retain customers to the brand successfully.
4. Segment the users and provide personalized education
Did you know that 80% of consumers are more likely to buy from a company that provides a tailored experience?
From support calls to educational material, customers will highly appreciate your efforts if you are personalizing the experience at every stage of their journey with the brand. But to do that, you need to ensure that users are divided into different segments. These segments can be based on their:
Interests related to the product
Number of users using your product from one organization
Roles and responsibilities are taken by each user under one client
Subscription cycle
And this list goes on.
There are multiple factors that should be considered while dividing users into different segments. Dividing them into segments will help you create a personalized customer education program that helps them stay engaged with your product and avoid leaving you for your competitors.
For example, let's say you've segmented users on the basis of their subscription cycle. Now, users who have to renew their subscription to your product might leave you or decide to stay around. But why leave yourself hanging when you can make them all stay?
You can create a special SaaS customer education program that targets such users. Add in a combination of resources like podcasts, videos, and webinars to further educate them. These will help them understand how your product can enhance various factors that lead to company growth post-prolonged use of the product.
Result? This effort will help retain and add more loyal customers for your brand.
5. Set up a customer knowledge base
Building a customer knowledge base is an integral part of a customer education program.
You may ask, why?
We, at Document360, firmly believe that a customer knowledge base can help you achieve multiple benefits once added to the education program. Some of the benefits are:
It will help you answer questions about the product, therefore helping you save the time of your support reps and customers simultaneously.
It helps you offer detailed insights on your product. It dives deeper when it comes to understanding each functionality and how it should be used regularly.
It helps you display various use cases in which the product can prove useful to the customers, therefore encouraging them to interact with your product frequently.
It helps you improve the onboarding experience for new users. They can avoid being on the onboarding call for long and learn the product works at their pace.
Benefits such as these emphasize the use of a knowledge base and building a customer repository that can target users in different scenarios. Therefore, it is highly recommended that you set up your customer knowledge base soon!
Interested in Document360 Knowledge base? Schedule a demo with one of our experts
Book A Demo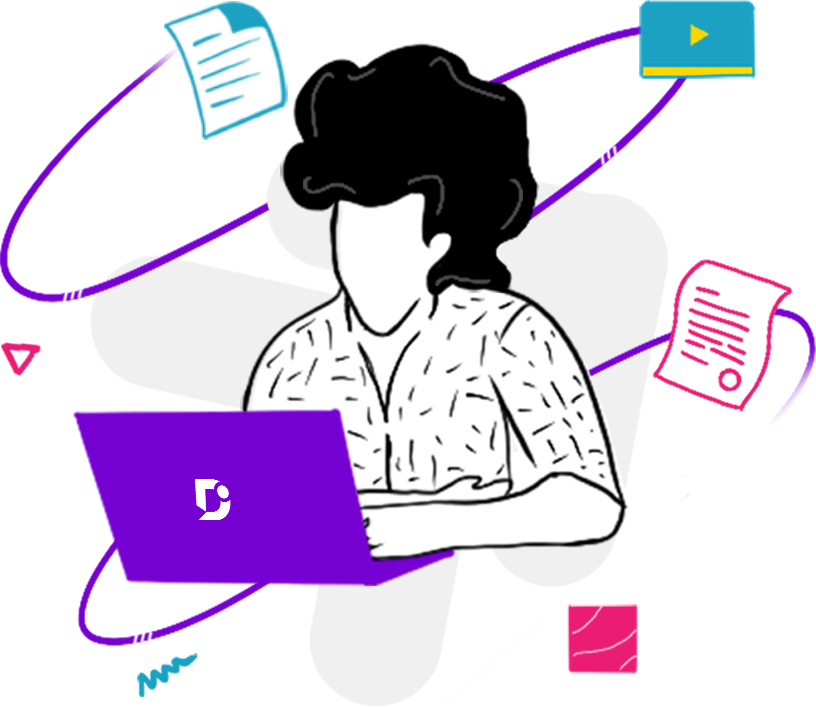 6. Analyze the result of the program
Is your SaaS education program really meeting the expectations of your customers and you?
How do you measure the performance of your program to see if it's bringing desired results?
To know if your customer education program is working out for users and the brand, check the following.
Track the frequent visits to your knowledge base to see how many times they try to find answers about your product.
Track the keywords they use in your knowledge base to find feature-related articles
Monitor how many webinars and live events do customers attend to understand if they'd like to know more about your product from the brand's perspective
Monitor the frequent visits to blogs and ebook downloads to learn if they try to seek tips on how to enhance the performance of your product
These measures will give you an idea of whether users find educational content useful or not. Based on their activity, you can make changes to the resources under the program that benefits the users in the future.
Best Practice for Customer Education
With a list of measures, we've understood what can be done to launch a customer education program successfully. Now, let's explore a few customer education best practices that will help you design your program from the user's point of view.
1. Offer a free trial
Don't miss out on a free trial.
A free trial ensures you establish an initial degree of client fulfillment. This can help potential customers who are hesitant to attempt something new gain trust and confidence. This also allows them to make a more informed decision about whether the product or service is appropriate for them.
According to research, a product has 200 trial users out of which 40 users convert to a paid account. In fact, B2B companies that utilized free trials saw an average of 66 percent conversions among users. From a conversion point of view, do not forget to add a free trial.
2. Provide an onboarding checklist
Your educational program must include a checklist as well. It will help new users be ready to onboard with your product. This checklist will act like a roadmap, therefore improving their onboarding experience effectively.
3. Use the interactive walkthrough
Never miss out on interactive walkthroughs. A lot of new users find these beneficial as they start exploring the product. The in-app guidance or tooltips allow them to learn how to go about the product during the initial days.
4. Provide tutorial videos
You can also create tutorial videos that offer step-by-step guidance on how to use a product. Even research suggests that users are 3X more likely to prefer watching a tutorial video than reading a product's instructions. So, don't miss out on that too!
5. Showcase customer case studies
Let new users learn what existing customers think about your product and the brand. One of Hubspot's reports suggests that 13% of marketers name case studies as one of the primary forms of media used within their content strategy. It helps them promote the brand and how the product was received by customers. Case studies have also helped them bring in customers.
Customer Education Examples from SaaS Companies
After exploring a bunch of measures and best practices, it is time to see how a few businesses have built their customer education program. The following examples from SaaS companies will give you an idea of how to start your program the right way.
Ahrefs
Want your customers to master your product like a pro? See what Ahrefs has done. They've created their academy for their users to not just help them learn their product but also master it with flying colors.
Their academy includes courses around using the product and getting its certification. It's like users get to learn the product and show it as a skill in their resumes. Besides the academy, they also offer a help center that helps their users learn how they can use each feature at length. And if that wasn't sufficient, the service provider also created a tech blog and SEO guide that their users can access to learn more about the product.
Hubspot
From offering a certification course in how to use Hubspot from scratch to building templates that help users get started, this service provider does it all. Besides creating courses in fields like marketing and sales, Hubspot also emphasizes how its users use their products.
That's just the tip of the iceberg. Hubspot is also known for conducting product webinars, writing educational blog content, podcasts, and more that help them educate their product users in the right direction. Such efforts have helped them set a benchmark in the customer education sector.
Khan Academy
How can we leave out one of the biggest names, Khan Academy, from the list?
This non-profit academy has created an indispensable platform for students who are looking for support in subjects like math, science, and humanities. Their platform is pretty easy to use as they have separate logins for learners, teachers, and parents. What's more, they've created an AI guide for their users to learn how this feature can separately help them resolve their problems. They've also built a help center that helps their users understand how they can find relevant information about a course in no time.
Code Academy
If you have already signed up with Code Academy, chances are that you must have a range of their resources as well. They are known for creating an open-source help center that helps coders find code syntax and other useful material for their work. They can even contribute their work to help others in the same repository. To add more, they've created useful cheat sheets, videos, articles, and even code challenges that help their users find helpful content to solve their pressing code problems.
Build an Engaging SaaS Education Program Successfully!
You want your customers to master the product you've built. But to do that, you have got to introduce relevant educational material that helps them understand your product without approaching your support team for help.
We say, why not introduce a customer education program to help them understand your SaaS product better? It will help you engage them, resolve their queries faster, retain them to your brand, and offer more such benefits. Keeping these benefits in mind, we've created a list of measures and best practices that you can follow to create your SaaS customer education program hassle-free.
We hope it helps you develop yours and results in customer delight!