How Knowledge Sharing in Your Organization Improves Performance
They say sharing is caring, and if you really care about your businesses' productivity, stability and performance you'll embrace the power of knowledge sharing sooner, rather than later.
Offering the opportunity to improve your organization's capabilities across all sectors and business units, knowledge sharing can fundamentally enhance your output, minimize costs and maximize growth potential.
In fact, with the right information available to the right people at the right time, knowledge sharing can help your staff to diversify and optimize their skill sets to enhance the value they deliver to your customers. It's really that simple.
There's no doubt about it, your commercial performance is intrinsically linked to the way in which you use knowledge in your business, and if you want to make the most of your resources, you need to develop a culture that encourages your workers to share what they know.
By cultivating the right attitude, using the best systems and adopting a sound strategy, your business can take full advantage of the benefits of knowledge sharing and drive growth.
Here's what good knowledge sharing can do for you…
Knowledge Sharing Upskills Your Workforce
Developing your employees is critical to ongoing business success. With the operating and commercial environment changing on a daily basis, they need to regularly evolve to ensure your business remains competitive. To achieve this at scale, employees need the resources that highlight and deliver key information. This is where a knowledge base comes in.
By capturing critical data from your senior employees, you can store highly valuable educational documentation in a centralized location, accessible by all relevant individuals in the business.
This ensures your workers have access and visibility of the key information they need, and also helps them quickly identify and prioritize which information is business-critical. This empowers them to take control of their own development and helps avoid the need for costly external training. The most valuable information they can learn is likely stored internally, so making it accessible makes good business sense.
With business-critical information at their fingertips, your workers can enhance their capabilities and contribution to the business, improving efficiency and output.
Knowledge Sharing Helps You Learn Lessons From Mistakes
With an enhanced view on previous ideas, plans, goals and failures, it becomes much easier to see what has and hasn't work, and why. This improved context around success and failure helps businesses identify and distil the key factors that influence positive outcomes.
Trial and error often lies at the heart of good business strategy, so having the systems in place to clearly unlock this opportunity is critical to optimizing performance.
Using the right knowledge sharing systems and techniques at the right time, you'll be able to effectively identify key trends and use this data to inform future risk management and decision making. With the right data, you can ensure your business makes the very best decisions and continues to progress and grow. 
Knowledge Sharing Helps Identify Opportunities for Improvement
With greater visibility over key data in the business, it becomes much easier to identify new opportunities. For example, understanding there is an abundance of internal information around a particular subject may unlock new commercial possibilities that were previously unknown. It's often hard to amalgamate what people in your business know and so a centralized information repository helps to gather this data and create a resource that can generate value.
Using the right knowledge sharing tools you'll be able to harness data to power and justify your internal business investments, improving decision making and enhancing accountability within the business.
In fact, understanding who knows what, and how teams contribute beyond their traditional roles gives you a great opportunity to drive collaboration between teams.
Knowledge is power and when it comes to driving improvement and innovation in your business, it plays a critical role in resource allocation and strategy.
Knowledge Sharing Helps Distribute Optimization Tips
It's rare you'll ever do things well the first time round and you certainly won't excel. The fact of the matter is, quality comes with practice. With this in mind, it's important to record the lessons learned as you develop, as it's often these small iterations that turn a good organization into a great one.
Afterall, there are always ways to improve, but often it's the little titbits of info locked in the head of individuals that make the biggest difference. This is problematic as it means you only have access to the best way of delivering a quality offering while they're in your organization.
As such, you need to ensure optimization capabilities and skills are a fundamental part of your business, not just of your employees. This is where knowledge sharing is so integral, with the critical information in the right place, your business will be able to stably operate at optimal capacity, irrespective of whether your best employees remain. Providing the right information has been captured, you'll be able to share wisdom long after they've left your business. This helps protect you against potential internal brain drain and safeguards your organization's future.
Knowledge Sharing Improves Customer Service Offering
Effective knowledge sharing plays a fundamental role in the quality of service delivered to your customers. The more your employees know about the business, how it works and what it does, the easier it is for them to deliver customer satisfaction when the time comes. With full visibility of customer interactions, trends and incidents, your worker can pre-empt challenges and ensure they're armed with the information they need to deliver customer satisfaction.
For example, in the event the company service offering suffers a glitch that impacts a large quantity of customers, the integral information can be shared in a location accessible to all. 
This ensures those who engage with customers regularly (like your support teams) have a view on the information they need to help support customers and resolve the problem.
Something as simple as this can be integral when it matters most and have a big impact on your ability to react in contingency situations. In addition, the information also ensures consistency in what is being communicated, if your staff are using a knowledge sharing resource as reference, chances are the way in which they relay that information will be similar. This is particularly important when customers engage with multiple parties across different channels; the operative on the end of the phone line, should be saying the same thing as the operative on live chat, in the same way.
Sign up for your 14-day free trial with Document360 now
Get Started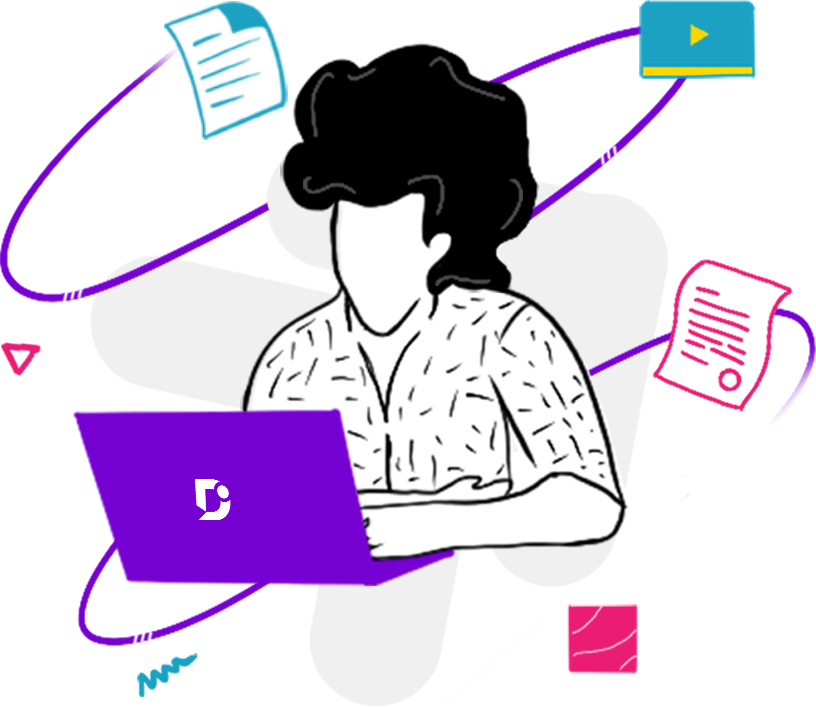 How Knowledge Sharing in Your Organization Improves Performance Summary
Knowledge sharing helps: 
Upskill your workforce
You learn lessons from your mistakes 
Identify opportunities for improvement
Distribute optimization tips
Improve your service offering
With the right knowledge sharing capabilities in place, you can optimize your business operations and deliver a higher quality of service without the need for greater resources. By developing critical internal capabilities through knowledge sharing, you can ensure the information that helps your business deliver customer value every day is secure and available to your workforce when required. This helps protect your reputation by ensuring you can deliver your proposition irrespective of personal changes and also makes your organization less vulnerable to external changes and workforce churn.
Without a knowledge sharing solution, your businesses' internal knowledge will remain one of your greatest untapped strengths and one of your biggest vulnerabilities. Is it really worth risking the information that defines your companies' success? Adopt a knowledge sharing solution and see the benefits for yourself.
Also Read: The Complete Guide to Knowledge Management