How Social Media Helps Deliver Great Customer Support
Social media plays a fundamental role in the digital world. Facebook, Twitter, Instagram, Pinterest, the list goes on and on – there are now more ways than ever for customers to engage with the brands they follow. This is presenting organizations with a significant challenge: how to use these channels to drive positive brand sentiment and deliver great customer support. As a two-way communication opportunity, customers are often highly expectant, they not only demand a response, but immediate action too and this is easier said than done, when it comes to delivery. However, for those businesses who can find a way to monitor, engage and act on customer support requests, there's a major opportunity to impact the way they're viewed in the market and as a result, positively influence customer retention.
Delivering great customer support is always a challenge, customer demands are ongoing and regularly present new hurdles for your support teams, but with the power of social media at their fingertips, you can help them ensure customer satisfaction is constant, whatever the issue.
In this blog, we explain why social media plays such an important role in your customer support offerings and the benefits of the right approach:
Generates Positive Sentiment by Engaging and Solving Customer Problems
When your customers reach out via social media, an opportunity arises. Many brands ignore it, and suffer the consequences by failing to respond, typically other users will notice the silence and make a comment too. This negativity can quickly snowball and become a much bigger threat to your brand than the initial complaint. Remember, it only takes a single dissatisfied customer to share their story among 1000's on social media and so this silent approach is unnecessarily risky. With so much at stake, it makes sense to invest in social media as a means of delivering high-quality customer support. This not only protects your reputation by putting out fires before they spread, but also helps to recognize customer challenges and develop good customer sentiment in a public space.
By delivering high-quality customer support via social channels, you're able to quickly help your customers solve their problems, or at the very least, manage the public conversation and guide them in the right direction.
Offers a Direct Opportunity to Rectify Poor Customer Support Experiences in Other Channels
Customer support is often a multi-channel process, and in many instances, your social channels will not be the first stop when your customers have an issue. In fact, in some situations, it may be the 3rd or 4th channel they've tried to engage with (hopefully not). In these situations, social media channels present a fantastic opportunity to rescue the situation. Social media's personal nature means your operatives can get to the heart of the matter and help to undo much of the damage caused by previous experiences. This is critical to reaching a successful outcome and reducing the negativity of past failures from the company.
Gives Your Company a Friendly Face When You Need It Most
Some support channels can come across as cold and corporate experiences. This is obviously far from ideal. The likes of live chat, while great in theory, often seem mechanic and impersonal, and at a time when the customer just wants someone from your organization to genuinely care, this can create a fatal disconnect. Fortunately, social media channels are different. While similar in functionality to live chat, they project a much more personal image in a space the customer is both familiar and comfortable with. This is important when trying to converse with the customer on even ground. They want to feel like they're talking to a real human being on the other end of the conversation and social media does a great job of creating an equal playing field for discussion.
Creates the Opportunity for Instant and Honest Feedback
As social support is almost exclusively delivered via conversation, you have the opportunity to go beyond the issue and directly get the views of your customer. Providing their original challenge has been rectified, there is an opportunity to take full advantage of the customer engagement and get their perspective on your support process. This real-time feedback is critical and can majorly help iterate and improve on your future support offering and resource allocation.
Why Social Media Is Great for Customer Support
Social media presents fantastic opportunities for organizations to effectively supercharge their customer support efforts. With the right combination or resources, platforms and tactics, the opportunity to enhance customer support and satisfaction is significant.
Social Media Can Resolve Customer Challenges Fast
With the power of social media, customers can get responses from brands in a matter of seconds. In fact, organizations with the right social support strategy and the right resources can help customers instantaneously. This optimal support experience ensures customers can solve their challenges faster, offering a greater level of customer satisfaction.
Social Media Can Generate Positive Brand Sentiment
Some customer challenges can be solved with a simple response and in many instances this can be done in the public domain. By showcasing that they're listening to their customers and responding accordingly, brands can create positive sentiment and develop a genuinely caring persona where it matters most. In some instances, even just acknowledging a comment/feedback is enough to create positivity in the social space. This highlights the importance of being both receptive and active whenever possible.
Social Media Can Be Easy to Personalize
In many customer engagements, brands use cookie cutter responses, which are not only impersonal, but often don't solve the customer problem, often further exacerbating the situation. With customer support through social media, something as simple as including a name, can make a relatively generic response seem personal and customized for the situation.
Social Media Offers the Opportunity to Counter Negativity With Positivity
There will always be people who've had challenges working with your business and in many instances, the way they present those issues will be highly negative. In these situations, diffusing the sentiment of the complaint can be critical and play a major role in the wider view customers take of your customer service efforts. Sometimes, something as simple as a positive response can genuinely make all the difference. 
Sign up for your 14-day free trial with Document360 now
Get Started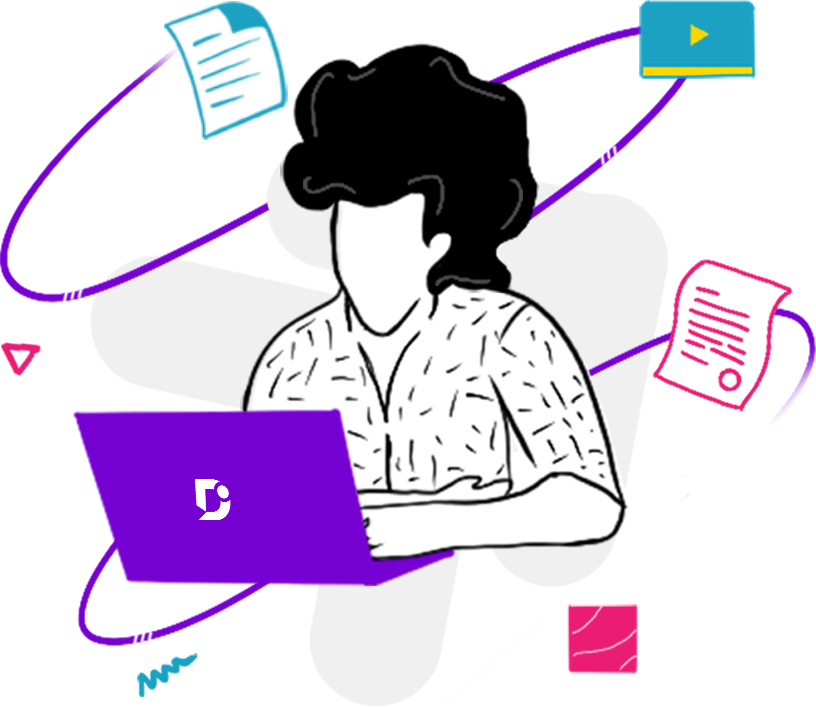 How Social Media Helps Deliver Great Customer Support
Generates positives sentiment by engaging and solving customer problems
Offers a direct opportunity to rectify poor customer support experiences in other channels
Gives your company a friendly face when you need it most
Creates the opportunity for instant and honest feedback
There's no doubt about it, social media is a critical channel in your customer support offering. With the opportunity to deliver a more personalized experience that can not only offer your customers almost instantaneous support, but also help recover from previously negative experiences, social media really is critical. As a means to humanize your business when it matters most, social media is unlike any opportunity within your support function, it can go beyond servicing your customers and play a key role in driving customer retention and limiting customer turnover.
With the right approach to social media support, you can ensure you're delivering optimal customer satisfaction at every opportunity, enhancing your brand strength and ultimately, maximizing your average customer lifetime value.